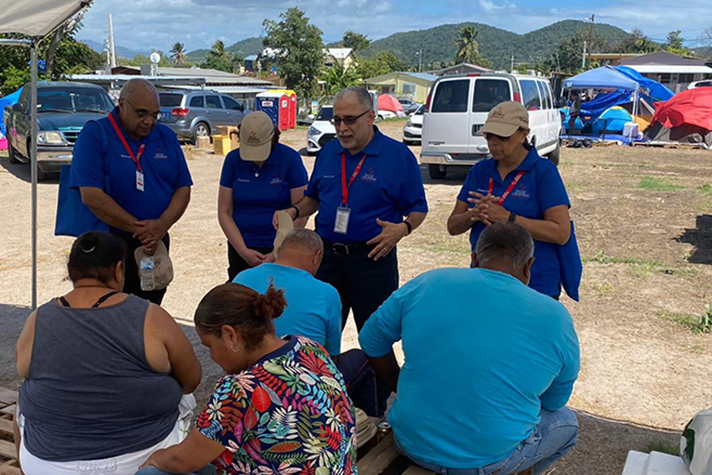 It's been a rattling couple months for people in Puerto Rico.
Since late December, more than 1,500 earthquakes have been reported across the island, including a major 6.4 magnitude temblor along the southern coast that killed one person and caused a widespread blackout.
News reports say over 8,000 people have been affected by the series of earthquakes and aftershocks, which have toppled homes and schools. The Federal Emergency Management Agency (FEMA) issued a Major Disaster Declaration for nearly one-third of the island.
Chaplains from the Billy Graham Rapid Response Team (RRT) are in the small U.S. territory to offer a listening ear and comforting presence to shaken communities, many who are living in tents, parks, vehicles or churches.
"As the earthquakes and aftershocks continue, people in Puerto Rico are living in constant anxiety and fear about what might happen next," said Josh Holland, assistant director of the RRT.
The team has Spanish-speaking, crisis-trained chaplains on the island to provide emotional and spiritual care.
Although Puerto Rico has shaken for centuries due to its seat on an active platonic plate, Hiram Sanchez, a Puerto Rican chaplain coordinator and pastor, told Holland that he's never experienced such strong tremors.
"Here, in the northeast where I live it seems to be something we're getting used to—not even noticing—but people are living in constant anxiety, expectation and fear of what may happen as they continue to hear the rumble," Sanchez said.
It's Sanchez's hope that those with anxiety will find the peace of Jesus Christ.
"More than ever—and we've been through a lot of hurricanes here—this is an open door for God to be shared and for God to be seen," Sanchez said.
Living a 90-minute drive from the worst hit areas, Sanchez has witnessed Puerto Ricans' fear while visiting the southeast end of the island. He's prayed with soldiers in the Puerto Rican National Guard,  first responders, government employees and residents.
"Many of them don't want to come back to their houses because of constant fear," Sanchez explained. "Under constant shaking, you never know when your house may turn from livable to rubble—especially if you're in a neighborhood with other houses that have totally collapsed, or the house next door has collapsed and is leaning against yours."
Sanchez spoke with one pastor who's been active in helping with the disaster even though his church and home crumbled. That pastor is living in a tent in front of his toppled house and still sharing the Gospel.
"For a pastor like me—who considers himself privileged, who is in the northeast, who sleeps in air conditioning, who continues to have his church upright—this just gives me added incentive to go and share with people and have a ministry of presence," Sanchez said of the upcoming deployment. "I want to encourage them, pray with them and let them know that God knows their name."
Sanchez says there's a clear need for many to have a personal relationship with God.
"A couple of years ago, we went through Hurricane Maria," Sanchez said. "I, as a preacher and someone involved in disaster relief for almost 20 years, thought Maria would change people's mindset in regards to God. That it would turn us from trusting ourselves to understanding how vulnerable we are and turn to God. But that didn't happen much."
However, Sanchez says he's seen more people turn to God in the midst of the earthquakes.
"People feel a lot more vulnerable," Sanchez said. "My experience walking through towns and hearing from people is that they're really trusting God on this one."
Even though this is the RRT's first deployment in Puerto Rico, their ministry was present there in early February as nearly 600 Christians were trained by the ministry's Sharing Hope in Crisis course. The training, which teaches people how to care for their neighbors during trials, is a pre-requisite for all Billy Graham chaplains, and is being increasingly shared globally.
While receiving an update from Sanchez, Josh Holland prayed from BGEA headquarters in Charlotte, North Carolina, for Sanchez on the phone.
"I pray that through the ashes, rubble and destruction, the glory of the Lord will rise up," Holland prayed. "That people will come to faith in Jesus. What the enemy meant to turn away will actually draw people to You."
Please keep Puerto Ricans and the Rapid Response Team in your prayers.