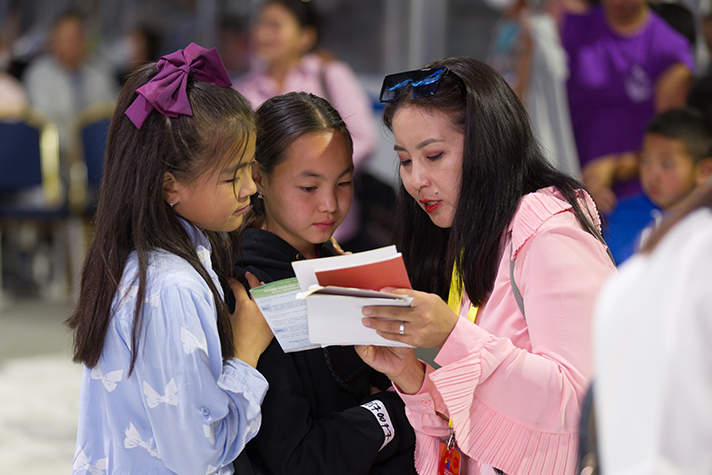 When many people hear "Mongolia," they need to consult a map.
Sandwiched between Russia and China, this central Asian country has a storied history and diverse religions. Many practice Buddhism, while Shamanism—the worship of blue skies and ancestral spirits—is on the rise.
But it's the one true, living God that Franklin Graham told people about in the capital city of Ulaanbaatar on Saturday night.
"You need Jesus Christ. He is the only way to God. Jesus said, 'I am the way, the truth and the life. No man comes to the Father except through me.'"
Thousands held their hands and their phones in the air as the Christian group Nomadic Spirit filled Steppe Arena with praise.
Directly in front of them, in traditional Mongolian costume, dancers jumped and moved effortlessly, worshipping God.
More than 9,000 people came out for the first of the two-night Festival of Joy, with over 8,600 watching online.
"He sent his Son from Heaven to earth to save you," continued Franklin Graham.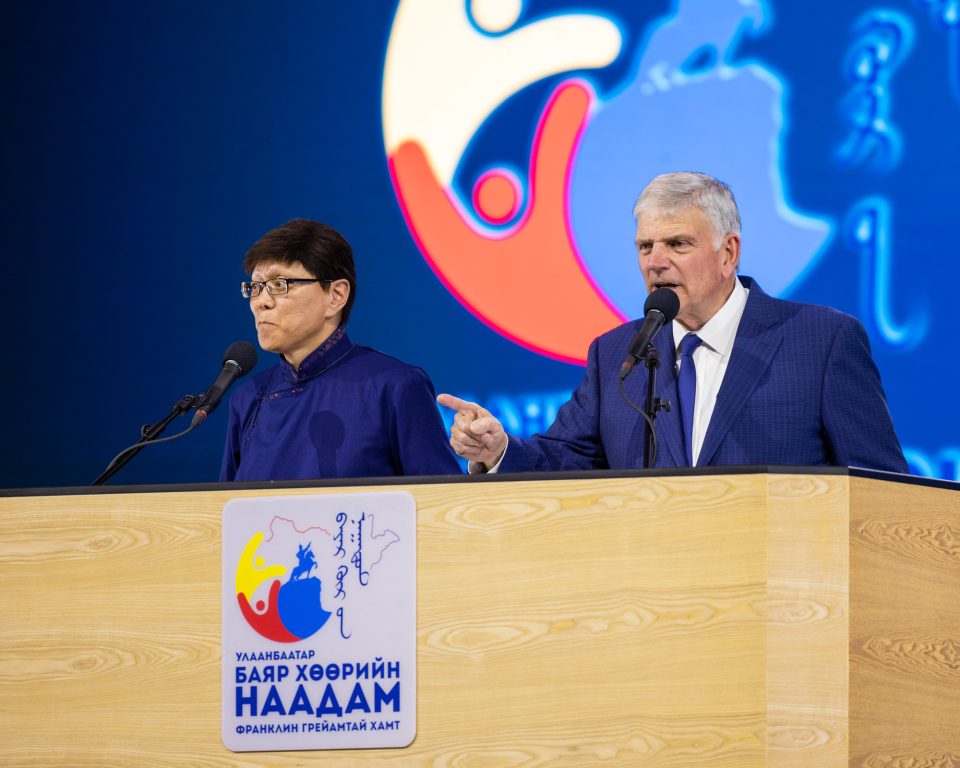 Sergey* was one of more than a thousand people who made a decision to follow Jesus Christ at Saturday night's event.
Pulling the invitation from his jacket pocket, he shared how a stranger had invited him.
Thinking it was a concert, Sergey decided to go. There was music, but this was going to be more than a night out. He heard Franklin Graham explaining how Jesus died on the cross for his sins.
"I heard about Jesus 30 years ago but never believed," he said. "Today I just believed. I had a desire to believe."
Sergey's family is Muslim. "By making a decision to believe in Jesus means I am denying my family," he said. "I'm happy to become one of God's sons.
"I believe I'm free now," he said, smiling.
Many came to the arena by bus after being invited by local church members at community wells. This outreach was led by Pastor Tsogbayar Sukhbaatar, or Tsogoo, with Word of Christ Mission.
Jesus went to the well and met with the Samaritan woman, he explained. Tsogoo is on fire for others to know God because it's what freed him.
He spent 13 years behind bars, but said the real prison of bitterness and unforgiveness was in his heart.
Two of Tsogoo's brothers were killed by the same man.
"I was angry, aggressive and full of hatred," he said—all of which was directed at a man who killed his brothers. But after someone shared the Gospel with Tsogoo in prison, the Holy Spirit softened his heart. He decided to follow Christ and eventually forgave the murderer.
Knowing his brothers died without hearing the Good News saddens him. Yet, it fuels his urgency to share the love of Christ in his city. "If I don't, others will [also] die without the Gospel," Tsogoo said.
The capital city is also home to thousands of students, many who are certainly searching for answers in life. A recent pre-Festival youth rally hosted by local churches was expected to draw 500–600 students, but shockingly, 1,400 youth came to the event.
For the nearly 250 churches working alongside the Billy Graham Evangelistic Association (BGEA) for the outreach, this was very encouraging.
Saturday night, students ranging from age 10–18 were the group with the largest number of decisions for Christ.
"Mankind is searching for purpose and meaning to their life," Franklin Graham said. "But something is missing. You don't have that happiness.
"We have a vacuum of emptiness that can only be filled by God."
Are you searching for answers about faith? Start here.
*Name changed for privacy.