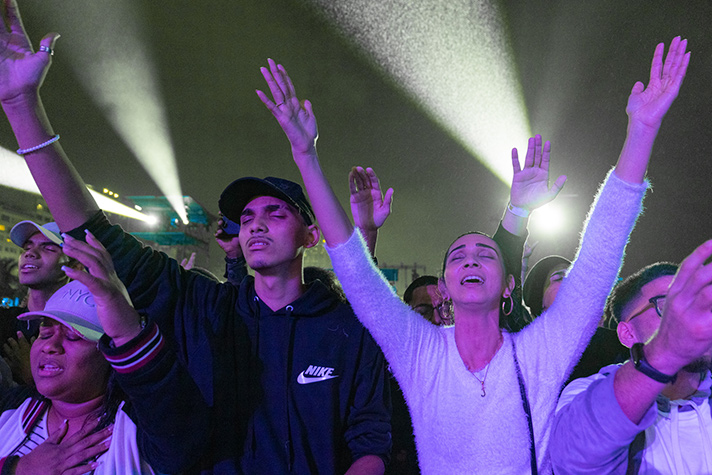 When Franklin Graham greeted the 68,000 gathered on Copacabana Beach Saturday, there wasn't a drop of rain in the sky.
But the clear skies didn't last long. Just as the evangelist started explaining the realities of sin, everlasting souls and the afterlife, a drizzle began.
"Is your soul safe and secure?" he asked the Esperança Rio crowd. "If you died tonight, would God receive you into His presence?" 
Umbrellas popped open across the crowd. People pulled on their ponchos. But their gaze and attention remained on the beach stage.
"God loves you," Franklin Graham continued, unaffected by the shifting weather. "He's patient. He doesn't want you to perish. He wants you to be with Him in heaven. But the only way is through faith in Jesus Christ."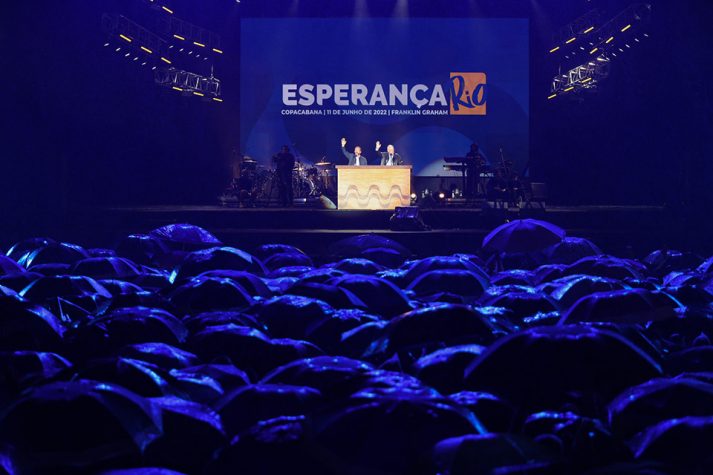 Under an Umbrella
It was Franklin Graham's question about the condition of her soul that stuck with Barbara. 
Hovering under an umbrella with her husband, the middle-aged Brazilian woman wasn't sure how to answer. So when Franklin Graham led the crowd in a prayer of commitment to Christ, she repeated each word in Portuguese. 
"I came to worship God, but never expected to respond to the message this way," Barbara said afterward with a contented smile on her face.
Just a Block Away
While Barbara didn't expect to recommit to Christ on Saturday night, Thaiza didn't think she'd show up at all.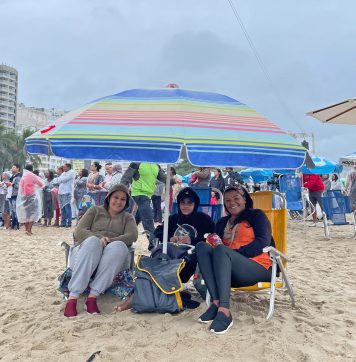 The young mother, who lives just a block away from the beach, saw the massive stage being constructed on Copacabana Beach. Then, the night before the event, she heard the musicians testing the sound system. And she just had to figure out what was going on.
"I was lying down and ready for bed, but I had the feeling I needed to check it out," she explained. 
So Thaiza walked through the pitch dark to hear the lyrics better during sound check—and started crying just one song in. She identifies as Christian, but admitted she hasn't attended church in a long time.
"You're not going to church, so church came to you," one event volunteer said. Thaiza agreed.
Less than 24 hours later, the Rio local was bringing her mother and son to the evangelistic event—where all three heard about a Savior who patiently waits for them.
Over 40 Years Later
Another person within walking distance of Copacabana was Wilson. That's actually pretty rare in the city of Rio where it can take hours to get from one area to another. 
But this man with salt and pepper hair took the metro on Saturday, just three stops down. 
"This kind of event makes the church stronger," he said, fully equipped with an umbrella, hat and waterproof jacket. He witnessed that firsthand back in 1974, when his church grew after Billy Graham's Crusade in Rio.
"A lot of people came to know Jesus because of that event, and they are still Christians today," he said.
A Month of Firsts
That could be Natalia's story. Decades from now, she may recount how her life changed one weekend at Copacabana Beach—the day she invited Jesus into her heart and life for the very first time.
Minutes after praying with Franklin Graham, she got teary talking about it. 
"I just felt that I needed to pray," she explained, pausing as tears joined the raindrops on her cheeks.
While Natalia didn't grow up in a Christian home, some life challenges led her to visit a church only two weeks ago. That's where a church member invited her to Esperança Rio.
Still tender after the deeply emotional decision, Natalia didn't say much through her tears. But she did share her hopes for the days to come: "I hope to stay close to God and never leave the church."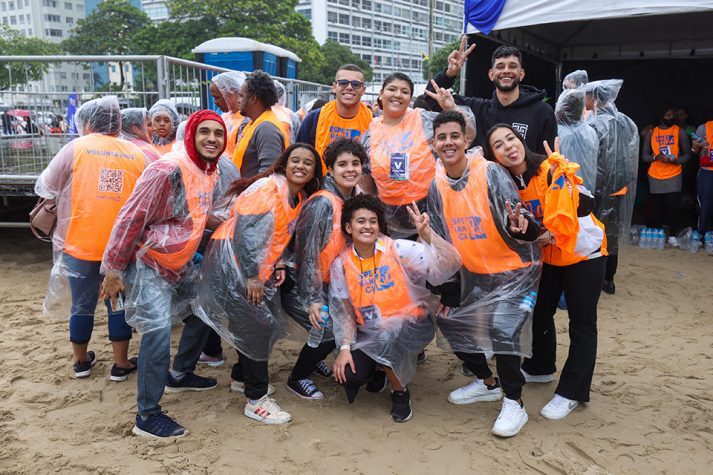 Teardrops or Raindrops?
From a distance, one Brazilian pastor couldn't tell if rain or tears glistened on the face of a 22-year-old man in the middle of the packed crowd. 
But as one of the thousands of trained counselors, Theodoro approached the young man to find out. Turns out, they were tears. And the young man couldn't hold them back after deciding to live all out for Jesus.
It's always gratifying, said Theodoro, when you can help someone in that state to realize God is calling them back.
And when it came to Saturday's less-than-ideal weather, the pastor had a trusting perspective: The people who want and need to be here are here, he said.
Just Strolling By
One person God handpicked to hear the Good News Saturday was Kalita.
She lives 600 miles away, but her family is vacationing in Rio. They were strolling by the famous shoreline when Franklin Graham's message of hope spoke to her.
Between an unexpected pregnancy and unemployment during the pandemic, Kalita said she gave up on God in recent months. But the message about forgiveness filled her with hope–and she prayed to recommit to her heavenly Father.
Now Kalita is confident God has a plan for her son's life. And He's clearly got a plan for hers.
Please pray the Holy Spirit continues to work in these six people's lives—and throughout the country of Brazil.