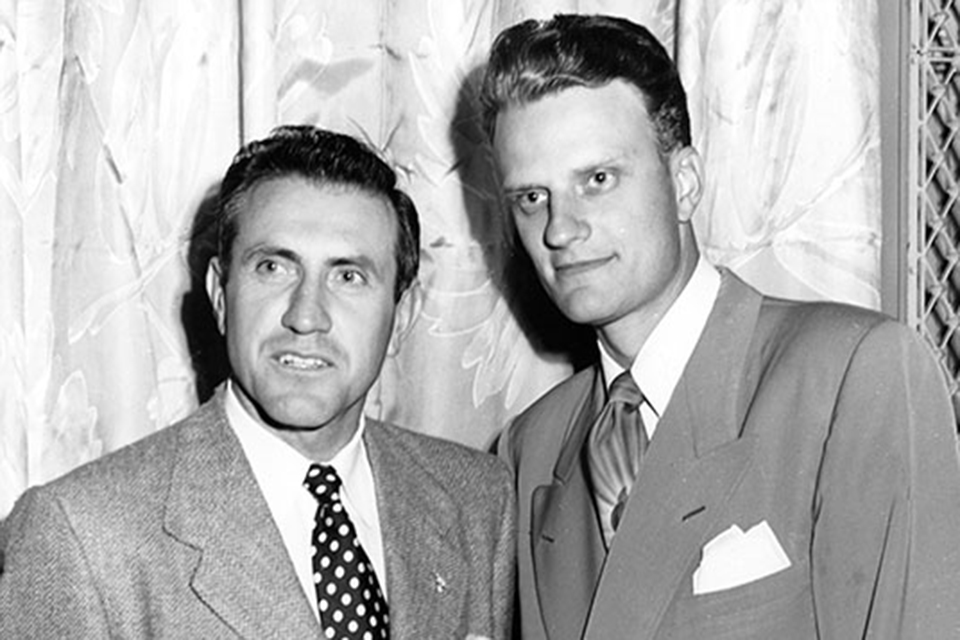 You'd think a man who survived two plane crashes, a Japanese POW camp and 47 days adrift in the ocean could conquer anything.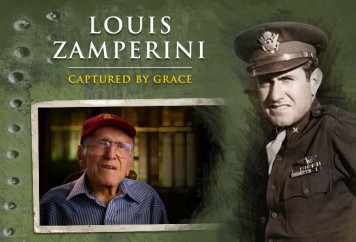 But WWII veteran and Olympic athlete Louie Zamperini couldn't win his battle with alcohol and depression.
That is, until he encountered the life-transforming power of Jesus Christ when his wife practically dragged him to a Billy Graham meeting under a Los Angeles circus tent in 1949.
"My life was completely changed ever since," Zamperini said in a new video from the Billy Graham Evangelistic Association. The video, Captured by Grace, picks up Zamperini's story where the movie Unbroken left off.
Brushes with Death
The world-famous Olympic runner was serving in WWII when his plane crashed into the south Pacific. Only Zamperini and two others survived the impact.
"I arched my back out, and popped to the surface swallowing fuel and blood," Zamperini said.
While clinging to a life raft, Zamperini prayed for one of the first times in his life: "God, if I survive this ordeal and get back to America alive, I'll seek You and serve You."
Zamperini did make it home, but only after being picked up by a Japanese boat and suffering through two years of torture in POW camps. As Zamperini nearly starved, a Japanese officer known as "The Bird" made it his personal mission to break him.
"His belt was about five inches wide, half-inch thick with a big steel buckle," Zamperini said. "He took that off and hit me across the temple, knocked me to the floor. Blood spurted out of my head.
"I was constantly being tormented by the guy. And you talk about hate. I wanted to kill him."
The War After the War
Nightmares began in prison camp and plagued Zamperini long after he returned home to California.
"The nightmares were every night," he said. "I couldn't get rid of it."
Time wasn't healing his wounds; it was making them worse. One night Zamperini dreamed he was strangling The Bird. Instead, he woke up strangling his wife. Scared and desperate, he started getting drunk to forget about the horrors that plagued him.
With her husband out drinking every night, Zamperini's wife Cynthia filed for divorce. After surviving so much, Zamperini was about to lose everything.
A Turning Point
That's when a concerned neighbor invited Cynthia to the Billy Graham Crusade taking place in a Los Angeles tent dubbed the Canvas Cathedral. She accepted the invitation and then accepted Christ. Her husband wanted no part of Christianity, but his heart softened when Cynthia said she no longer wanted a divorce.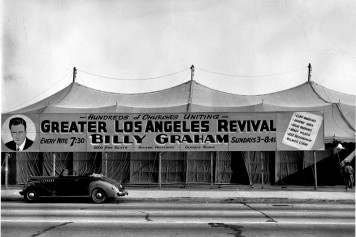 After storming out of the tent the first night, Zamperini amazingly returned for one more evening. That time, the Bible verses Billy Graham quoted went straight to Zamperini's heart.
"Of all my near-death experiences my life never passed before my eyes," he said. "But when Billy Graham quoted Scripture my life did pass before my eyes."
For the first time in years, Zamperini remembered the promise he made to God when he was floating in the south Pacific.
"My life passed before my eyes, and I saw an ugly life," Zamperini said. "Yes, I had a lot of great times. A lot of great experiences, and a lot of escapes from death, but I still didn't like my life after the war. It was terrible."
That night in L.A., Zamperini went forward and accepted Christ, and the biggest miracle of his life was set in motion.
"I knew I was through getting drunk," Zamperini said. "I knew I was through smoking, and I knew I'd forgiven all of my guards including The Bird. Never dawned on me again that I hated the guy.
"That was the first night in all those years I'd never had a nightmare, and I haven't had one since."
Back to Japan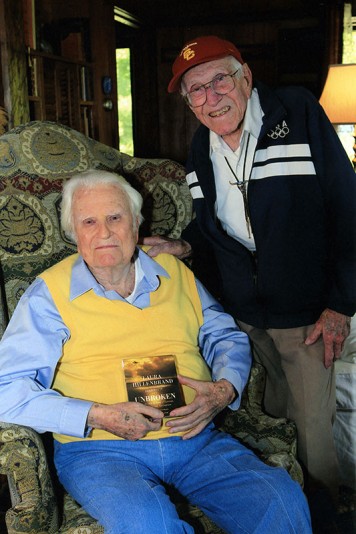 Zamperini's transformation was so all-encompassing, he returned to Japan to share the Gospel with hundreds of Japanese troops he once hated. This time, they were the ones behind bars, imprisoned for war crimes. Zamperini watched as many of them accepted Christ.
He went on to share his faith around the world, speaking at several Billy Graham Crusades and cultivating a friendship with Billy Graham that lasted until Zamperini's death on July 2, 2014.
Though they first met in 1949, the connection between the two men grew after Billy Graham read Zamperini's story in Unbroken, Laura Hillenbrand's 2010 bestseller.
"I had tears in my eyes and praise in my heart for what God has done through you," Mr. Graham wrote to Zamperini, who paid a cross-country visit to the evangelist in 2011 and held a book signing at the Billy Graham Library at the age of 94.
"This Billy Graham thing is a phenomenal miracle the way it started," Zamperini said. "The way it spread out. I'm one guy that got saved, and I've spoken to hundreds of thousands and had my testimony in papers where millions read it. One person! Think of the spider-web effect all over the world."
Unbroken: The Rest of the Story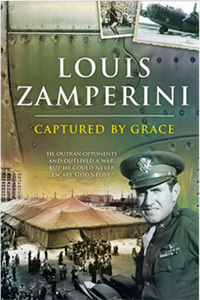 The movie Unbroken will open in theaters on Christmas Day, the same day BGEA is releasing Captured by Grace, and details much of Zamperini's extraordinary life.
The Unbroken movie omits the last several chapters of Hillenbrand's book, leaving out Zamperini's conversion to Christianity and the miraculous transformation that followed.
In Captured by Grace, audiences can see the rest of the powerful redemption story.
"Thank God for Billy Graham," Zamperini said in the 30-minute DVD. "He's indelible in my heart and mind. The heart of this story is when I found Christ as my Savior. That's the heart of my whole life."
Own the new DVD Captured by Grace and see the rest of the Unbroken story.
Watch the full program, Louis Zamperini: Captured by Grace online now.
Louie Zamperini's life changed when he accepted Jesus Christ. Encounter the love of Christ today.