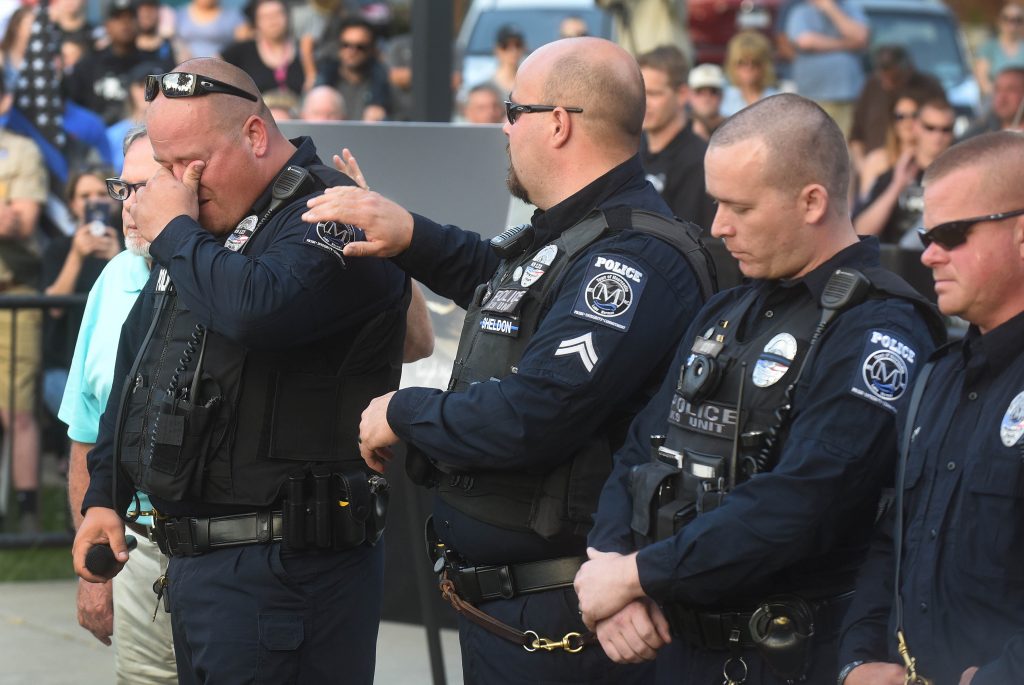 "Let each of you look not only to his own interests, but also to the interests of others."
—Philippians 2:4
In a verse, that's the heart of law enforcement, Billy Graham Rapid Response Team Chaplain Manager Chad Stillman shared Wednesday, May 8, at a community vigil for fallen Mooresville Police Officer Jordan Sheldon.
Crisis-trained chaplains initially were invited to Mooresville, North Carolina, to offer support and prayer in the wake of Sheldon's tragic death Saturday, May 4. On Wednesday, three chaplains visited with folks paying their respects at police headquarters while 10 others joined hundreds more for Sheldon's Celebration of Life on the Town Hall lawn.
Sheldon's life touched many. Fellow officers and local community members remembered the K9 officer as an outgoing, high-energy individual. He wasn't afraid to work hard, and he never shied away from giving someone a hard time. But the engineer-turned-police officer also was quick to deflect praise.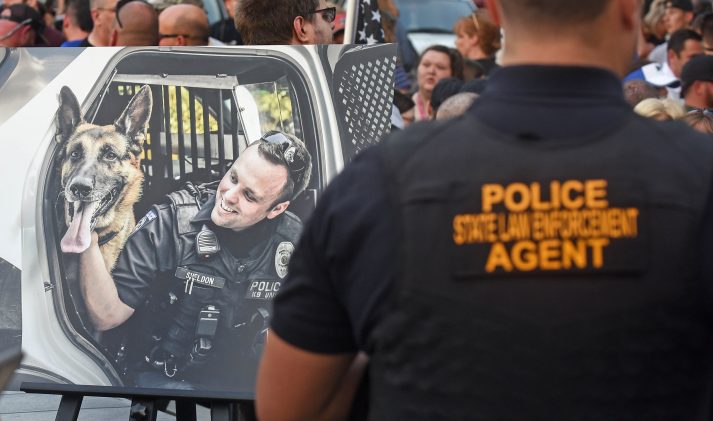 "Nothing was ever about him," shared Naomi Rice of Mooresville's Adopt-A-Cop program that showers Mooresville's police with appreciation baskets during the year. "He wanted to provide for his dogs. He wanted to give back in every other way and make sure that everybody else was taken care of before himself."
Saved at a Billy Graham Crusade
At Wednesday's vigil, Officer Sheldon's mother approached chaplains and let them know that her son accepted Christ into his life at Billy Graham's 1996 Crusade in Charlotte, North Carolina. "It's because of Jordan's relationship with Christ I know we'll see him again," she said. Another officer shared that "Jordan knew his Bible inside and out."
After Sheldon was killed in the line of duty on May 4, members of the Mooresville community and elsewhere completely covered a memorial patrol car at headquarters with flowers, cards, even dog treats for his K9 Ramone.
"This just hit too close to home," Pat Volgerson said. She and her husband Mike moved to the area 20 years ago. Mike served in the U.S. Marines so supporting local law enforcement was a natural extension of that brotherhood. The Volgersons, who now live in nearby Troutman, recently sent devotions to the Mooresville Police Department. Faith comes first in their lives, and they wanted every officer to have a Biblical resource.
"It had things you could look up, like sorrow," Pat shared. "It had all different Scriptures you could back reference for different situations."
Detective Jeremy Page of nearby Kannapolis Police Department attended the vigil in solidarity. He said he prays constantly during his shift.
"If you don't have faith to keep you strong, I really don't think you can do this job," Page said. "We deal with so much evil on almost a daily basis."
'Give It to Christ'
Not every police response is bad, but the hard ones can have staying power—even over time. A former New York City police officer stopped by the Rapid Response Team's Mobile Ministry Center on Wednesday to talk with chaplains. He was still haunted by his time working the events of 9/11.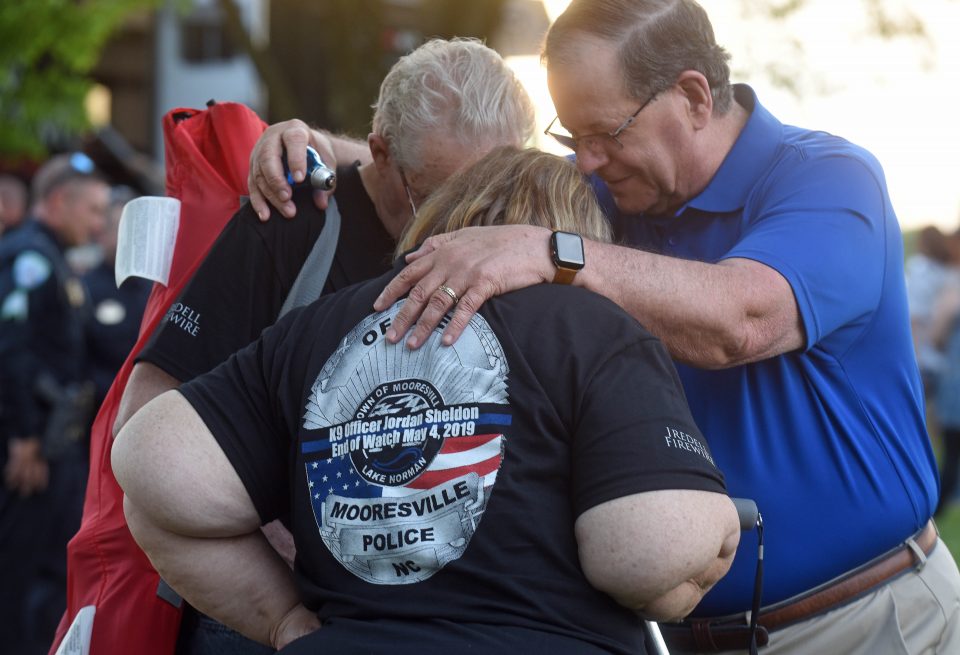 "He was just pulling up as the second tower fell so this hurts him a lot," Stillman said. "He retired, and he moved down here thinking he was going to get away from it all. He said, 'Stuff like this brings back all those memories.'
"So often we try to run away from our problems and our hurts. Unless we give it to Christ, it's going to follow you."
That's what one UNC-Charlotte student discovered when he visited Sheldon's memorial on Wednesday morning. The 21-year-old graduating senior shared with chaplains that he had been on campus during the recent fatal shooting. Between that tragedy at Sheldon's Alma Mater and this one in his hometown, the student was angry.
But as he talked with crisis-trained chaplains, he learned more about God's love for him. The student's anger abated. Curiosity took over, and he wanted to hear more about God's way. He chose to accept Christ as his Lord and Savior.
"You never know what God is doing," chaplain Richard Brown said. "Something that can be bad, He brings good out of it. The tragedy at UNCC, the tragedy here—but souls are coming to Christ because of it that may not have otherwise."
Backing the Blue
Terry Osborne walked through the crowd, shaking hands with uniformed law enforcement officials. He thanked them for their service.
"I risked my life in Vietnam. They risk their lives here every day, so that makes them brothers in arms to me," shared Osborne, who's lived in Mooresville since 1961. "I appreciate their service."
The sentiment stretched throughout the crowd during the vigil. Blue light bulbs were handed out so residents could turn the town blue this Saturday. Glassy-eyed community members hugged law enforcement officials; some didn't even try to wipe away their tears. And folks murmured in agreement across the packed lawn when Minister James Murphy thanked God for law enforcement officials.
"We, the town, are thanking You for putting the call upon the hearts of these brave men and women as they keep us safe and sound," he prayed.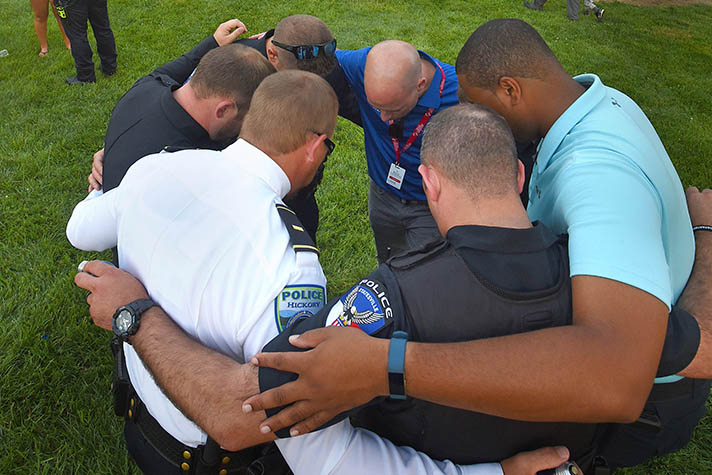 Sheldon was fearless, inspirational and he loved his job, according to those who knew him best. Fellow K9 officer Andrew Beck shared how Sheldon joked the night-shift officers were the real police officers. Of course the two ultimately would work night shift together.
"Officer Sheldon had a love for this community, of everybody here," Beck said. "I appreciate seeing the support out here. We know we have that support in Mooresville. There's been many days, many weeks in a row that I've never bought a meal. People would pay for it, keep walking and never say a thing to me. I've had people from the community come up and hug me.
"I really appreciate that because this is going to hurt for a long time."
Please keep Officer Sheldon's loved ones, the Mooresville Police Department and the community in your prayers.