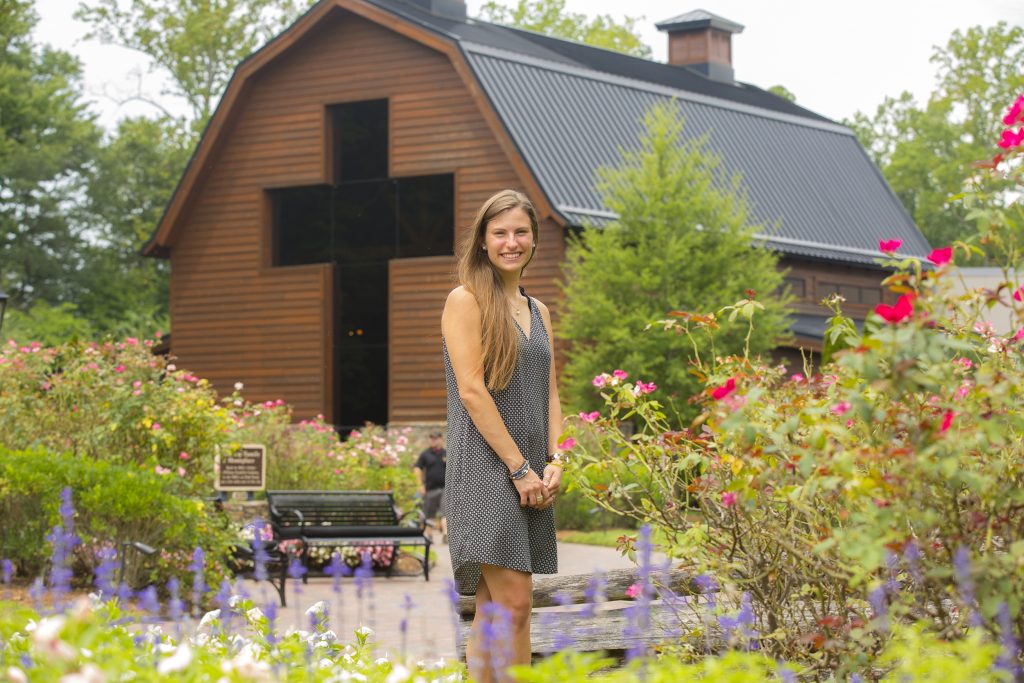 A summer internship at the Billy Graham Evangelistic Association brought Emily Sumney, a senior at Taylor University, home for the summer.
After moving away from North Carolina five years ago, Sumney had the opportunity to move back to her home state and live in Charlotte for 10 weeks. Along with 12 other interns working in various positions at the Billy Graham Library and BGEA headquarters, Sumney served as the project and event intern at the Library.
As a child, Sumney's father served as the projects manager at the Billy Graham Training Center at The Cove in Asheville, North Carolina.
Visitors come from all over the world to spend time growing in their faith at The Cove. Whether it's for a personal spiritual retreat or a conference, guests can attend Biblical seminars, hike trails along the Blue Ridge Mountains and soak up God's presence at Ruth's Prayer Garden.
For most people, a trip to The Cove is a much-needed getaway; for Sumney, however, The Cove is a second home. Doing homework on the rocking chairs, running into bears on the trails and meeting guest speakers or singers was the norm.
When Sumney was 16, her family relocated to Michigan. Leaving behind friends, relatives and the mountain views at The Cove, she settled into her new life in the Midwest.
North Carolina Calling
Fast-forward to earlier this year, and Sumney, then a junior in college, sensed a calling to apply for an internship with the BGEA.
"When I was asked to work at the Billy Graham Evangelistic Association for the summer, I had sort of a panic moment. I couldn't believe that I was going back," Sumney said.
"The idea of going back was so surreal to me because I couldn't believe I would be living in North Carolina again and working for a ministry that shares the Gospel every single day. The Billy Graham Evangelistic Association feels like home to me, and it has been a blessing to work at the same organization my dad worked at."
Meeting Billy Graham
In addition to her childhood experiences at The Cove, one of Sumney's earliest memories related to the ministry is meeting Billy Graham at a staff picnic.
"I don't remember much about it because I was very young, but at a picnic for The Cove staff, I do remember seeing Billy Graham," Sumney said.
She described how he took time to meet with team members and their families, "socializing and thanking people."
"I remember shaking his hand and knowing that it was a big deal, but not quite understanding why yet," she added.
During her middle school years, Sumney went to camp at The Cove and participated in BGEA's Bible-based training designed to help children share their faith. Along the way, she made relationships with people she still considers to be close friends to this day.
In October of 2008, Sumney was featured in Decision magazine for her involvement with the camp.
Ruth Bell Graham's Note
As a child of a BGEA employee, Sumney's life was influenced greatly by the Graham family's mission and various ministries. Ruth Bell Graham, however, personally influenced her the most.
"I loved Ruth Bell Graham. She was my hero," Sumney said. "I read all of her poetry, but Sitting By My Laughing Fire was my favorite. I was around 7 years old and in love with Ruth Bell Graham's poetry.
"I loved her so much that I sent her a letter, thanking her and telling her how much I loved her for who she was. She sent me a letter back along with her book called Our Christmas Story and even wrote a note to me on the inside and signed it."
Recognizing how special Mrs. Graham's note was, Sumney's family kept it and still has it to this day.
Sumney and her family visited the Billy Graham Library for the first time just one week after Ruth Bell Graham passed away. Sumney can still recall the sadness her family felt for the Graham family's loss.
Now, 10 years after her last visit, Sumney spent the summer planning events for the Library's volunteer ministry. She even helped coordinate events for the celebration of the Library's 10th anniversary.
Following in her father and grandfather's footsteps, Sumney attends Taylor University in Upland, Indiana, and studies Interpersonal and Public Communication. She had the opportunity to study abroad in Ireland two different times and will be graduating in May of 2018.