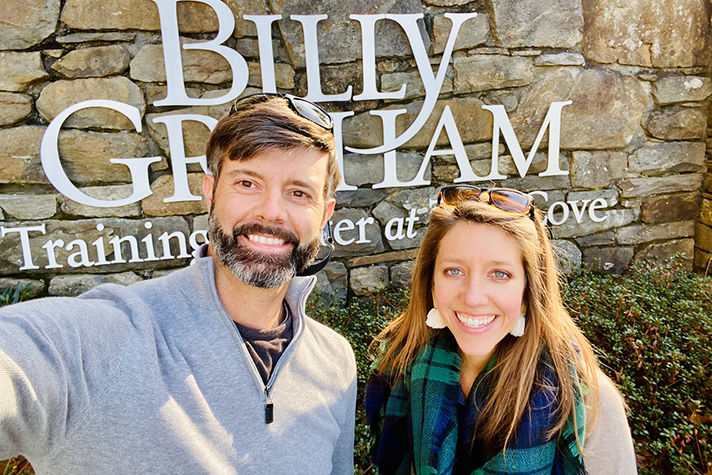 One couple shares how a Saturday trip to find furniture set them on a journey with Billy Graham long after his passing:
Raymond and Jennifer Grant met with a writer for the Billy Graham Evangelistic Association (BGEA) one winter afternoon over coffee. They live in Gastonia, North Carolina, just 20 miles from the BGEA headquarters in Charlotte.
Jennifer says she wasn't familiar with Billy Graham—a Charlotte native—until a few years ago.
"I knew there were some freeways named after him, there was the [Billy Graham] Library, but I just didn't know that much about Billy Graham."
She and Raymond are newlyweds, married this past December after two decades together. They started dating at 17, and in the past few years, have grown together in their faith.
As the son of a minister, Raymond says he's the classic prodigal son. He strayed from his faith but eventually came back around and, in the process, made a peculiar find.
In the spring of 2020, he and Jennifer stopped at a Habitat ReStore one weekend in Gastonia. Jennifer headed for the furniture, but Raymond got sidetracked in the book section—an odd place to get distracted, he said, since he's "not one to pick up books."
A copy of God's Ambassador—a heavy, colorful book full of pictures and details on the life and ministry of Billy Graham—caught his attention.
Raymond recognized Billy Graham from the 1996 Charlotte Crusade he attended with so many others from his father's church.
"It's not necessarily about the man Billy Graham, but it's about the message, the Word that he's presenting," Raymond said. It's about how God molded this man of "humility and selflessness" to be a mouthpiece of hope across generations, he added.
Jennifer kept an eye on Raymond as she perused the furniture, wondering what in the world kind of literature had her then-boyfriend so enraptured in its pages.
"He stayed there the whole time, flipping through it," she said, though in the end, the couple didn't buy the book. They put it back on the shelf and left.
The next day, after church, they told Raymond's dad about the book and decided they should have made the small purchase. It was Sunday, the store was closed, so they returned Monday and found it waiting on the shelves.
"Looking through the book, I was just amazed at how many people came to these Crusades," Jennifer said. She didn't know much about evangelism before, but has since learned a lot about the urgency of sharing her faith with others.
"I had started reading the Bible cover to cover years ago," she said. "It took forever because I'd stop in all the common places like Numbers, like oh boy, how am I going to get through this?"
Raymond's dad would encourage her along the way, and years later, Jennifer had another pastor spurring her on.
That was a virtual Billy Graham—with his sermons just a click away on YouTube.
"It was such a different way of presenting the Gospel than I was used to. I actually paid attention," she said.
When she and Raymond couldn't go to church in the early days of COVID, she would tell her mom, "We did church with Billy."
Jennifer attended church off and on as a kid and hardly at all in college. But listening to Billy Graham, she said, made the Gospel "more accessible."
She and Raymond also began a Bible study with Raymond's parents.
In late fall of 2020, after years of dating, she and Raymond were at a stronger place in their faith. And there was one question rattling around in their minds: Why aren't we married?
Raymond proposed on their anniversary, December 11, 2020. And on Jennifer's birthday that January, they took a trip to the Billy Graham Training Center at The Cove in their beloved North Carolina mountains.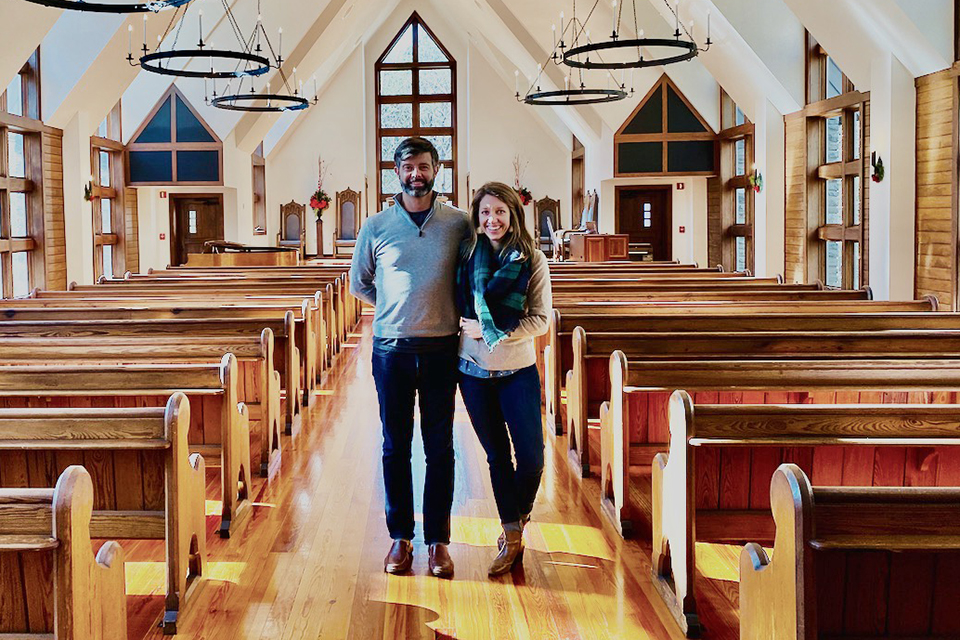 "I cried on my birthday," Jennifer posted on Instagram the next day, along with pictures from The Cove. "Tears welled up in my eyes and I couldn't hold them back. Grateful."
She shared her gratitude for the way Billy Graham's ministry impacted them as a couple even after his passing in February 2018. And for finding that used book in a local Habitat ReStore.
"Grateful that the little book opened us up to the world of evangelism and the sharing of the Good News," she wrote. "Grateful that [Billy Graham's] teachings led us to a new daily habit of saying the blessing before meals. And forever grateful that it led to a simple conversation overlooking the mountains that started with 'Why aren't we married?'"
When Raymond's father died the following month, in February 2021, Raymond wanted to include a short Gospel message and invitation to accept Christ in the eulogy—just like he'd seen his father do thousands of times, and like Billy Graham did for decades around the world.
Raymond went back and forth about how to do that, and just days before giving the eulogy, found Billy Graham's funeral service online. Raymond watched as Franklin Graham gave an invitation to accept Christ during his own father's funeral.
"It was like a wink saying you're going to do the right thing," he said.
Now that they're married, both Raymond and Jennifer continue to grow in their faith together.
They read Billy Graham's short devotion and prayer each day. And they're taking a class at church on how to keep God at the center of their marriage.
They also reach people around them with the same Gospel that's changed their own lives.
"It's not for us to keep in our little box; it's for us to share," Raymond said.
The couple run a business organizing estate sales where they often play 106.9 The Light FM, a radio ministry of BGEA.
They've encouraged a friend who's become curious about God. And an elderly neighbor who's been resistant to Christianity. Jennifer once told the neighbor she watches Billy Graham sermons, and the next time they ran into each other, the neighbor shared that she'd started watching his sermons, too.
"We have to shine that light" and be open to God's plans, Raymond said.
"It's what He's doing through us," Jennifer added.