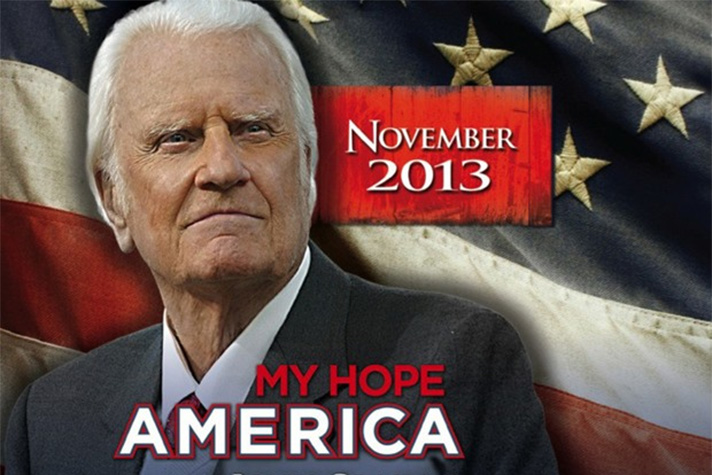 For the first time in almost exactly 63 years, the Hour of Decision, featuring Billy Graham will not air in its regular time slot next weekend.  
Instead, a special My Hope America with Billy Graham program called Defining Moments, will be broadcast in its place on the nearly 600 radio stations nationwide and XM/Sirius that air the weekly program featuring timeless Billy Graham messages. American Family Radio, Salem Broadcasting, Moody Broadcasting and the Bott Broadcasting Network are all scheduled to air the My Hope America program on Nov. 9 and 10.
"Substituting the Hour of Decision for another outreach is not something we go into lightly," said Jim Kirkland, director of radio at the Billy Graham Evangelistic Association. "But we felt Defining Moments was wholeheartedly consistent with the mission of 'Hour of Decision.' "  
Not to be confused with the My Hope America TV program Defining Moments, which has been aired as a CTV special earlier this year and has been available for months on DVD and online streaming. The video "Defining Moments" has been used by many of the 25,000 involved churches from all 50 states to present a clear message of the Gospel through relationship evangelism.
The radio version of Defining Moments, still part of the greater My Hope America project, centers around the same three subjects as the video program — illusionist Jim Munroe, former NFL player David Tyree and singer Lacey Sturm.  
But instead of inviting friends, family and neighbors over and showing this powerful video, in a living room setting after a meal or chips and salsa, the audio "Defining Moments" is intended for those searching for hope, driving in their car or who come across it while hitting seek on their dial. 
"It is designed specifically for what we refer to as God's 'Divine Appointments,'" Kirkland said. "Folks who just happen upon the program, or people who haven't heard of My Hope America."
More than 30 other Christian radio stations, who don't normally air the Hour of Decisions, will be running "Defining Moments," including some who have all-music formats and several in Top 20 markets.
The program will air next weekend, just days after Billy Graham's 95th birthday on Nov. 7, and almost 63 years to the day from its first program.
"To the best of our knowledge, it's the first time since it's debut on Nov. 5, 1950, that Hour of Decision has stepped aside for any other program," Kirkland said.
But he's confident airing Defining Moments is the right decision for this moment.
"The "Divine Appointment' aspect is one reason why we encouraged stations to air the program at a variety of times around the clock," Kirkland said. "We've been blessed by the large number of stations who are generously making the airtime available. And more are committing to do so every day."
Contact your local Christian radio station to find out when Defining Moments will be airing in your market.
My Hope America culminates with a new message from Billy Graham, called "The Cross," airing nationwide on Nov. 7. For local and national TV listings, click here.