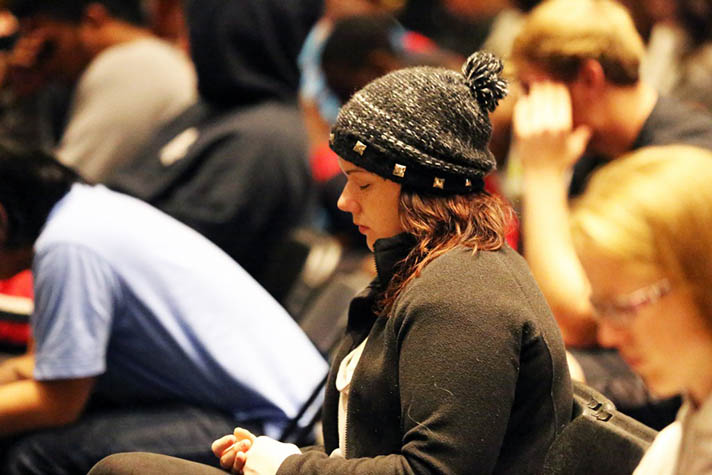 As the Decision America Tour with Franklin Graham is gaining momentum, it is clear that God has also been on the move in our nation through Billy Graham Evangelistic Association's My Hope films.
Since 2013, churches, organizations, parachurch ministries and individuals across the United States have used these powerful evangelistic videos to reach friends, family and neighbors with the hope of Jesus Christ.
The latest installment in this series of films is Value of a Soul, released in October 2015. Value of a Soul features three real-life stories of transformation in Christ. The stories are woven together with a Gospel message from Franklin Graham.
Other videos released include Heaven, The Cross, Defining Moments and Lose to Gain.
Here are just a few snapshots of the ways God has been at work across the states through My Hope:
Delaware: After 23 years at his church, one pastor contemplated resigning. Through a series of hardships, the church had lost 50 members over the last two years. At the end of his rope, he attended a My Hope pastors training session. When the session ended, the pastor wasn't only inspired but opened his pulpit for a My Hope representative to conduct training at his church.
Now the church is planning to hold a revival series in the spring, and the pastor who was ready to call it quits is once again passionate about evangelism.
Dayton Beach, Florida: The night before Thanksgiving, it began to rain around the halfway point of an outdoor Value of a Soul showing. But that didn't deter the work God wanted to do. Before the film started, more than 300 hot meals were served, and Bibles and clothing items were distributed to the community. A Gospel message was given and 18 people came forward to commit their lives to Christ.
Little Rock, Arkansas: One team of people has visited a prison three times to share the Gospel through the showing of Value of a Soul. Over those three visits, six cell blocks have been engaged with the Gospel. So far, 100 men have seen the film and 24 have responded to the invitation to receive Christ in their hearts. Fifty-nine others rededicated their lives to Jesus or sought assurance of their salvation.
Annapolis, Maryland: At a Christian school, students watched The Cross. One of these students had contemplated suicide many times. As she watched Lacey Sturm share her journey from suicidal thoughts to redemption, she knew God was speaking straight to her. She immediately felt God's presence with her when she prayed to accept Christ. She no longer has thoughts of suicide.
Three additional students accepted Christ as Savior, and several more rededicated their lives to serving Him. Many still have questions or aren't sure of their salvation, but small group leaders continue to work with these teens as they search for the truth.
Oahu, Hawaii: Pastor Kahu Kekuna at Kawaiaha'o Church is very excited about My Hope. His church is one of the oldest standing Christian places of worship in Hawaii. Pastor Kekuna was so moved by watching the preview of Value of a Soul that he called a leadership meeting. In less than 24 hours, he had a team of 20 leaders in the church office watching the film, which he now says was "an answer to prayer" for the direction of their church.
On November 7—Billy Graham's birthday—they held a free luau and presented Value of a Soul to 200 people in the community who showed up.
New York, New York: God has done great things at the New York City Rescue Mission through My Hope. Value of a Soul was recently shown in a chapel service, where around 50 people attended and three accepted Christ. Area pastors are reporting that homeless people who have come to worship services at the Rescue Mission (where other BGEA videos are regularly shown) have been coming to their churches and getting plugged in.
Browse some ideas for sharing My Hope in your own community. 
Tenth Avenue North is featured in Value of a Soul and released a music video to go along with it. Watch below.