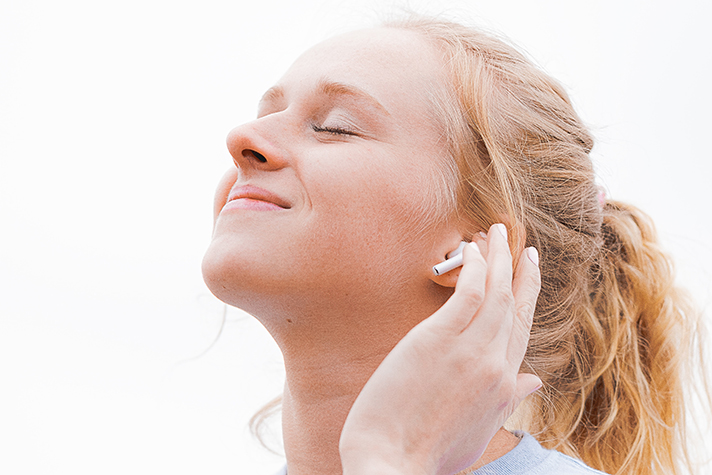 After a 20-year addiction to drugs and alcohol, Marcel Dube can relate to the testimonies on the GPS podcast, also known as God. People. Stories. The weekly podcast is produced by the Billy Graham Evangelistic Association.
In fact, Marcel was still having relapses when he heard Dustin Garrett's story on GPS. Formerly addicted to drugs himself, Garrett was living a miserable and broken life until he found hope in Jesus Christ.
>> God can rewrite any tragedy. Listen to Dustin Garrett's story on the GPS podcast.
"He had found success, found a place to serve and was sober," Marcel remembered. "It gave me hope that at some point in the future, this could happen for me."
Every Wednesday, GPS airs life-changing stories from musicians, athletes, missionaries, murderers or ordinary people. All testify about their struggle to find purpose and peace with God.
Since 2015, the podcast has aired more than 280 episodes.
A recent GPS interview with best-selling author and podcast host Annie F. Downs is another of Marcel's favorites.
"I really liked that one," he said. "She thought her life was going to be a certain way, and then it wasn't. It made me feel better about my own."
Because at 36, Marcel thought he would have achieved more in life.
At 16, he started drinking and doing drugs to battle depression and make friends. This caused him to downward spiral into a "depressed, anxious, angry mess."
He attempted suicide so many times he lost count. Rehab and counseling helped, but there was still a big hole in his soul.
Living in a recovery home in 2010, his uncle sent him a Christian CD. The message—how most people live for things that don't matter—struck home.
He suddenly knew he needed to live for God.
"I just felt some kind of change come over me," Marcel said, remembering he had prayed for years that God would transform his life. Marcel surrendered his heart to Christ that day.
Though he quickly learned that being saved doesn't make problems disappear. Marcel continued to struggle with relapses, shame and guilt.
Feeling lonely and worthless, and without Christian friends, he went online in search of a ministry. Soon, Billy Graham's voice boomed through his headphones. "This guy's [message is] just so simple, clear and direct," he remembers thinking.
Marcel also found GPS podcasts on BillyGraham.org and regularly listens to Billy Graham sermons, Fearless podcasts and reads Decision magazine online.
>> Billy Graham sermons are also available on SiriusXM—Channel 460.
Growing in faith was a process, though. Marcel was bitter about having wasted his life. He picked up a Bible his uncle had given him and began reading. He found out he wasn't alone. The Bible was full of people who had messed up—and whom God forgave.
"I stopped trying to fix everything myself," he said. "I'm forgiven. God can still turn my life into something good. I could let all the bitterness go, all the lost years go."
Marcel has been praying for a chance to tell his story. "With all this pain and guilt, that God would do something good with this," he said. Even if it helps just one person, Marcel said, his wasted years would be worth it.
"I should feel bad about my situation but I feel hopeful," he said. "It feels like something is going to happen."
"I'm finally at a place where I can put God first and realize I'm supposed to be serving Him."