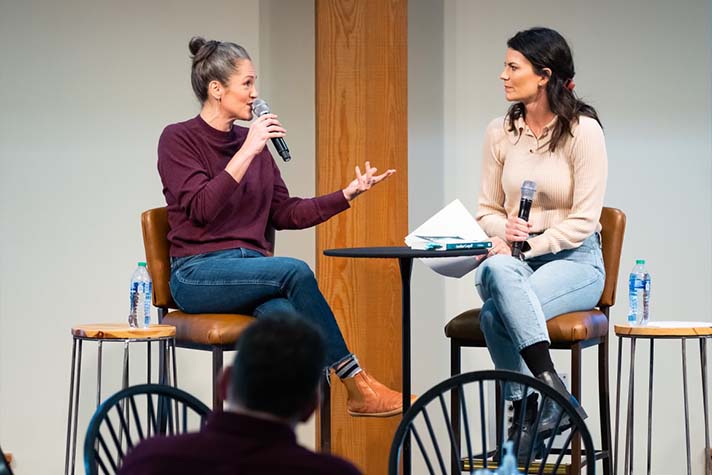 A few years ago, Cissie Graham Lynch noticed a trend among her Christian friends. They'd move for a job after college, find a new church and then lose touch with her.
"If they stopped talking to me, I [knew] there's something going on in their spiritual life."
About six weeks later, Lynch's friends—who were solid believers—would abandon their faith.
On her latest Fearless podcast episode, Lynch invited author Alisa Childers to talk about progressive Christianity—a movement that aims to redefine the Christian faith. And changed her friends' core beliefs.
It's actually a Christian movement, explained Childers, former member of the Christian band ZOEgirl. It is Christ-followers who are "reexamining, redefining, and often rejecting the core claims of the historic Christian Gospel."
Yet, they still identify as Christians.
A slippery slope to navigate if you're not well-versed in God's Word.
In the podcast, Childers shares five red flags to help listeners recognize that their church may be heading toward progressive Christianity.
>>Learn to identify five warning signs of progressive Christianity. Listen to the full podcast episode.
Her book Another Gospel? talks about a personal experience when her pastor tried to deconstruct her faith—and how dangerous it was for her beliefs. For years, she wrestled with deep questions until God led her back to His truth.
At its core, progressive Christianity is a different religion, she explained. "It gives you a different God and a different Jesus. It's not a Jesus who can save you."
Discerning Truth
How can a Christian recognize the warning signs of this false teaching?
"We have to know the Word of God so well that when a counterfeit comes across our social media newsfeed or we hear it in a sermon, we will spot it instantly," confirmed Childers.
Or it will at least raise red flags.
"If you know [Scripture] and you know why you believe it's the real thing, then you will spot the counterfeit," she shared. "We have the Holy Spirit; we have the Word of God to help guide us through these things."
Progressive Christianity isn't just affecting churches. It's infiltrating schools, homes and more.
"It's especially confusing for students," she attested. "What they're going through is something so much deeper.
"They're confused by a culture that's telling them they have to actually look inside themselves and figure out who they are and then identify themselves as that for everybody else."
Do you know the true Gospel? Find it here.