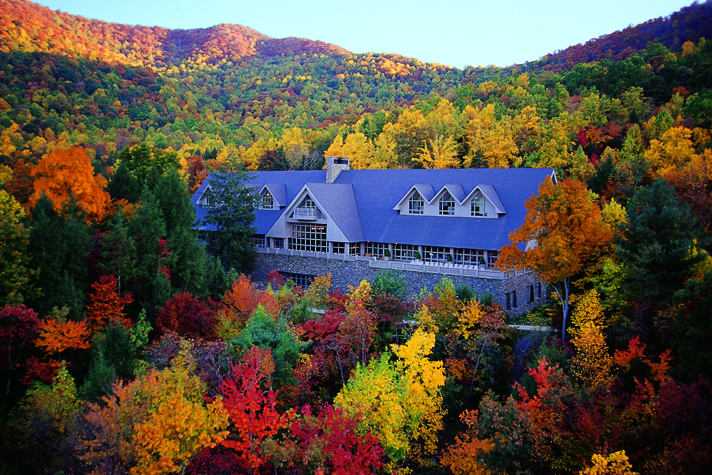 "Come away by yourselves to a secluded place and rest a while."
—Mark 6:31, NASB
Billy Graham once wrote, "We cannot be the best for God when we drive ourselves to the point of dropping with fatigue." Referencing Mark 6:31, he spoke about Jesus knowing the disciples' need for rest to be able to continue future ministry.
The Billy Graham Training Center at The Cove in Asheville, North Carolina, has strived to make that vision a reality by welcoming those in need of rest and seeking God. Tucked in the picturesque Blue Ridge Mountains, The Cove hosts spiritual growth seminars, retreats, concerts and more to help others grow closer to God.
>> See what events are planned at The Cove now through 2020.
A Space for God to Speak 
The Cove was birthed from Billy and Ruth Graham's desire to provide a place where people could leave the demands of daily life, study God's Word and be trained to reach the lost for Christ.
"I pray we will never lose sight of this primary focus," Billy Graham said at the 1993 dedication service for The Cove. He summed up the training center's goals in four words: "Instruction, inspiration, intercession and impact."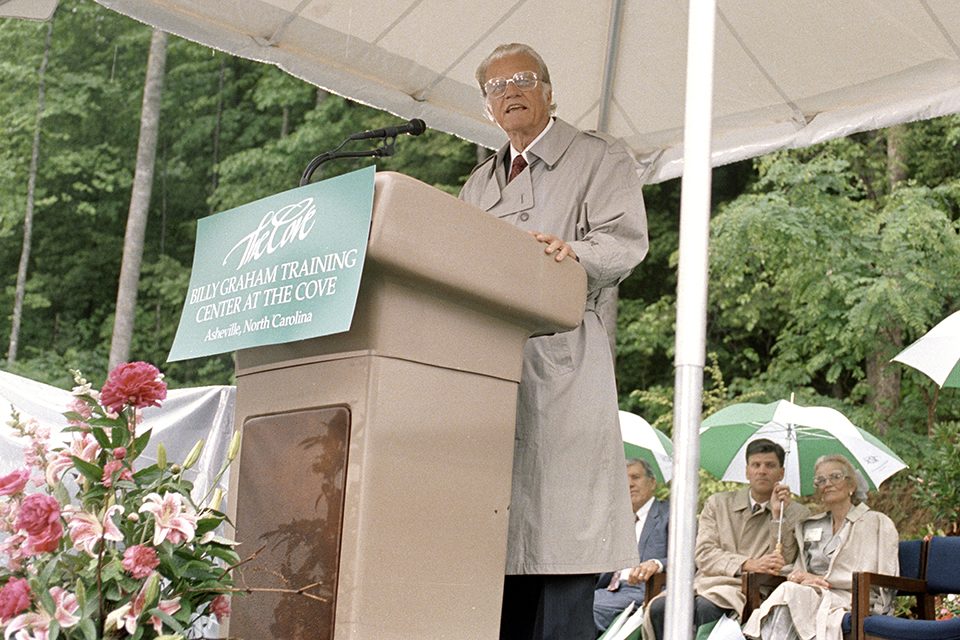 "It's just the way Ruth Bell Graham intended it to be," explained Barbara Mitchell, coordinator for The Cove's visitor's center.
Part of what makes The Cove so serene is the 1,200 acres of woods that envelop the property and drown out life's noise. Guests can stroll trails, take in mountain vistas and relax in rocking chairs.
Throughout the property are several prayer pillars. The Chatlos Memorial Chapel and Ruth's Prayer Garden also offer places for prayer and are open to the public.
>> Read how one man's visit to The Cove helped him hear God during a difficult season.
Resting in God
"The whole atmosphere just has the peace of Jesus that passes all understanding," one Cove guest commented. It all started with a prayerful visit to what Billy Graham's brother, Melvin Graham, called "a perfect little pocket of land" that has since become a haven of rest.
Matthew 11:28-30 reminds us that God provides respite: "Come to me, all who labor and are heavy laden, and I will give you rest. Take my yoke upon you, and learn from me, for I am gentle and lowly in heart, and you will find rest for your souls. For my yoke is easy, and my burden is light."
After a retreat to The Cove, many visitors have told Mitchell, "It's just what we needed."
Paul also talks about spiritual rest in Hebrews 4—how believers who have placed their faith in Christ can rest in His promises.
>> Take a look at Anne Graham Lotz's Bible study on rest. 
That others would find rest in Christ is one reason Billy and Ruth Graham knelt in prayer to commit The Cove to God. Today, it continues to be a place of spiritual rejuvenation. "This is a place for guests to come share their burdens," Mitchell said.
Come to The Cove and pause in the quiet to hear God's voice for yourself. As His Word pierces your heart, it can help you focus on what's really important in life.