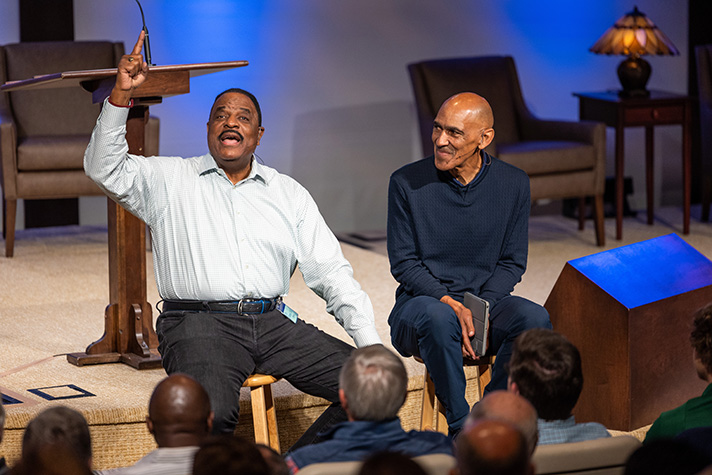 What do NFL Hall of Fame Coach Tony Dungy and three-time Emmy Award-winning network television broadcaster James Brown both believe unequivocally?
For those who attended the "Uncommon Influence Men's Retreat," led by Dungy and Brown April 21-23 in Asheville, North Carolina, the answer was unmistakable.
When it comes to their professional and personal lives, Dungy and Brown know the Bible is their ultimate source of truth and instruction for their daily decision making. Both men have been involved together in a weekly Bible study for more than 13 years with several dozen others via phone and video calls.
"It is truly the inerrant, infallible Word of God," Brown told more than 400 attendees at the weekend men's retreat held at The Billy Graham Training Center at The Cove. "It is worth basing our lives on."
Brown, 72, who is the host of "The NFL Today" on CBS and a special correspondent for the network's news division, is also an ordained minister. Preaching from the Old Testament Book of Daniel, Brown encouraged the retreat attendees, aged 14 to 85, that the same God who was with Daniel and his three Jewish friends in a fiery furnace in Babylon will also be with those today who are mistreated because of their faith in God—and steadfast obedience to His Word.
"A dead-end for man is an opportunity for God," he said. "The Bible says the God we serve is the same yesterday, today, and tomorrow."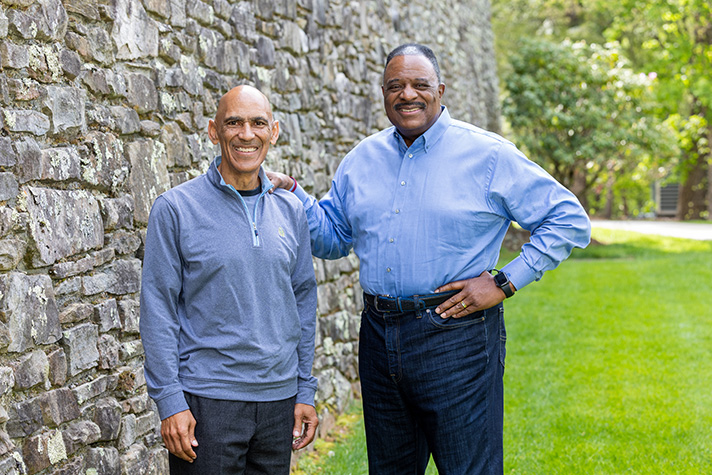 Landon House, 38, of Wilkesboro, North Carolina, attended the retreat with four other men from Wilkesboro Baptist Church. "It was inspiring and reminded me that I need to be memorizing Scripture so that I can use it in my daily conversations," House said. "We need more men who are courageous. We need more men speaking for their faith, who are involved with their local body of believers and helping others come to know Jesus and grow in their faith."
Dungy, 67, became the first Black head coach in the NFL to win a Super Bowl in 2007—with the Indianapolis Colts—and is now an NFL analyst and commentator for NBC. He said that when a person recognizes and submits to the authority of God's Word, most decisions in life, although often not easy, really aren't that complicated.
For example, Dungy said, he will not be silenced by the vitriolic criticism aimed at him earlier this year for speaking at the annual March for Life rally in Washington, D.C.
"I see too many examples in the Bible where God spoke about people in the womb," he said. "And God said in Psalm 139, He's watching over us while we grow there. So, that tells me that's a life that He values. So, I don't care what anybody else says because they don't trump God's opinion."
Teaching from the New Testament Book of Titus, Dungy exhorted young and older men alike to show others how to live a godly life. "If you're following me and I'm following Christ, then we'll be going in the right direction," he said. "When that opposition comes, we've got to stand firm."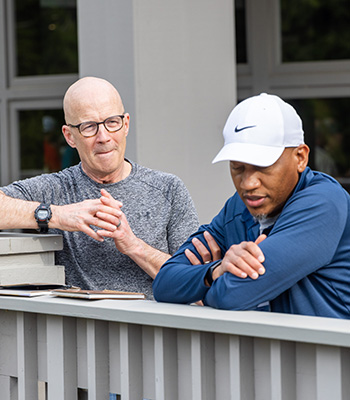 Devin Staley, 42, of Wilkesboro, North Carolina, said the "Uncommon Influence" retreat encouraged him to recommit his life to glorifying God by following Him and leading well. "It's a spiritual renewal that I feel so convicted, but at the same time energized and renewed to go back home and be a better father, a better husband, a better leader at work, a better leader in the church."
Dungy said that racial divisions in America are the result of spiritual warfare by the father of lies, Satan, whose sole mission is to rob, kill, steal, and destroy. He said that men of God of all nationalities must remember that they are Christians first and foremost.
"Christ is the example and that's what we want to get across to people and that's what I think our country is missing," Dungy said. "Christ is what a Biblical man looks like and that should be our focus."
Trey Fortenberry, 53, an environmental engineer from Waxhaw, North Carolina, attended the men's retreat with his father, Bobby, who's in his early 80s. Trey said that he and his dad had a strained relationship for many years, but they have grown closer to each other as they both have matured in their relationship with the Lord. The men's retreat, he said, is a time with his father that he will treasure forever.
"I have always enjoyed worshipping the Lord with a bunch of men," Trey said.
See what other events are coming up at the Billy Graham Training Center at The Cove.