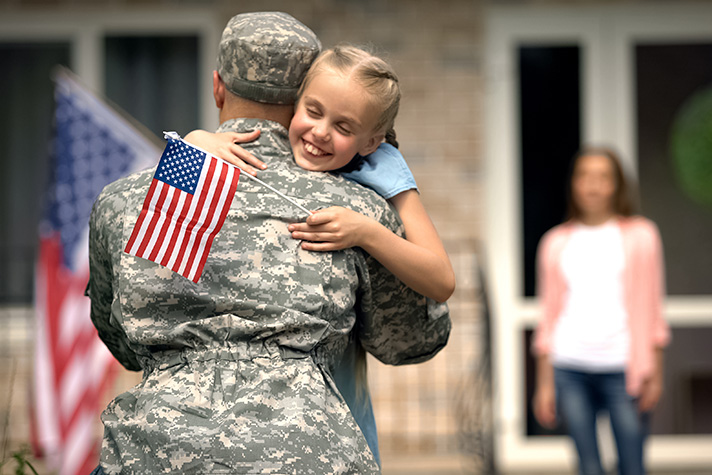 This Veterans Day, America stops to honor the men and women who have served our country—and those who continue to do so. The freedom we enjoy as a nation is possible because of their sacrifices on the battlefield and at home.
"I want to thank all of the veterans who have served and protected our nation with honor," said Franklin Graham, whose son Edward Graham served in the Army for 16 years. "They are our heroes, and they deserve our honor, respect, and gratitude."
Frequent deployments, post-traumatic stress disorder, loss, and grief often weigh heavily on those who have served or are still serving in our military. These difficulties can also affect their relationships with friends and family back home.
Every year, the Billy Graham Training Center at The Cove hosts Military Marriage Retreats and Gold Star Wives Retreats. These programs are designed to care for the spiritual health and marriages of active-duty military members and their spouses.
>>See upcoming events for military couples at The Cove.
After attending a retreat this fall, one attendee shared, "This weekend has been a balm to my soul and to my marriage. We have been through a lot in recent years, and it was such a relief and blessing to pause, rest, and reconnect."
Another said, "We were having many issues over the years, and when we arrived, I felt so disheartened and hopeless. From session to session, I have gone through so many emotions as I have considered how each lesson applies to our lives and marriage. … As we prepare to leave, I have hope."
These special retreats have encouraged couples from around the country—and from various military branches—in their marriages and in their personal relationship with Jesus Christ.
After last month's Gold Star Wives Retreat—an encouraging getaway for women who have lost their husbands in the line of duty—one widow shared, "I wish I could adequately express my gratitude! I arrived here physically shaking … but the Lord met me here. I have felt seen, protected, and cared for. I have not felt those ways in quite some time, but rather quite the opposite. I am thankful for the refuge of this place and the warm hearts of those I have met here."
Another woman said, "The fellowship that this weekend creates is immeasurable. Having an opportunity to come together, whether to gather around a table or a small group, to share our stories, our struggles with faith, to cry (lots of crying), to laugh together (also lots of laughter), it all makes … for a beginning to heal! It's just overwhelming what the Lord can do in an environment like The Cove where He is so present!"
As American citizens and as believers, we have the privilege and responsibility to honor our military and care for them. Please pray for men and women in uniform to experience "the peace of God, which surpasses all understanding" (Philippians 4:7, NKJV).
You can help provide rest and renewal to military members and their spouses through Military Marriage Retreats at The Cove. Give today.