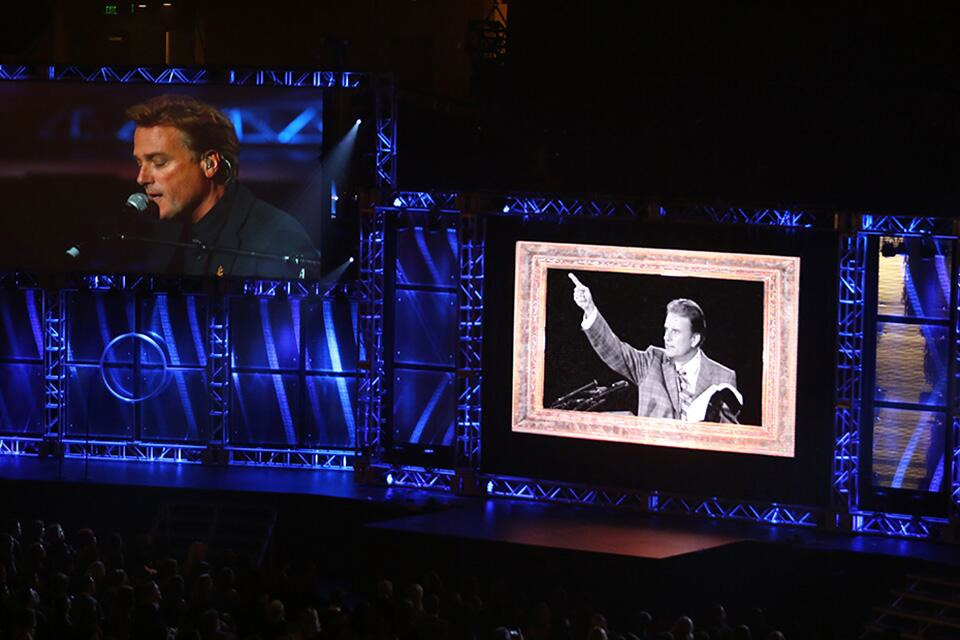 For 43 years, a community of artists have gathered annually to celebrate Jesus, music, the Gospel message and what God has done through the Christian music industry.
This year, that group added Billy Graham to the list.
The 44th GMA Dove Awards—filmed on Oct. 15 at Nashville's Lipscomb University—aired Oct. 21 and feature a tribute to Mr. Graham at a time when his domestic ministry has never been more widespread.
"He's preached in over 400 Crusades in 185 countries and territories and on six continents," Michael W. Smith said, introducing the tribute for Mr. Graham.  "And he's still focused on saving souls in America."
Just 17 days before a brand new message from Billy Graham airs nationwide on Fox News and other Christian and network outlets (check here for listings), the program called The Cross is already picking up buzz at the Dove Awards.
Kari Jobe, who is one of 11 Christian artists to collaborate on the My Hope CD, had just watched The Cross and called it "incredible," adding that Billy Graham "impacted my family in a huge way growing up."
Pastor Rick Warren, on hand to present the Dove Award for Worship Album of the Year, called it "Fantastic," and "a great program we need in America today."
Lecrae, who won the Dove Awards for Rap/Hip Hop Album and Song of the Year, is featured in The Cross and explained why he wanted to be a part of the My Hope with Billy Graham evangelistic project.
"There's a kindred spirit between myself and the Billy Graham Evangelistic Association," Lecrae said. "I'm very passionate not only to see people come to Christ but to see them connected to the local church."
The Cross, a 30-minute outreach program featuring a new message from Billy Graham, wasfilmed this year at his mountain home. The short film iswoven together with life-changing stories featuring Lacey Sturm, formerly of Flyleaf, and Lecrae.
"I'm just honored to play a small part in the legacy of Billy Graham," Lecrae said.
TobyMac, who won his 2nd Artist of the Year Award, has played a small part as well, dating back to his dcTalk days and playing at numerous Billy Graham Crusades, starting in 1994 in Cleveland.
As a musician who values evangelism, TobyMac loved performing at Crusades, especially knowing Mr. Graham would be coming up on stage after to share about the hope of Christ.
"Think about it, if you can just play your music knowing you have Billy Graham sharing the Gospel behind you, that's easy street," said TobyMac, who's also featured on the My Hope CD: Songs Inspired by the Message and Mission of Billy Graham.
Also featured on the CD are the Newsboys, who lead off the album with "We Believe," which the band played in the second part of the Dove Awards tribute to Mr. Graham.
"It's the believers' creed," said Newsboys lead singer Michael Tait said. "We believe in God the Father. We believe in the Holy Spirit. He's given us new life. It's Billy Graham's message. If Billy Graham were to sing a song, he would sing 'We Believe.' "
Michael W. Smith, who opened the tribute by sharing his thoughts about Mr. Graham, gave perhaps the most apt musical homage with a piano-only version of "Just As I Am," the well-known hymn of invitation used at countless Billy Graham Crusades. As he performed, a slideshow of classic Billy Graham photos flashed on twin jumbo screens.
Myhopewithbillygraham.org, the online nexus of the My Hope with Billy Graham project, flashed on the screens for those wanting more information on how to get involved.  
Michael W. Smith—whose song on the My Hope CD "Take Me Home" talks about the numerous conversations he's had with Mr. Graham about heaven—briefly promoted the tribute CD released on Oct. 15, "so greatly inspired by this message."
Want to get involved in My Hope with Billy Graham? It's not too late. Just click on the website and get started.