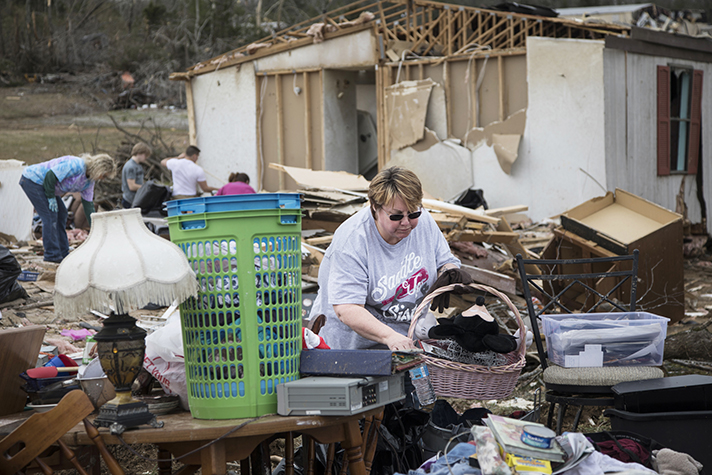 According to the Tennessee Emergency Management Agency, at least 25 people were killed when unprecedented tornadoes ripped through a 145-mile stretch of Tennessee, including the Nashville area, in the early hours of Tuesday morning. News reports say an estimated 48 structures collapsed in and around Nashville, and dozens more homes have been damaged or destroyed. In addition, multiple people were hospitalized or injured from the storm.
The Billy Graham Rapid Response Team (RRT) has three groups of crisis-trained chaplains there: one group in Nashville, which was struck by at least one EF-3 twister with winds between 136 and 165 mph; another in Mt. Juliet, a suburb of Nashville; and hard-hit Cookeville, 80 miles east of Nashville. These chaplains are ministering to those facing loss and upheaval by offering a ministry of presence and comfort.
"Our hearts break for those in TN who've been devastated by tornadoes," Franklin Graham shared on Twitter, calling on people to pray for the impacted communities.
"Pray for those who have lost so much to these storms—especially the families who lost loved ones," he urged on Facebook.
During the RRT's third tornado deployment of 2020—the others being in DeSoto, Mississippi, and Spartanburg, South Carolina—they're serving alongside their sister ministry, Samaritan's Purse. Chaplains are offering a listening ear to those in shock, and later to homeowners receiving physical relief.
"March a lot of times signifies the start of tornado season," said Josh Holland, assistant director of the RRT. "We are deeply saddened, particularly about the extensive loss of life throughout the state of Tennessee. We have crisis-trained chaplains [there] to provide and offer God's comfort and hope through Jesus Christ to those who are grieving."
Please keep these Tennessee communities in your prayers.
Are you prepared to weather difficulties in life? Depend on God today.