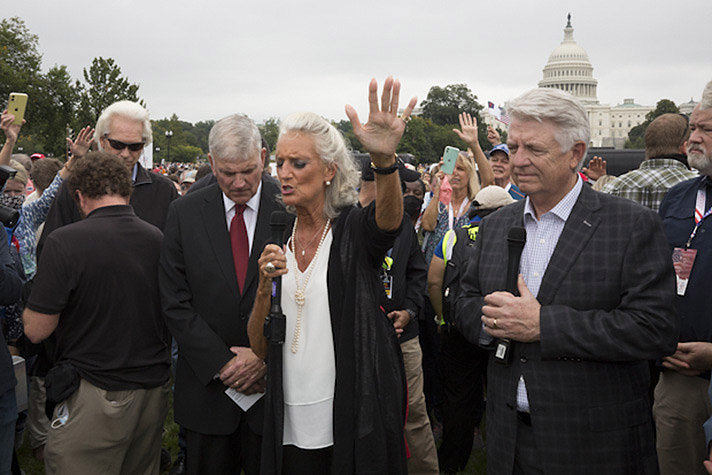 Anne Graham Lotz recently shared a power-packed 7-minute message on living in times of crisis.
She delivered the message during The Return, a Christ-focused event held in Washington, D.C., last month, the same day she also prayed during the Washington Prayer March with her brother Franklin Graham.
Lotz and Graham have joined many other Christian leaders in urgently calling Americans to prayer and repentance.
"I believe our nation is in crisis," Lotz said. "We're in a hard place. And it's time to look up and see the Lord."
>> Watch the entire 7-minute message.
A fast-tracked mini-Bible study followed, as Lotz took the crowd back to a dark era in the Old Testament, when the people of Judah were facing crisis. At that time, Lotz explained, the prophet Isaiah "didn't blame somebody else. He didn't wring his hands … the prophet Isaiah looked up. And he saw the Lord."
She was referring to Isaiah 6:1: "In the year that King Uzziah died I saw the Lord sitting upon a throne, high and lifted up; and the train of his robe filled the temple."
Many Biblical scholars believe Isaiah actually saw Jesus seated on a throne—hundreds of years before He came to earth in human form (see John 12:41).
"And to be seated on the throne meant that Jesus was in absolute authority," Lotz said. "He was in control, in charge of everything that was taking place in the universe, on planet Earth, in Judah and in Isaiah's own life."
What has caused you to doubt that Jesus is still on the throne?
Then she pivoted from ancient times to the present: "I want to ask you something. What has caused you to doubt that Jesus is still on the throne? Is it when COVID strikes your family? Is it when your home gets burned in the forest fires? Is it when your home is flooded out in hurricane after hurricane? Is it when death strikes your family or some disease like cancer or some disaster, divorce, and you say, 'Jesus are you still on the throne? Really?'"
At the end of the Bible, Lotz continued, when the book of Revelation describes what is to come, "Jesus is still on the throne."
"No one is higher than Jesus," Lotz said. "And in this election year everyone's vying for a high office. The highest office in America is that of the presidency for maybe four years or eight years. … But Jesus holds the highest office not just in America, not just on planet Earth, but in all the universe. And not just for four years or eight years but forever and ever and ever."
Lotz urged everyone listening to take their hardships to Jesus in these times of crisis.
"Whatever you're facing that's greater than you are, you take it to Jesus," she said. "He's greater than anything or anyone, visible or invisible."
Lotz ended her message by encouraging everyone to examine their own hearts, confess their sin to God and turn away from it. In her closing prayer, she asked God to show Himself to America and to the world, leading people to repentance and faith—the only lasting answer for these times of crisis.
"The world is being shaken for the purpose of getting you and me to look up," she said. "Look up. Look to Jesus."