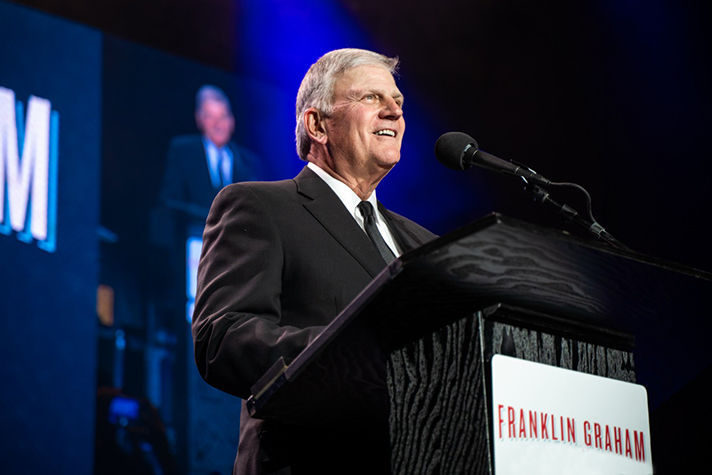 You may never have another chance like this.
That's what Franklin Graham tells people on his Gospel road trips around the world.
During the Route 66 God Loves You Tour, Graham will again urge people to make a decision for Christ, because tomorrow isn't promised.
The eight-city tour runs from September 19–October 2, with stops in Joliet, Illinois; St. Louis, Missouri; Springfield, Missouri; Oklahoma City, Oklahoma; Amarillo, Texas; Albuquerque, New Mexico; Flagstaff, Arizona; and San Bernardino, California.
Route 66 God Loves You Tour
Joliet, Illinois
September 19
St. Louis, Missouri
September 21
Springfield, Missouri
September 23
Oklahoma City, Oklahoma
September 25
Amarillo, Texas
September 26
Albuquerque, New Mexico
September 28
Flagstaff, Arizona
September 30
San Bernardino, California
October 2
The free, one-day evangelistic events feature a powerful message of hope from Franklin Graham and live music from The Newsboys, Marcos Witt and Dennis Agajanian.
As they plan for the tour, Billy Graham Evangelistic Association (BGEA) staff are excited to get on the road again and share Good News with people around the country.
Volunteer Rosa Petruccelli is, too. The 61-year-old travels solo in her whimsical little camper "Space of Grace." Wherever she lands, people want a peek inside. They see Scriptures Rosa has posted and want to know about God, she said. "He just keeps sending people."
For seven years, Rosa prayed about starting a traveling ministry. In 2018, she sold her condo after Hurricane Florence hit Wilmington, North Carolina, and went on the road a year later.
She's done a lot of ministry after hurricanes—laying floors, hauling heavy cinder blocks, building walls and more.
But this adventurous mother and grandmother of seven is open to whatever God has for her.
In January 2020, Rosa volunteered for the Decision America Sunshine State Tour with Franklin Graham. After handing out snacks and T-shirts, she made her way through the crowd. Outside the entrance, she saw people experiencing homelessness lined up.
Wandering over, one man asked about her tattoos, creating an opportunity for conversation. Gary* couldn't hold back his anger, sharing his struggles with her. Rosa listened carefully, then told him about her anger and brokenness.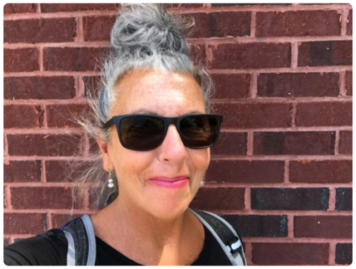 "God removed the bitterness from my heart," she told Gary.
Sexually abused by her father as a child, Rosa grew up living in fear. He said that if she told anyone, she would go to hell.
As an adult, she got tattoos just to spite him.
After Rosa found freedom and forgiveness in a personal relationship with Jesus, she wanted different tattoos. Her right arm has a cross.
And when people see "Believe" written in ink above her knuckles, she asks, "Do you want to know what I believe?"
"God has used my tattoos so much to reach people," she explained.
Rosa also forgave her father and has shared the Gospel—that Jesus died for our sins—with him.
Sharing the hope of Christ and heaven is the point of the upcoming Route 66 Tour. Franklin Graham will share this message after a hard year-and-a-half of people battling COVID, overcoming grief, financial issues and more.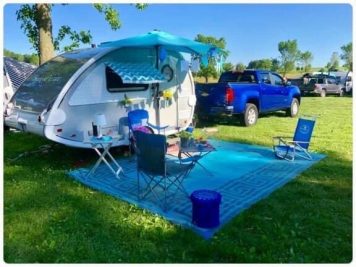 After hearing Rosa's testimony in Florida, Gary decided to go in the venue. Others  lined up nearby did, as well.
"God was moving. He took over in that moment," Rosa said.
After he heard the Franklin Graham's message, Gary prayed to receive God's forgiveness and committed to follow Christ.
"He hugged me. He was the cleanest person at that moment," she remembered, looking past his unkempt appearance. "I saw him to be my brother in Christ."
As Rosa heads down Route 66 this fall, she will likely have a big smile on her face. There will be plenty more opportunities to help struggling people—who don't know the answer.
"People tell me, 'You've lived a hard life.'" Rosa tells them, "A hard life is not knowing Jesus."
She knows God will point her to the right people on the Route 66 Tour, too.
"I want to reach ones that are coming who don't know what they're looking for," she explained.
People like Gary.
*Name changed for privacy.