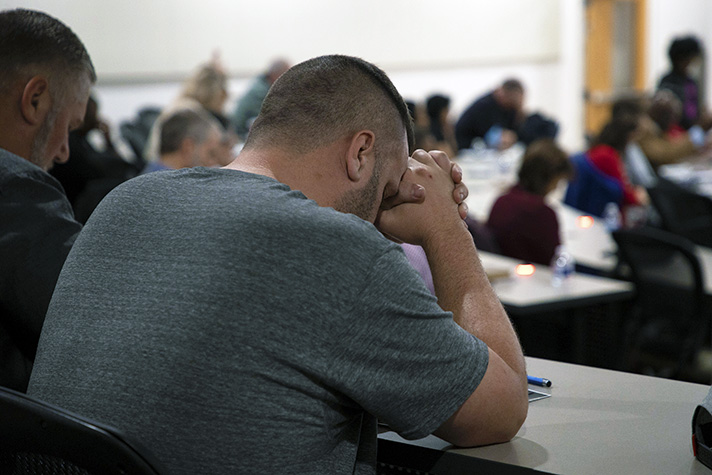 "When He saw the crowds, He had compassion for them, because they were harassed and helpless, like sheep without a shepherd."
—Matthew 9:36
"When you see individuals, do you really see them? Or are they passing by?" Kevin Williams challenged attendees during a recent Sharing Hope in Charlotte training event. The chaplain manager with the Billy Graham Rapid Response Team (RRT) leaned on Matthew 9:36 as he stressed:
"God saw the people. And He had compassion."
Compassion. Merriam-Webster defines the oft-used noun as a "sympathetic consciousness of others' distress together with a desire to alleviate."
Simply put, compassion doesn't just tug at your heart. It moves your feet.
Sharing Hope in Charlotte:
The next 2.5-hour training session will be held Saturday (January 25) at Northside Baptist Church in Charlotte, North Carolina. Register today for this free event.
You want to do something.
And after an especially violent 2019, many people in Charlotte are motivated. Mayor Vi Lyles is a part of that group. During her swearing-in ceremony this past December, she promised to have the Charlotte City Council review all 108 homicides from 2019, an 89.5 percent rise from the 57 homicides recorded in 2018. She hopes a creative collaboration can be implemented for 2020, which is timely given the Queen City will host the Republican National Convention in late August.
Meanwhile, hundreds of folks from various backgrounds citywide are attending Rapid Response Team training sessions like the one held January 6 at Northside Baptist Church. The free, 2.5-hour session supports Love Charlotte, a visionary group created by the ministry Project Pray to help Charlotteans love one another the way Christ modeled. The Sharing Hope in Charlotte course, a truncated version of RRT's Sharing Hope in Crisis (8-hour) seminar, uses real-life examples alongside clinical and Biblical principles. Attendees learn how to emotionally and spiritually support someone experiencing trauma and crisis. They learn how to make a true difference in someone's life.
A difference that can reach beyond Charlotte and even the United States of America.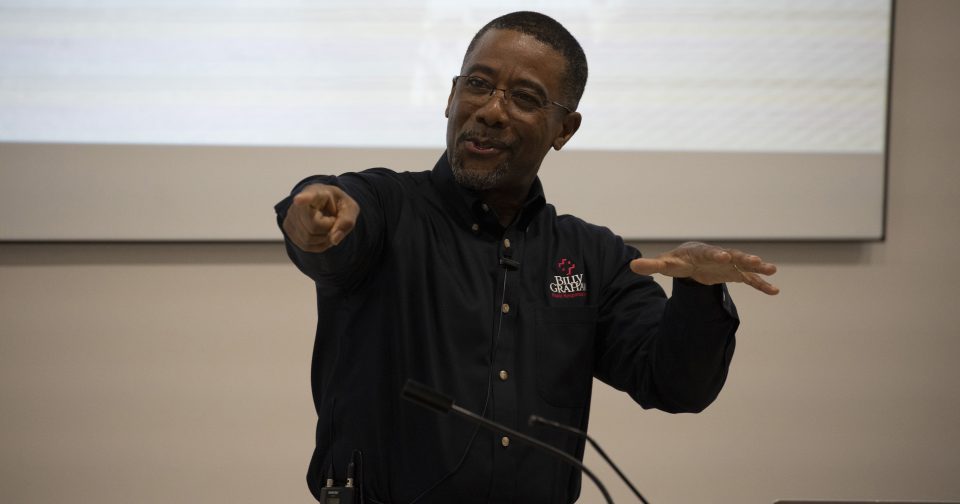 Dr. Willibroad Tiche and Grace Forlu of Gospel Heroes World Mission learned about the training two weeks beforehand and made plans to drive down from Maryland. Natives of Cameroon, Africa, their faces brightened when talking about the impact Billy Graham's ministry had on them growing up. Tiche said this training draws upon decades of experience and will help his ministry equip chaplains to one day serve in hospitals in Africa and the United States.
"[This training] actually gives you the dynamics of how to be able to reach out to people irrespective of their situation," Tiche said. "I think this meeting tonight defines what a pulpit actually is supposed to be: It's pulling people out of their pit."
Robin Disbro has met many people in the proverbial pit during her 20-plus years of serving as an ICU nurse in Charlotte and now Salisbury, North Carolina. She has counted it an honor to sit with patients and families walking through tragedy and grief. But in recent years, she and her husband Steve walked through family specific traumas including the disability encountered by their adult son. He became a quadriplegic after a diving accident at age 26.
Sitting at the January 6 training session, the Disbros felt encouraged, motivated. It's time to plug back in and serve the community, Robin said.
"There's just so much to do locally," Steve added. "We've gone on mission trips to Belize, and it just shows you that you don't have to go to another country. Every big city needs community and people reaching out to it. You've just got to travel down the street to our neighbors … and be the light Jesus wants us to be."
It's a light the city desperately needs. Some groups like the Charlotte-Mecklenburg Dream Center are already laser-focused on helping areas of the Queen City, but this will be a group effort. Northside Baptist Senior Pastor Scott Vail agreed with the statement that the responsibility falls upon the Church body.
"We're the only ones who have the true hope," Vail said. "There's people who can put a Band-Aid on a hurt or a wound, but we know how to heal the wound is through Jesus Christ. If we don't tell them, they might not hear from anybody else."