Training Events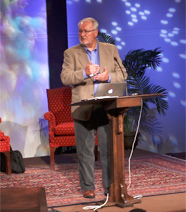 The Rapid Response Team trains Christian men and women in how to effectively meet the emotional and spiritual needs of those suffering.
There are currently no live seminars scheduled. Interested in having RRT host a seminar at your church? Click here for more information.
---
Sharing Hope in Charlotte
Join leaders from across Charlotte and learn practical ways to minister in Jesus' Name to men and women facing stress, grief, tragedy, or crisis – and discover how to encourage fellow believers to do the same. Training topics include:
The effects of trauma and grief
How to graciously engage in conversation, listen sincerely, and respond appropriately
What to say – and not say – to hurting people
How to stay focused on God's hope and love
Register today for one of the training dates below.
November 18, 2019
Asian Herald Library
1339 Baxter St, Charlotte, NC 28204
9:30 a.m. – 12:00 p.m.
Registration opens at 9:00 a.m.
Register
---
Sharing Hope in Jesus' Name Conference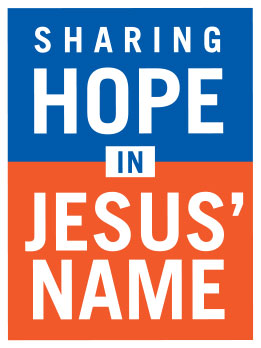 The Chaplain Training conference that was previously held each year in June at The Cove is now a combined Rapid Response Team/Samaritan's Purse training conference.
In 2020, it will be held in Orlando, Florida on April 16-19. Registration opens mid-December.
Audio From Past Conferences
---
Critical Incident Stress Management Course Locations
Each RRT Chaplain is required to take the SHIC and two of the CISM courses from the list provided. They also are stated in the Chaplain Application Packet.
Ongoing classes
Living Shield Ministries
Riverside, CA
More Info
Ongoing classes
The Academy National Institute
Lincolnton, NC
More Info
Ongoing classes
International Critical Incident Stress Foundation
More Info
If you are interested in hosting a seminar, please call the Rapid Response Team at (800) 335–1337 9am-4:30pm EST M-F or email rrt@bgea.org. We encourage churches or organizations to see this as a regional event and invite others to attend.
Sharing Hope in Crisis Online Course
Get prepared to provide emotional and spiritual care to your neighbors, co-workers, and friends during the everyday tragedies of life.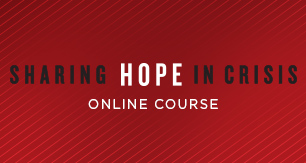 Sharing Hope in Crisis Online Course
Learn how to share God's love and comfort with those suffering. As an individual or group you'll be equipped with practical skills such as understanding trauma, being a good listener, and knowing what—or what not—to say to someone who is grieving. This course qualifies as a training requirement to become a RRT Chaplain Volunteer.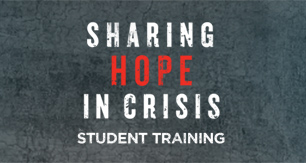 Sharing Hope in Crisis Student Training
Students – when life falls apart for your friends, will you be ready to offer hope? Take the Sharing Hope in Crisis online course for students and find practical ways to comfort hurting people with God's love. This course does not qualify as a training requirement to become a RRT Chaplain Volunteer.
Host a Live Sharing Hope in Crisis Seminar
The one-day Sharing Hope in Crisis (SHIC) live seminar is intended for anyone and everyone in the church to help prepare them for appropriate ministry in times of crisis. We also encourage Christian counselors, First Responders, and Church leaders who face suffering people on a more regular basis to attend the seminar. If you are interested in hosting a live seminar, read the FAQ, hosting guidelines and equipment requirements, then fill out a request form.
Hosting FAQ
Hosting Guidelines
Equipment Requirements
Promotional Plan
Session Topics
Training FAQ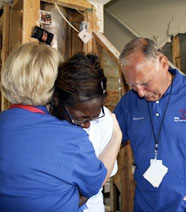 Here are some common questions we get about Rapid Response Team training:
Do I have to go to the Cove to get my training?
You can attend the Chaplains Conference in June, but you can also get trained in various locations around the country as well. The Sharing Hope in Crisis seminar, as well as 2 CISM courses are offered in 12-15 cities each year. Online training for Sharing Hope in Crisis is available online.
I've had other response training, do I still need the CISM courses?
Yes. While there is other great training, we are committed to this standard for three reasons: it is great training in providing care for those in pain, it is recognized by federal, state and often local jurisdiction and mental health, and the courses that we use do not violate Biblical principle.
If I have previously taken the His Presence in Crisis, do I still need to take the Sharing Hope in Crisis?
Yes, due to the growth of the RRT ministry and the need for ongoing education, we are asking all of our current chaplains to make sure that they have taken the Sharing Hope in Crisis course as well as two CISM courses listed above. Sharing Hope in Crisis is now available online at http://billygrahamonlinetraining.org/sharing-hope-in-crisis/.
What if I can't find a CISM course in my area?
Please call the RRT office at (800) 335-1337 9am-4:30pm EST M-F and lets us know. We are very interested in making sure that you can get the training if you are working towards being a RRT Chaplain.
Training Testimonies
May I just say personally and from responses and comments; Thank you for bringing not only a meaningful teaching but even more so the inspiration to serve and love our "neighbor" given to all from the heart of a pastor. The topics on the agenda were covered well but of additional significance was the opening of eyes to SEE and the desire in hearts to RESPOND which will have untold application. Thanks for "sharing hope"!
–SHIC Participant, Franklin TN
"I felt the compassion and grace that we learned could be put to good use in most any ministry. The SHIC course had numerous tips to gracefully help those
that were hurting and we have hurting people all around us."
–Melbourne, FL SHIC Participant
"I felt the conference was very beneficial, the material was useful not only for occasional crisis situations which attract the attention of the national or even international community but also for daily crisis situations which people are experiencing daily."
–Melbourne, FL SHIC Participant
"This may have been the best training for the local church I've witnessed. It was inspirational, educational and motivational. Compassion ministry is a critical pathway for the church today."
–Pastor attending a New York SHIC seminar
At the undergraduate level, this is the best integration I've seen of Biblical principles and approach with crisis intervention.
–Regent University Psychology Professor
Sharing Hope in Crisis not only equipped us for local ministry, but opened up an avenue of ministry for our people to respond nationally with BGEA.
–Cincinnati Care Pastor
The Sharing Hope in Crisis training helped us think through some short term missions concerns and now we are excited about sending our people with BG Rapid Response Team as part of our missions ministry
–San Diego pastor
This is the first time I've seen a strong Biblical approach to the Crisis Intervention training that I've had over the years. It's great to bridge the two together!
–Haitian Pastor
Two trained RRT Chaplains are members of the church I pastor. They have been using and sharing their training in the church's compassion ministry and we've seen the hurting find hope in a relationship with Jesus. What an encouragement their training has been to our church family!
–Pastor, Grass Lake, MI