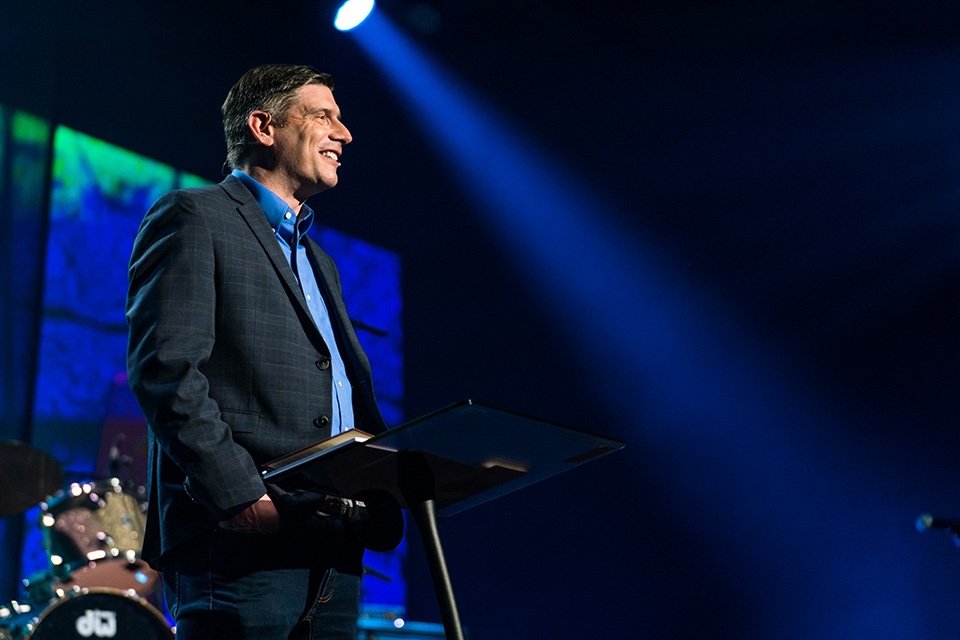 "Peace I leave with you; my peace I give to you. Not as the world gives do I give to you. Let not your hearts be troubled, neither let them be afraid." —John 14:27
For an entire year, the Billy Graham Evangelistic Association (BGEA) had to clear its calendar of multiple evangelistic events as COVID-19 threw the world's plans out of whack.
In lieu of in-person outreach, BGEA pivoted to hold virtual Crusades throughout 2020, reaching an average of 40 to 50 countries each time.
Saturday marked another change.
On this cold, drizzly night, Will Graham led a hybrid Celebration from Tifton, a southern Georgia city about two-and-a-half hours from Atlanta. Known as "The Friendly City" bursting with homegrown hospitality, Tifton hosted BGEA's first in-person evangelistic event since last February—and served as the hub for the Tiftarea Celebration livestream that reached more than 100,000 people in 50 countries, from Brazil to the Philippines.
>>Read comments from people who watched the livestream
After a year of utter craziness, from a pandemic to a contentious election, job loss to civil unrest, the Celebration came at a time many are seeking peace.
The event itself was originally scheduled for March 2020 and postponed three times due to COVID.
"If I could sum up 2020, the last 12 months that we've gone through, what's the one word I would choose? It would be 'fear,'" Will Graham said.
Fear of COVID, of being alone, of running out of money. Anxiety and depression plague millions—and many sadly succumb to suicide.
But it doesn't have to be that way, Will Graham told everyone watching.
Is Peace Possible?
Graham pulled from John 14 in the Bible when Jesus was about to leave His disciples. That struck fear in the disciples' hearts, but Jesus told them not to be afraid. He was leaving behind supernatural peace that could be theirs forever.
"Peace is rare because the world cannot produce any kind of peace," Graham said. "There's no factory producing peace. You can't buy peace anywhere."
Only God can give it, he said.
A man named James Taylor served as counselor supervisor for the Celebration.
He grew up in New York City and lives in Atlanta, but said the busyness gets to him sometimes. He called Saturday's simple, stripped-down message "refreshing."
"It's about Jesus and nothing else," he said.
That's one thing COVID has forced many churches to do: focus on Christ and forget about any extra things they had going on pre-pandemic.
And maybe that's what people need right now.
Will Graham's message on the peace of Christ was accessible and easy to understand, said Kerry, a woman in Saturday's audience.
Kerry watches Billy Graham sermons on YouTube, but this was the first time she heard Will Graham preach. She said she's recovering from addiction, works two jobs and has been blessed by a local ministry called the Tiftarea House of Hope.
She met other women from the House of Hope at Saturday's Celebration and ended up rededicating her life to Christ.
"I was struggling with doubt," she said about her standing with God. "I want to be 100 percent sure."
Nearby stood a young, tattooed man who has also wrestled with addiction and came forward to commit his life to Jesus. He left with the Gospel of John tucked under one arm.
Craving Community During COVID
While most who saw the Tifton Celebration did so online, for those in person it provided much-needed community, even with limited capacity and talking through masks.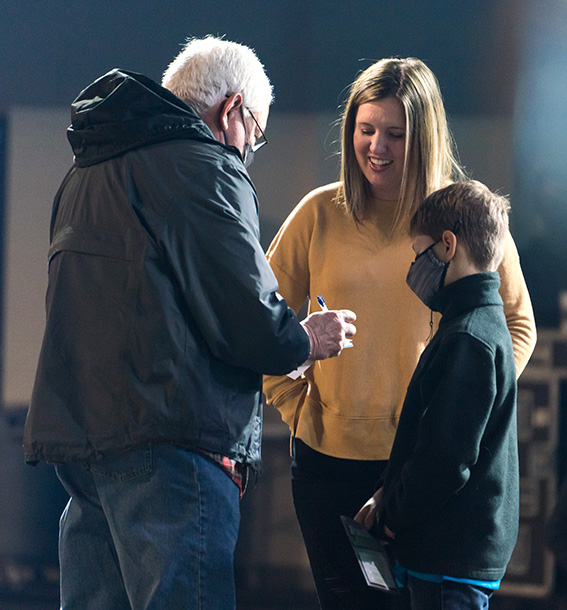 Earlier in the day, 10-year-old Joshua accepted an invitation to KidzFest to get out of the house. He's been watching church with his family online, but when his friend's mom, Julie Mitcham, invited him to the kid-focused morning Celebration, he got more than he hoped for.
He was the first child to walk toward the front of the church that morning to receive Christ into his life.
"I didn't expect something like this to happen," he said happily, only his eyes showing above a gray mask.
The children had just watched a video about three kids trying to make their way to God. Each grappled with different sins—bullying, lying, stealing—and realized they couldn't get to a holy God their own way.
Joshua said he's done some of the same things as the kids in the video, and "I did not like that."
"I don't want to do the same things I did. I want people to look up to me," he said.
Mitcham's mother, Gina Lawhon, was sad to see COVID interrupt typical Celebration attendance, but also appreciated the more intimate setting at her church, First Baptist.
The postponed outreach gave her more time to build relationships with women in her neighborhood and invite them to the event. Scaled back or not, she said the Celebration's goal remained the same: bring her community to Christ.
You Can Be Made Whole
Though Tifton is in the Bible Belt and most have heard the Gospel, that doesn't mean everyone has accepted it.
"Just because I spend a lot of time in a garage doesn't make me a Jeep," Will Graham explained from the church stage Saturday. "Just because you spend a lot of time in church doesn't make you a Christian."
How about you? Where do you stand with God? Is there a missing piece in your life?
As Will Graham shared Saturday, "God died on a cross to make you whole."