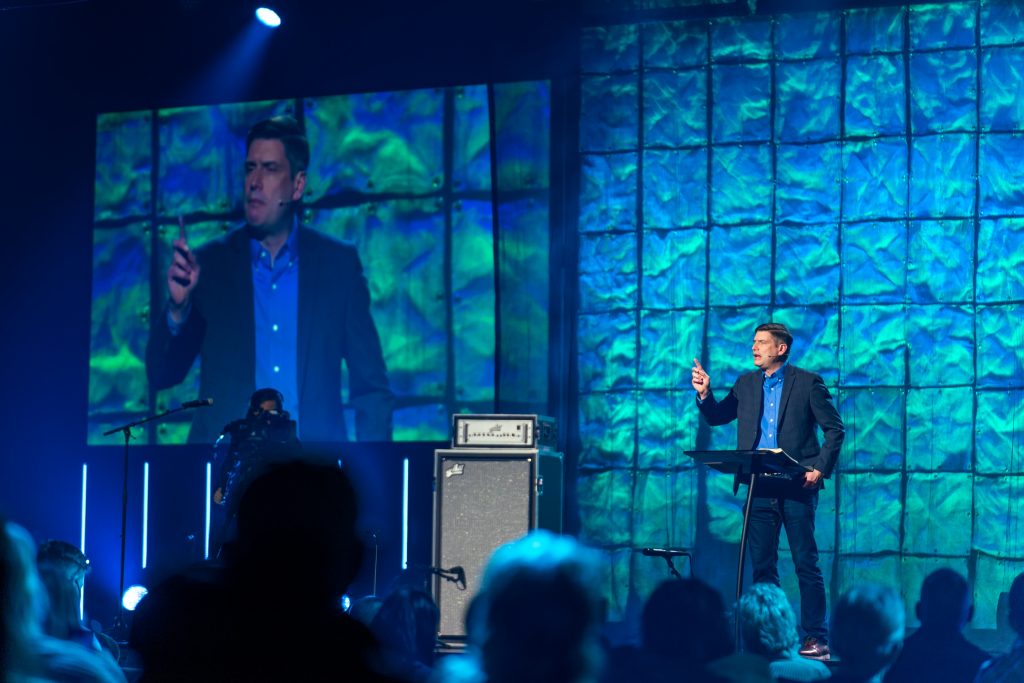 Since COVID-19, the world has seemed limited.
But Saturday night, in the rural area of Tifton, Georgia, Will Graham preached a hope-filled message that far surpassed the town's population of 17,000—even amid a pandemic.
More than 100,000 online viewers used BillyGraham.org, YouTube and Facebook to livestream the Tiftarea Celebration that featured music artists Rhett Walker and Aaron Shust ahead of Will Graham's sermon.
"[Whether you're] here in Georgia or wherever you are … people all around the world right now are watching," Walker said in between songs.
"How cool it is—I never met half of you, but to immediately come to a spot, knowing that there's people watching online and there's this sense of community because no matter what your background is, where you're from … we're all here to lift up the name of Jesus tonight."
>> Watch a replay of the Tiftarea Celebration.
Originally planned for last March, the Tiftarea Celebration was delayed three times before it finally happened Saturday evening. In the last 11 months, the world has relied more on online communication than ever before—enabling those who may have never found themselves among the farmland of South Georgia to tap into the event via computer or phone screen.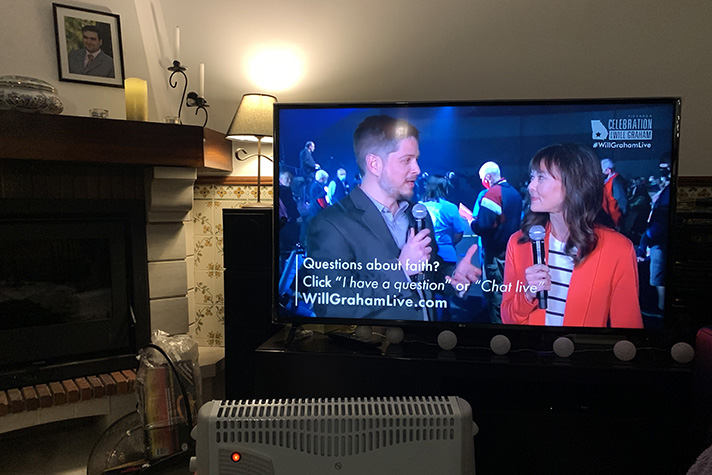 "God's got a special plan for your life tonight as well," Graham said directly to those online.
And sure enough, the Holy Spirit was not confined to Tifton's First Baptist Church, where the event had limited in-person seating, but He moved in the hearts of thousands streaming from 50 countries.
Sharing John 14:27, Will Graham encouraged the audience to not live in fear, but to give their troubles to the Lord, who brings everlasting peace.
"We worry about the things we can't control … but when we turn that over to God, He takes care of it," Graham said. "There's so many people with anxiety and depression, they need peace with themselves."
While watching the livestream, Eric* reached out to one of the Billy Graham Evangelistic Association's (BGEA's) online chat coaches.
"I'm a Christian but need to experience peace in my heart and mind," he typed.
A trained volunteer chat coach named Gloria responded, "I understand how you can feel that way. Just like Will [Graham] has been saying, sometimes the world makes us fearful."
Despite being a Christian the past 38 years, Eric admitted he hadn't been able to sense God's love for him.
"I seem to be in anxiety all the time," he responded.
"That is not uncommon," Gloria told him. "Yet the Bible says, 'I sought the Lord and he heard me and delivered me from all my fears,' (Psalm 34:4)."
Eric knew that meant he needed to make some changes in his life.
"I need to spend more time alone with God and gain an intimacy with Him," he typed back, mentioning that his church had moved online during the pandemic.
Before ending the chat, Eric said he plans to "read and pray and surrender daily and confess my sins and have some fellowship by phone." In response, Gloria paused to pray that God would give him peace.
>> It's possible to grow closer to God amid the pandemic. Read 10 short stories of people who did just that. 
All the while, thousands of others responded to the livestream via social media.
Marilyn commented about the worry that was trying to steal her peace: "My husband is on the ventilator right now for the last 15 days. Please pray for him. And I feel all alone."
Shortly after, 32 people replied, saying they were praying for her or offering words of comfort—a beautiful aspect of the online community to immediately encourage someone they've never met.
Garry, another commenter, said of the event, "Thank you for preaching on 'Fear' in times like this we need hope!! Hope in God's peace! I pray God's favor on our land! God you gave us your only Son Jesus [to] bring us peace, for you work in the hearts of men!!"
Indeed, that peace is needed beyond walls—and into the most anxious of hearts.
*Name changed to protect privacy