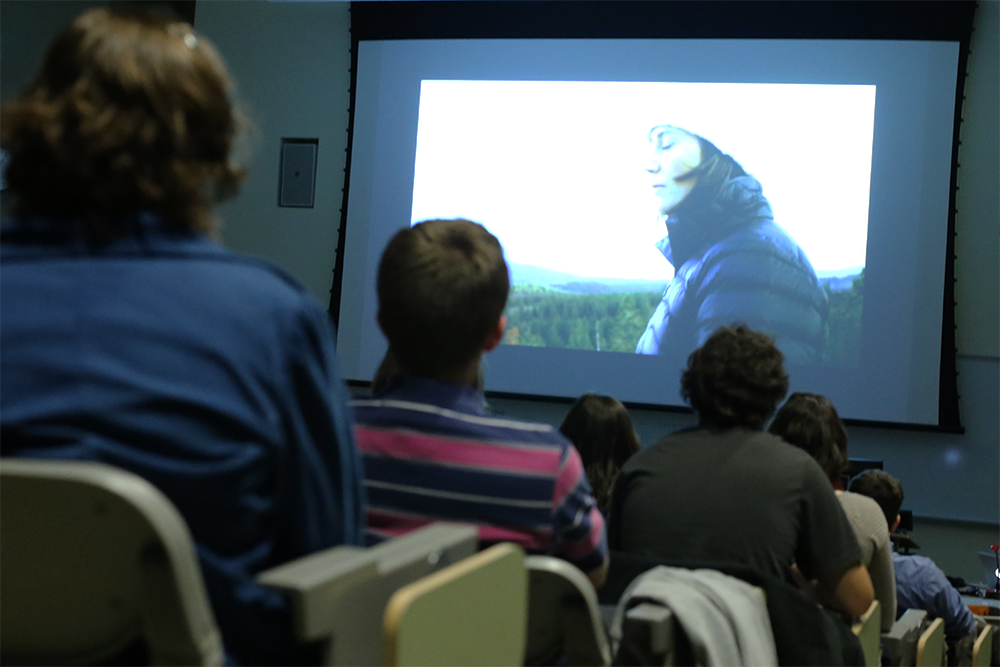 Jared Richardson is your typical 20-year-old college student on a secular campus.
He's funny. A good student. Clean haircut. Likes people.
But on Tuesday night, on a bitter 20-degree night in a remodeled lecture hall in southern Maine, Richardson found himself in front of 40 or so fellow college students doing something that was anything but ordinary.
Richardson was sharing his faith. Talking to peers he'll see in class the next day about life and death. How God has changed his life. And how on this night, at this moment, students can begin a personal relationship with Christ and know for sure their eternal destination.
"Life and death is something you can't escape," Richardson said. "College is a perfect time to think about this. It's a time when a lot of people are doing soul-searching."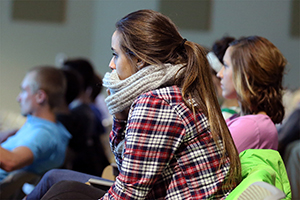 The setting was the Bailey lecture hall, an auditorium at the University of Southern Maine's Gorham campus, used for freshman history and business classes during the week. But on Tuesday nights it's turned into a holy place where the student ministry Navigators meet.
This particular night had been ear-marked since mid-August as a time when students could bring their lost friends—those who were questioning what to do with God in their lives—and a clear Gospel message would be shared. For months, students had been praying for friends.
After a few announcements and worship songs, Rus Willette introduced Heaven, the newest My Hope with Billy Graham video designed to help churches, individuals and college ministries share the Gospel. It features a new message from Billy Graham and features two real-life stories about individuals who have been forced to face the reality of life after death.
"Are you prepared to die?" Billy Graham asks in the video.
"It's a unique age. Their mortality is not on the top of their mind," said Willette, who leads the USM Navigators and used last year's My Hope video The Cross for a similar campus outreach night. "But we had at least five or six bring friends tonight that got to hear the Gospel probably for the first time in their life."
This is Maine after all, recently named the least religious state in America. And Portland, where USM's main campus is located, was ranked one of the top 10 most Godless cities in the U.S.
"It's pretty bleak," sophomore Leah Bell said of any Christian culture at her school. "It's pretty dead."
"There's a feeling here that Christianity is foolish," said senior Jenny Whitney. "It shouldn't stop me (from sharing Christ), but if I'm afraid they're going to think I'm a fool, I'm going to think about that."
Jessica Boghosian, 20, and a friend of Whitney's, only recently began coming to Navigators. Tuesday was just her third meeting.
"In my two years here at USM," she said, "I haven't had anyone talk to me about my religion."
But the 35 or so Navigators who gather weekly are determined to change the culture on campus, at least in the circles they influence. Getting involved with My Hope has started many to think more intentionally about sharing their faith.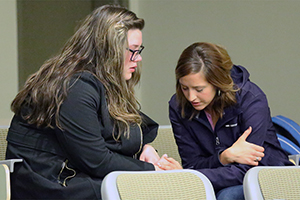 One Navigator stood up during announcements to remind students about their upcoming workshop to learn how to give your personal testimony in five minutes or less. Some 30 minutes after the meeting ended, this same student was praying with an emotional fellow classmate, Jocelyn Ulmer, in the corner of the auditorium.
"[Heaven] definitely hit home with the real-life stories," a red-eyed Ulmer said. "I think because of certain things going on in my life right now.
"I really thought the forgiveness storyline with the woman's father getting killed was powerful. How all forgiveness comes from God, not just forgiving a killer but in how you forgive others."
The night ended with three songs, while students were given an opportunity to come to the back to respond to the invitation to accept Christ or for prayer.
"There were a couple who responded, saying they needed to move to a place where my faith is real," Willette said. "They said, 'I've really been trying to pray and it still doesn't feel real.'"
Overall, Willette was at peace with what God was doing and how the video Heaven played a part in sharing the hope of Christ to students: "It was a good night."
Richardson concurred.
"I thought it was amazing, honestly," Richardson said about the 28-minute video Heaven. "I thought it was fantastic how it didn't compromise quality for the Gospel message. I think it's a video that people can really connect with well."
What is My Hope?
My Hope with Billy Graham combines the impact of video programs with the power of personal relationships. Christians can share the Gospel message with friends, family, colleagues and neighbors using one of several evangelistic video programs featuring life-changing testimonies and powerful messages from Billy Graham.
Want to watch Heaven?
Order your free DVD, watch online or find a showing on TV.
More My Hope Resources
Three other videos have been produced by My Hope, including Defining Moments, Lose to Gain and The Cross.