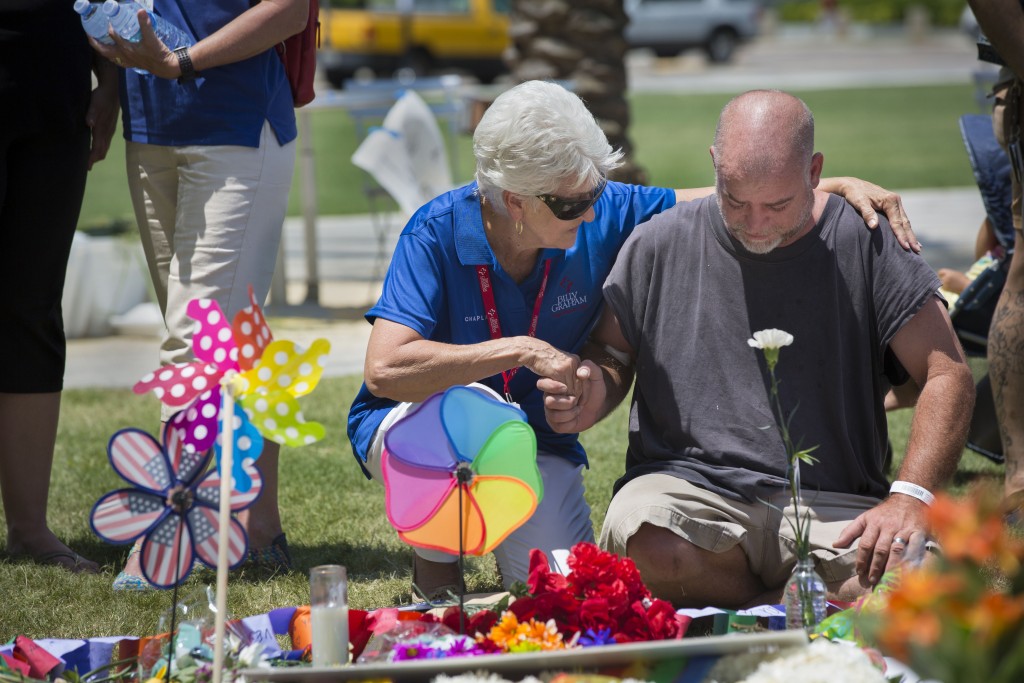 Floods. Hurricanes. Shootings. Terrorism. For the last 15 years, the Billy Graham Rapid Response Team has deployed specially trained chaplains to offer emotional and spiritual care in the midst of crisis. Chaplains have brought the love of Christ, praying with thousands around the globe since 2001.
Here are five key moments in the history of the ministry, which began out of the ashes of 9/11:
9/11: The Rapid Response Team Is Born
When Franklin Graham was visiting New York in the aftermath of the Sept. 11 attacks, he was struck by the degree of hopelessness he saw; people carried photos of their missing loved ones as they walked the city streets. As a result, the Billy Graham Prayer Center was born. Staffed by employees of the Billy Graham Evangelistic Association and the Billy Graham Training Center at The Cove, the center ministered to the entire community. Chad Hammond, charged with overseeing this venture, noted an openness to the Gospel in the wake of the disaster. Prayer Center volunteers were leading their taxi cab drivers to Christ regularly. People packed out the local churches. Conversation came easily.
"It was how every day should be for the believer, looking for spiritual opportunities," said Scott Holmquist, who worked at The Cove at the time. Today he is a manager of special projects and communications with the Rapid Response Team. "It was literally walking and engaging people in conversation. The people of New York were wonderful, gracious, conversational, very approachable."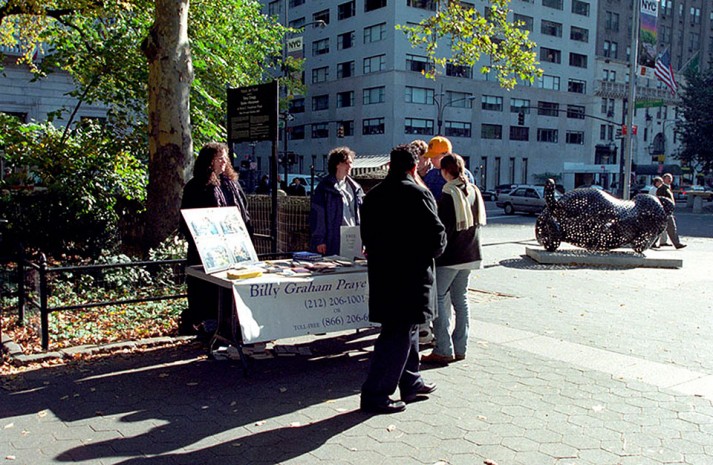 But there was a closing window of opportunity, and within six months, "it was like somebody turned a faucet, and one day it was over," Hammond said. "We realized there is only a short window of time following a disaster to share Christ."
"September 11, 2001, was something that changed everybody," he added. "And BGEA was able to develop a ministry that has been beneficial to many people all over the world."
2004: 'I Want Chaplains'
Jack Munday needed a new plan. When he deployed to Punta Gorda, Florida, in 2004 in the wake of the hurricane there, he initially planned to offer training for local churches. After ministering in New York, that's what the Rapid Response Team focused on—equipping local churches. But he had just hung up with Franklin Graham, who made it clear, "I don't want training," Munday recalled Franklin saying. "I want chaplains."
Munday, who came on staff at BGEA in 2002, didn't immediately have a working definition of a chaplain, but that didn't bother him. He's a guy who, in his own words, is comfortable when the white board is white. He loves a challenge, and as a nearby Samaritan's Purse printer spit out work orders for homes damaged in the hurricane, he said he sensed the Lord saying to him, "follow up two by two."
So within two days, Munday called up some folks who had volunteered at the prayer center in New York to come help in Florida. He picked up supplies—maps and Bibles—and held a quick orientation for the six people who were able to come. He told them, "When you knock on the door, say, 'I am a chaplain with the Billy Graham Rapid Response Team. And then say, 'I'm here to follow up on the work that Samaritan's Purse has done. How can we pray for you?'"
"People would just weep at the door," Munday, now the international director of the RRT, remembered. He noted they had four first-time decisions for Christ during the first day.
"Eye-opening doesn't even really describe it," Munday said, thinking back. "It was like walking into a room of opportunity that we never dreamed of before until Franklin made that phone call. For us, it was a major shift in our ministry."
2005: 'An Army of Chaplains'
Munday and a team of chaplains completed the Rapid Response Team's largest and longest deployment the day after the levees burst in New Orleans, as Hurricane Katrina devastated the Gulf Coast. The deployment lasted more than two-and-a-half years, and hundreds of chaplains shared the love of Christ. But one thing that stands out to Munday is a challenge Franklin Graham issued early in the deployment after visiting an evacuation center where the chaplains were ministering.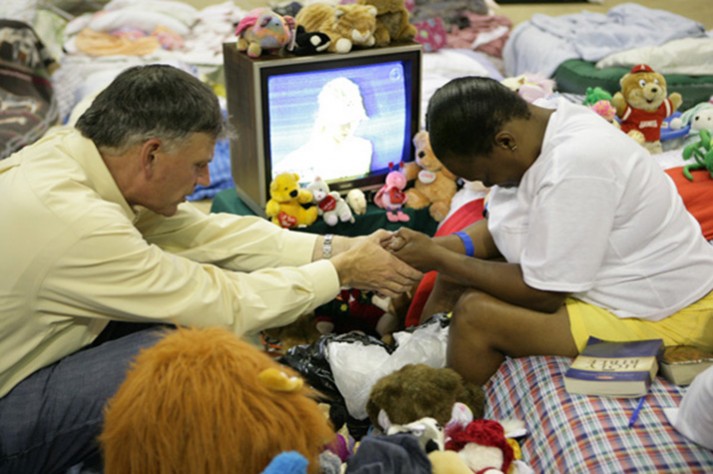 Munday remembers how Franklin got his attention. "He said, 'Jack, what I want is an army of chaplains that can deploy anywhere in the world in a moment's notice.' And I couldn't get my mind around that."
Munday was moved by the challenge. He started thinking, praying. The man who once built houses with his own two hands needed to figure out how to build an army for spreading the love of Christ.
"I like building, and for me, that's the challenge of it," Munday said. "That's the enjoyment of, 'OK, Lord, what does this look like? And so the whole chaplain ministry was out of the crib at this point, and it was starting to walk."
2014: Civil Unrest
Natural disasters, like the 2010 earthquake in Haiti, and shootings, like the 2012 one in Newtown, Connecticut, were the type of events that typically triggered a Rapid Response Team deployment. Then, in 2014, Ferguson, Missouri, experienced large-scale civil unrest. Crisis-trained chaplains responded in 2014 after a police officer fatally shot 18-year-old Michael Brown. As tensions boiled over, chaplains deployed to share the hope of Christ.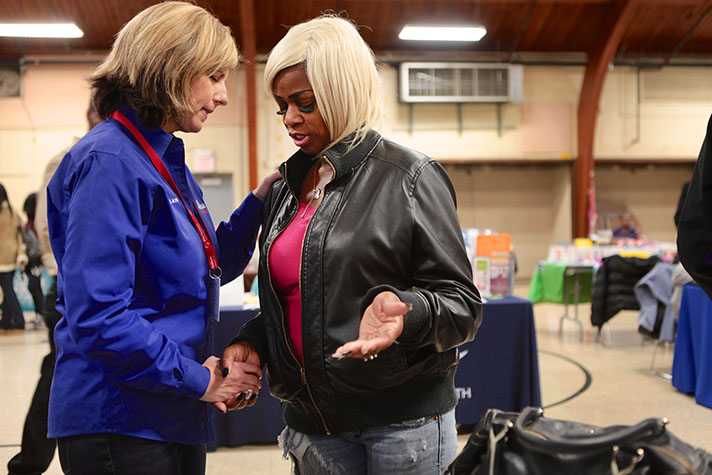 The RRT's Mobile Ministry Center was parked on neutral ground to offer emotional and spiritual care to police officers and community members alike. It was a time of uncertainty, but chaplains and community members said they sensed the presence of God moving. An Adopt-A-Block program was even born out of the deployment to help bring the churches onto the street.
"God is here and moving," one Ferguson resident said toward the end of the second deployment in 2015. "He can take anything broken and fix it. That's why I'm hopeful for our community."
2015: Terrorism
A terrorist act prompted the creation of the Rapid Response Team, and while preparation for ministering in such tragedy stayed on the radar, it didn't become a reality until 2015 when Paris endured multiple attacks one November night. Ray and Suzanne Thompson, who became chaplains in 2006, didn't bat an eye when extended the opportunity to serve in France. For them, bringing the presence of the Lord into dark situations is a privilege.
The Thompsons noted a sense of fear—an understandable response to the attacks—but they also highlighted the passion of the local church in the wake of such tragedy. This church, Suzanne said, was previously reserved when it came to evangelism. But within the last decade, the Rapid Response Team has blended ministry with training, coming alongside the local church to serve the community.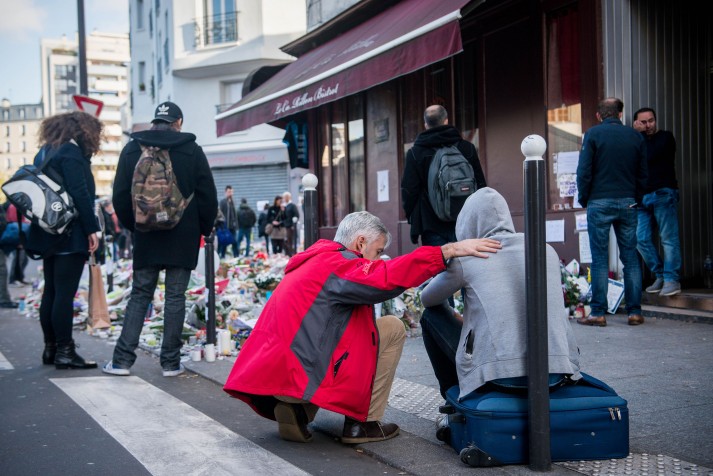 "Every day we would go out with a team of volunteers from different churches all around Paris," Suzanne said. "To see them not afraid to go up and pray with people and then coming back afterward for our little debrief session, they were just on fire, excited at being able to share the love of Christ."
Next Steps
The future is bright for the Rapid Response Team, which has a database of chaplains worldwide ready to deploy at a moment's notice to share the peace Christ brings in times of trial. The ministry, which already has offices in Australia, Canada and the United Kingdom, is considering further global expansion. The key, Munday said, is staying rooted in Christ as the ministry shares hope in crisis.
"When you realize that you don't have what it takes, it gives you a dependence, a desperation for the Lord to show up," Munday said. "And I think that's a healthy place to be."
The Billy Graham Rapid Response Team exists because of faithful BGEA supporters. If you would like to partner with the ministry, please consider making a gift from your desktop or mobile device today.