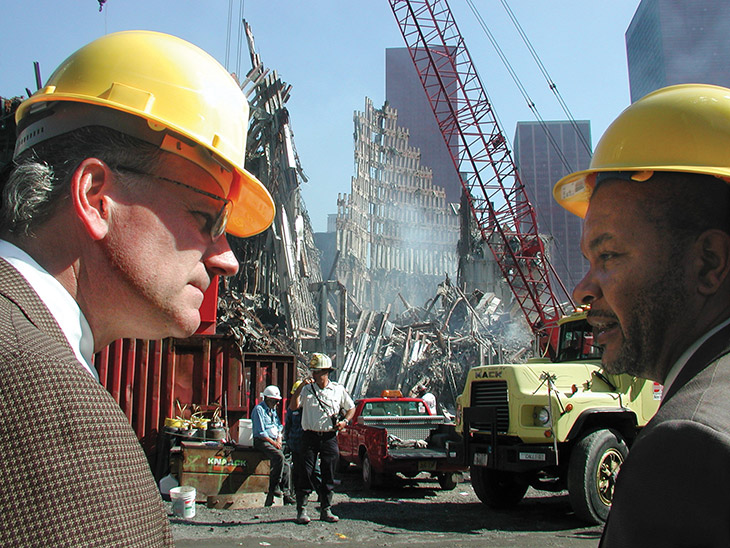 This story was originally published in September, 2011. Today, as we remember the horror of September 11, 2001 and pray for the families of those who were lost, we are reminded of how a ministry was born out of the ashes of that day.

As Chad Hammond flew into New Jersey a few days after 9/11, his heart was heavy as he thought about the responsibility looming ahead. He had just started a new job at Billy Graham Evangelistic Association (BGEA), and here he was, dealing with an event unprecedented in U.S. history.
Because security was incredibly strict, the team was not yet permitted to enter Manhattan. But after a day and a half passed, Hammond found himself standing at Ground Zero. "Everything was still burning," he recalls, "and we were right in the middle of it all."
Hammond describes the experience as surreal. "All of us, I think, in America had been shocked. We all know where we were when we first realized the towers had been hit, that we had been attacked as a country."
Walking into the secured area, the first thing Hammond noticed were the cars covered in ash.  "They were parked in the financial district where the World Trade Towers were," he explains. "I realized those cars were driven by people who had been killed in the Towers. They would never be coming back to drive home."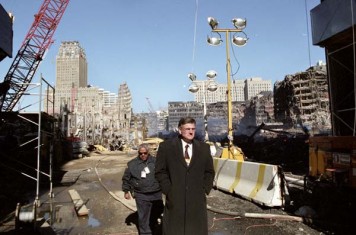 He remembers feeling that Ground Zero was, well, holy ground.
"I looked around and there was a lot of paper—bits and pieces from files and memos and letters of people who had been working up there."
At that time, says Hammond, many bodies remained in the ruins. "It was very humbling. I remember not wanting to disturb or touch anything. You treated that place as a kind of holy site."
Ironically, he says, medical tents were set up with doctors waiting to treat victims who never came. "Not that many people were injured. Most people just did not survive."
Hammond knew that he was in the middle of something that would be a defining moment for the United States—and for his new job as BGEA's Managing Director for Strategic Ventures. "Samaritan's Purse had come in and set up an office—got computers set up and got it staffed. My role was to work with the churches."
What became the Billy Graham Prayer Center served four functions in New York City, says Hammond: to help the pastors and Christian leadership in the area; to establish a phone center where people could call in and receive counseling and prayer; to provide counseling for people who walked in off the street, and to mobilize volunteers from all over the country to come and serve in the area.
"There was a restaurant giving away food and that is where we connected with firefighters, police officers and rescue workers," says Hammond. "As Christians, we felt that we had a mission to bring the hope of Christ to the people of New York City."
In the weeks following 9/11, the BGEA launched the Rapid Response Team and started doing Grief in Crisis training sessions in New York City. "We did ministry for two or three years in New York City after 9/11," says Hammond. "That eventually led to Dr. Graham's Crusade in 2005, through some of the churches that we had connected with through 9/11."
Hammond notes that the 2001 disaster birthed an incredible openness to the Gospel: "It caught everybody by surprise. I remember one of the ways we saw this was during devotions in our office. Many of our staff would take taxis to come in and every day at least one or two of us would lead a cab driver to Christ. We heard stories of people walking around the streets of New York sharing the Gospel—and people were praying to come to Christ."
Churches were full in the months following 9/11. Hammond recalls needing to arrive at 7:30 for the 9 a.m. service at Brooklyn Tabernacle Church. "There was a line to get in and the service was packed. Time Square Church in Manhattan was packed. All of the churches were," he adds. The tremendous openness to the Gospel surprised even the pastors in New York City.
"It was out of that environment that we realized there was an opportunity to start a ministry within BGEA," Hammond explains. "Franklin Graham wanted to develop a Rapid Response Team and see how we could share Christ in the midst of crisis, in disasters like 9/11."
But a wrinkle soon developed. Roughly six months after 9/11, the openness to the Gospel seemed to vanish. "It was like somebody turned a faucet and one day it was over," says Hammond. "We realized there is only a short window of time following a disaster to share Christ. And there's a right way and wrong way to do it." That is what prompted the newborn Rapid Response Team to develop a training program, now known as Sharing Hope in Crisis.
Eleven years later, the Rapid Response Team has a global impact. "To me," says Hammond, "the Rapid Response Team will always be something that came out of the ashes of 9/11. Going into a hopeless situation and identifying a way that we could bring hope to the people—every time I see the blue shirts that the chaplains wear, I always remember the very beginning, where it started.
"September 11, 2001, was something that changed everybody," Hammond adds. "And BGEA was able to develop a ministry that has been beneficial to many people all over the world."
Be the Hands and Feet of Christ
As the Billy Graham Rapid Response Team continues to minister in the aftermath of disaster in the U.S. and around the world, you can be part of the mission to bring the love and peace of Christ to hurting people. Learn more about joining the Rapid Response Team or help deploy crisis-trained chaplains by giving to the ministry today.