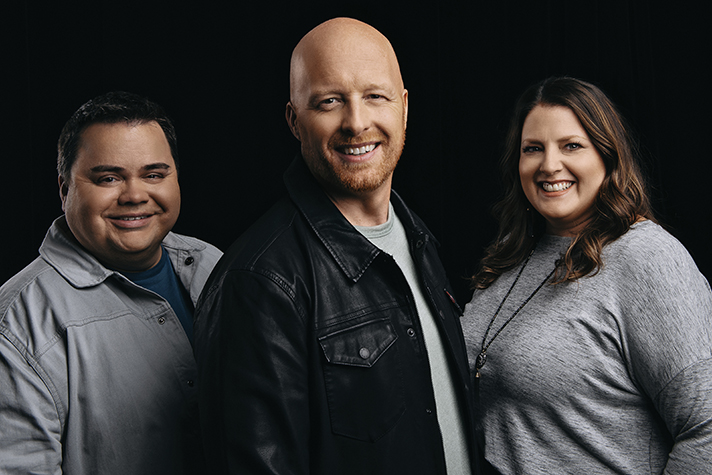 Selah will return to the Billy Graham Training Center at The Cove in December 2020—Register here. Check out other musical guests coming to The Cove this December as well as in 2020.
Can music bring hope and healing? Christian band Selah's prayer is for God to use their inspirational music to achieve this—and more.
The Dove Award-winning band recently performed at the Billy Graham Training Center at The Cove in Asheville, North Carolina. On the weekend following their performance, Selah led worship at an Anne Graham Lotz seminar on the Holy Spirit, November 8-10.
>> Get on-demand access to Anne Graham Lotz's seminar.
For over 20 years, the trio has used their platform to share the Gospel of Jesus and point people to the love of God.
Their new album and title track, "Firm Foundation," focuses on respecting and living by God's Word in chaotic times. The song is a reminder, especially for the church, to not yield to people or outside influences, explained Todd Smith, an original founder of Selah.
"If I were just to do every single thing I thought in my mind or wanted to do, it would be so narcissistic and selfish," he affirmed. "I don't have a capacity on my own to know my own truth.
"The truth is Jesus. We need to be grounded in that and have a high view of Scripture. He's our firm foundation."
Tragedy Strikes
Singer-songwriter Todd Smith has leaned on that truth in dark times.
In 2008, he and his wife, Angie, held their newborn daughter Audrey Caroline for two-and-a-half hours until she went to heaven. For months, they'd known her prognosis was bad. Despite assumptions that they would abort the pregnancy, the couple chose to meet their daughter. Their other children got to meet her, too.
"All the girls got to meet her, hold her," Smith said. "It was one of the most peaceful days I've ever experienced where you know you're being lifted up by prayer. Because before that, it was awful. And after that, it was awful."
Six weeks later, Todd's sister Nicol—a founding member of Selah—lost her two-month-old son Luke to SIDS.
"It was incredibly difficult," Smith said, but God carried them through it all.
During a time of grieving and struggling through spiritual matters, Selah was booked at The Cove, a retreat center in the North Carolina mountains with a chapel and prayer garden on site. "I remember going to the chapel and just crying and praying. It was a big turning point for me, just walking the paths and reading the verses."
While God gave him the strength to eventually move forward, he and Angie were never the same. "There's always an empty part of your heart," Smith said. "It's never filled."
'God Brought Me Through'
Another time at The Cove, Anne Graham Lotz invited band members to meet her father, Billy Graham, at his home in nearby Montreat, North Carolina.
"We sang songs in the living room," Smith remembers. "I put my hand on Reverend Graham's shoulder and we just sang different hymns. One of his favorites was 'I'd Rather Have Jesus.'" Later, Selah recorded the hymn just for Mr. Graham and gave him a copy. Eventually they put it on an album.
"What a lovely, humble presence he had," Smith said. "This man who has impacted more of the world than probably any other person since the Apostle Paul—just the humility."
The same faith Billy Graham abided by is what Smith clings to during life crises and good times, too.
"I've been through too many things not to believe in God," Smith recalled. "What He's brought me through. But also amazing things, incredible opportunities, things He's given me.
"I look at my wife, my kids that He's entrusted me with and it's just too beautiful and complicated for it to just be nothing."