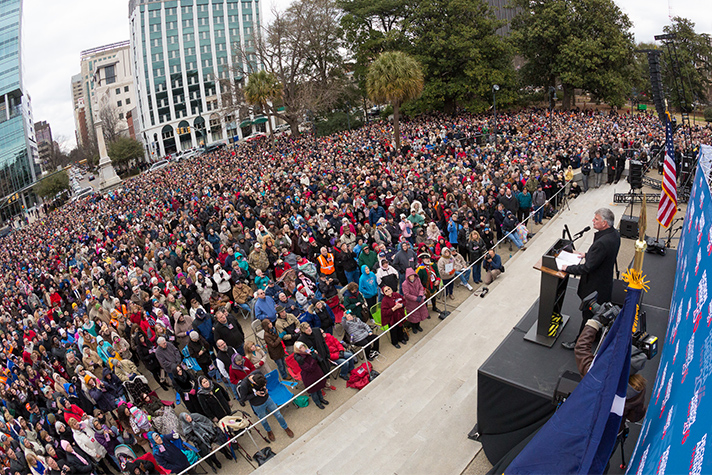 For Larry Furr, attending Tuesday's Decision America Tour prayer rally in Columbia, South Carolina, wasn't optional.
"This is one of those things you can't not do," he said as an estimated 7,100 people filled the north side of the State Capitol to hear Franklin Graham share his heart for America.
"I believe God's church is responsible for holding up His standard, His truth, and I want to do my part," added Furr, who drove almost two hours from Mint Hill, North Carolina, to attend. "I know God is raising up millions of people. I want to be part of what God is doing."
Tuesday's rally in Columbia marked the fifth stop of Franklin Graham's Decision America tour. On Wednesday, he'll visit Atlanta, Georgia. It's all part of his plan to crisscross the nation, holding prayer rallies in all 50 state capitals ahead of the November elections.
"We're here today because we see our nation is in trouble," Franklin Graham told the Columbia crowd, which responded with a hearty "Amen."
People bundled up for the 40-degree day and stood shoulder-to-shoulder across the lawn with American flags in hand. Some perched on the bases of statues to get a better view.
"We need more godly people like [Franklin Graham] to stand up for our nation," said Lisa Holzberger, a Cincinnati native who lives in Myrtle Beach, South Carolina.
Holzberger was one of 15 people from Calvary Chapel who made the almost three-hour trip from the South Carolina coast. Jean Scott was part of the caravan.
"We're standing up for God," said Scott, who originally hails from Cleveland, Ohio. "We want to get the nation back. We don't like the direction we're heading."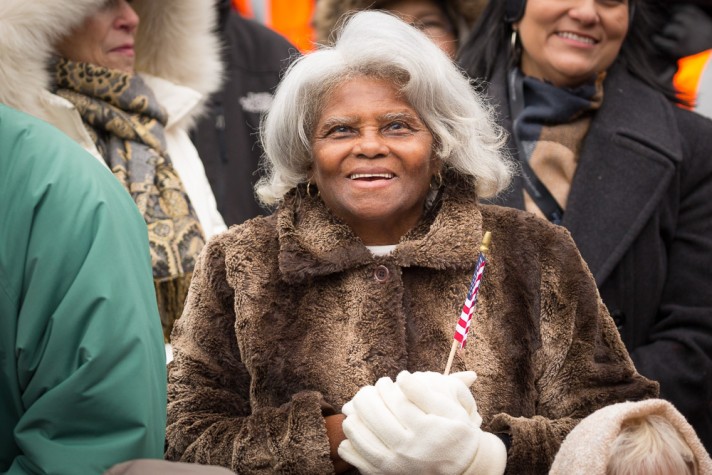 On Tuesday, Franklin Graham pointed his fellow Christians toward Almighty God as he led them in prayer—to confess sins of our nation and to spend time in personal repentance. Franklin Graham subsequently led those in attendance through a prayer to accept Jesus Christ after sharing the Good News. Light snow flurries fell as another "Amen" was lifted heavenward.
Turning the country around isn't achievable solely through our human strength, Franklin Graham acknowledged. But he stressed Christian men and women must get involved to affect change.
He urged believers not only to pray for every level of politics, but to consider running for office. Imagine, he told the crowd, what the schools could look like if Christians served on the board. Same with county commissioner seats, judge positions and the like.
"You can go right on down the list," Franklin Graham said. "Every office is important."
Given the current political landscape—particularly with the slew of presidential contenders—resident Columbians Patsy Brewer and Carroll Peters admit they're concerned about our nation.
"It would be nice to have someone of character as president," Brewer said. "We're sliding so fast. It's scary. But we all pray."
In prayer is how many Columbia International University students and faculty showed up for Tuesday's event. They met prior to the noon rally to worship and then broke up into three prayer walking groups—entering the north side of the Capitol from three different directions—to cover the area in prayer.
Freshman Eric Smythe responded to the campus-wide invitation to attend the prayer rally and later commented on Franklin Graham.
"When he spoke, the power went through his words and through our hearts," Smythe said. "It's amazing to realize the power of God and how intricately involved in the details He really is."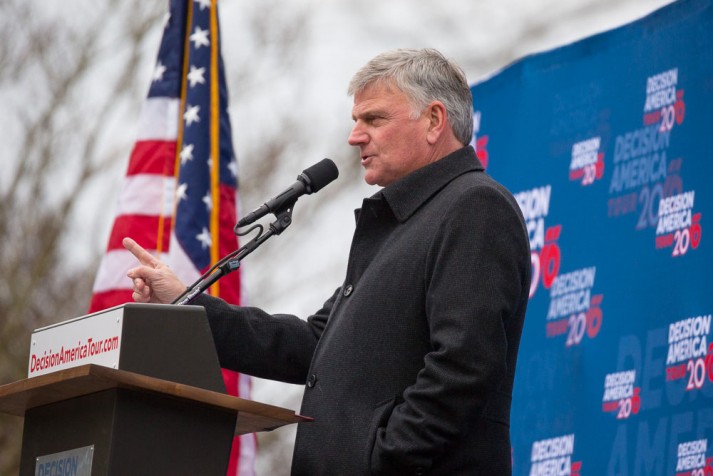 The youth impact didn't stop with the college students, either. Stewart Buxton, Katy McGuire and Nan Spacek—all 16-year-old students attending nearby Ben Lippen School—were excited to be a part of the event. Stewart, bundled up in a blanket, shared how her father accepted Christ at one of Billy Graham's Crusades.
Her father's passion for Christ undeniably was handed down to his daughter.
"I don't really buy into the fact you have to be older to make a change," Buxton said. "I can't change the world as in I can't change everything, but I can change my community and I can change the people that I am around.
"I get that we're young, but I don't think you're ever too young to try and make a stand and change America."
As the lawn emptied, Jeffrey Fortenberry snapped a quick picture of his kids Lillian, 14, Leeanna, 12, and Josiah, 11, in front of the South Carolina Capitol steps. Franklin Graham's message was fresh on his mind.
"We need to take action," Fortenberry said. "We need to make sure we take our privileges that we've been blessed with here in this country and actually go vote."