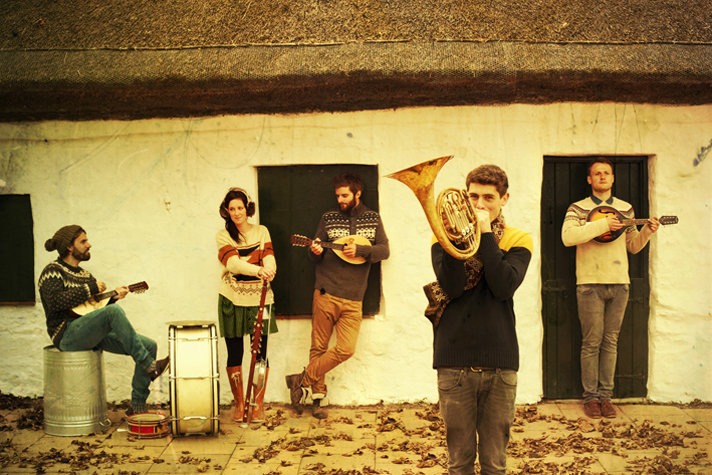 Chris Llewellyn is a lead singer for Rend Collective Experiment, an internationally recognized Irish folk band of 20- and 30-somethings. 
Chris Llewellyn was "aggressively opposed" to Christianity. His dad was in a Christian band, but Chris wanted nothing to do with God—or music. Today, he sings with Rend Collective Experiment, an Irish folk rock band seeking an authentic connection with God through organic worship.
Chris, 28, reflects on his teenage years when he shoplifted, drank too much and partied hard. He played rugby and wanted to go pro, but an injury at 17 forced him to hit the brakes.
"I had to take stock in my life," he said. He realized that everything he was putting his hope in was temporary.
"For some reason, I felt compelled to read the Bible … not because I had any interest in God at all."
Chris had always enjoyed literature. He started reading the Bible in the back, in Revelation, and surrendered his life to Christ by chapter three.
He remembers Christ's words in Revelation 3:15-16: "I know your deeds, that you are neither cold nor hot. I wish you were either one or the other! So, because you are lukewarm—neither hot nor cold—I am about to spit you out of my mouth."
"I realized that you couldn't respond to this Book … the way that I wanted to, which was to read it indifferently," Chris said. "It was either a complete waste of time or something to throw your whole life into. I really felt the presence of the Holy Spirit—what I recognize now as the Holy Spirit."
He was home at the time and didn't know what to do next.
"There was no appeal [to repent], no keyboard playing. … It was just me and the Book and the Holy Spirit," he said.
The following Sunday, he attended his parents' church where he raised his hand to show his decision to follow Christ. He joined a college movement called Rend and started leading worship. That's where he met Gareth Gilkeson, another member of what's now Rend Collective Experiment.
"It's kind of hard to tell where it began. … We've been friends for such a long time," Chris said of the group.
Rend Collective has five core members: Chris, Gareth and his wife Ali, Will Herron and Patrick Thompson. The group has included different members and collaborations over the years. Band members used to play secular music in pubs, inviting students from their college group to pray for opportunities to start faith conversations with people in the pub.
Today, the internationally recognized band has toured the United States for more than two years, performing at Franklin Graham Festivals and Will Graham Celebrations, and sharing the stage with Chris Tomlin, MercyMe, Tenth Avenue North and Lecrae. The band's goal is to bring a new approach to congregational worship. The song "You Are My Vision" was an old Irish hymn the group modernized for today's audiences.
While there's nothing wrong with polished people playing polished music under great lighting, Chris said, "the kingdom is all about bringing people who are different together," and sometimes that requires more than a one-size-fits-all approach.
Rend Collective, currently based in Atlanta, Ga., is known for using a hodgepodge of instruments: accordions, banjos, trash cans, a bouzouki—similar to a mandolin—and the jingling Johnny, a percussion stick that Ali made herself.
Folk music has always been for the people, Chris said, and the group wants worship to be the same way.
"We are all handmade people, each one of us unique and important, crafted delicately by divine hands," Gareth says on the band's website. "Above all created things, God calls us a work of art."
The group emphasizes God's creative nature in its music.
"He doesn't make us the way Starbucks makes coffee," Chris said. "We're not mass produced. … We are each His masterpiece."