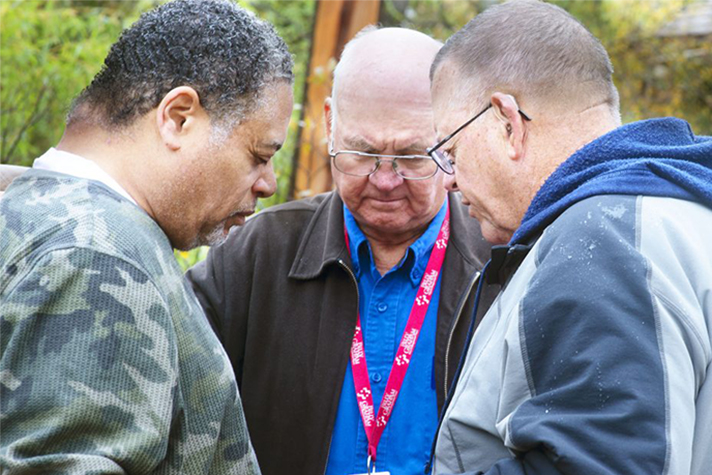 This article was last updated on December 19, 2019. 
Five crisis-trained chaplains from the Billy Graham Rapid Response Team (RRT) ministered in Huntsville, Alabama, after police officer Billy Clardy III was fatally shot during a drug investigation on Friday, December 6. The team announced this deployment the day after heading to Florida for the shooting at Naval Air Station Pensacola, which also occurred on December 6.
"We are deeply saddened to learn of Officer Clardy being killed while serving and protecting his Huntsville community," said Jack Munday, international director of the RRT. "Officer Clardy was a personal friend to one of our RRT chaplains, who is ministering to the officer's family and the department, while also caring for his own son who serves on the Huntsville Police Department.
"As we pray for God's hope and comfort, this tragic loss hits close to home," Munday added.
The chaplains offered a ministry of presence at a prayer vigil the following Sunday, and were ready with a listening ear to share God's hope with Alabamans, who have unfortunately become all too familiar with officer shootings this year. In 2019, they've lost six officers in the line of duty.
"I am grieved to hear of the Huntsville police officer killed in the line of duty and extend my deepest sympathies and prayers to his family for their unimaginable loss," Alabama Gov. Kay Ivey stated in response to the shooting.
"It has been an exceptionally tough year for our law enforcement community, and this will be felt across our state. I will also be praying for strength for the Huntsville Police as they grieve the loss of their fellow officer, as well as for their continued protection as they keep us safe," Ivey continued. "May the Lord's peace that passes all understanding be with the family and everyone who loved this dedicated officer."
This marks the RRT's 10th deployment resulting from a shooting in 2019. In addition, the team was in Alabama earlier this year alongside Samaritan's Purse after two tornadoes ripped through the eastern part of the state.
Please keep all those affected by this heartbreaking event in your prayers. 
Do you have peace in your heart when facing loss or hardship? Start a relationship with God.