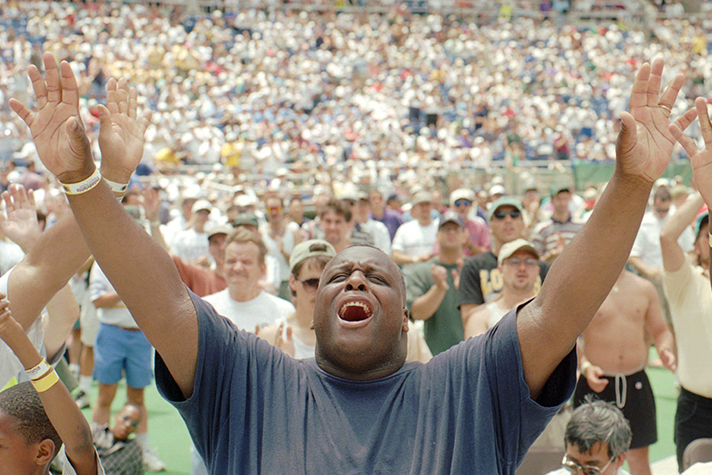 Longtime ministry Promise Keepers—despite mounting pressure to move next month's conference from the Dallas Cowboys' home—is standing firm on its decision and will not move from AT&T Stadium.
A USA Today opinion piece denounced the venue choice as linking the NFL and AT&T with anti-gay and transgender hate speech.
Promise Keepers was founded more than 30 years ago as a movement to raise up godly men. With the tagline "men of integrity," the ministry says America is facing problems that can be overcome only through promise-keeping men who "fulfill their destinies as godly husbands, fathers, and leaders."
Promise Keepers Conference
Register for the July 16-17 men's event.
For decades, Promise Keepers has held men's conferences meant to support and reignite in men their God-given role as leaders of the household. Its vision is to revive families and churches across America.
Wednesday, Franklin Graham posted about the event coming up July 16-17 and encouraged men to attend.
"You won't regret this investment in your spiritual growth," he wrote.
Hundreds commented on the post, many from people who have been affected by a Promise Keepers event.
Gale called it "one of the best things I ever did for spiritual growth in my life."
Graham attended a meeting decades go and hasn't forgotten the experience. "It was a total blessing. … It will change your life for the good. Amen. Very powerful," he said.
Carl had a similar comment, saying "Promise Keepers … saved my life. Changed me to the person I am now."
Women also wrote of the ministry's impact on the men in their lives.
"My husband belonged to a Promise Keeper group in the 90s. His group and prayers changed lives," Jessica wrote.
"My son-in-law was saved at a Promise Keepers convention. He has been a changed man since then," said Marlene.
This year's conference features an array of speakers, including former NFL fullback and Cowboys chaplain Jonathan Evans, author Les Parrott, Life Without Limbs founder Nick Vujicic and retired Lt. Gen. Jerry Boykin.
"Communities all across our nation are struggling with issues like hunger, homelessness, and sex trafficking. Our neighborhoods are blighted by fatherlessness, addiction, and despair," the Promise Keepers website says. "The answer? Men need to take a stand for justice, mercy, and love. They need to take action. 
"With God's help, we want to raise up a massive army of men who will tackle our nation's toughest problems and not rest until they're solved."