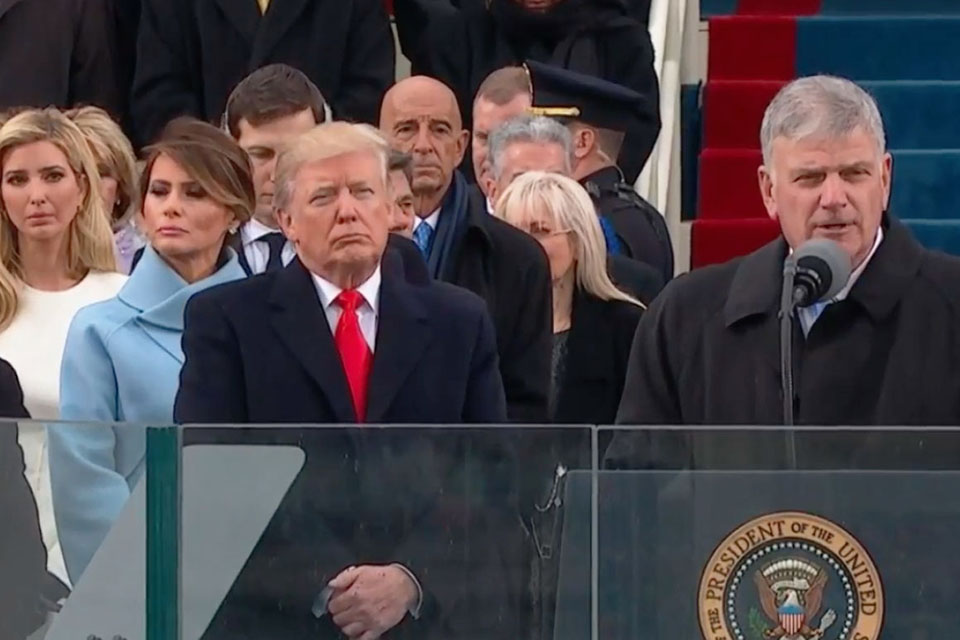 Just a few minutes after Donald Trump was sworn in as the new president of the United States, Franklin Graham took the podium at the inauguration ceremony to read from the Bible.
Rain had begun to fall in Washington, D.C., as President Trump addressed the nation. Before reading from the book of 1 Timothy, Franklin Graham took a moment to share a few words.
"Mr. President, in the Bible, rain is a sign of God's blessing," Franklin Graham said. "And it started to rain, Mr. President, when you came to the platform. And it's my prayer that God will bless you, your family, your administration, and may He bless America."
Franklin continued by reading from the New Testament of the Bible, in the book of 1 Timothy.
I urge, then, first of all, that petitions, prayers, intercession and thanksgiving be made for all people—for kings for all those in authority, that we may live peaceful and quiet lives in all godliness and holiness.

This is good, and it pleases God our Savior, who wants all people to be saved and come to a knowledge of the truth. For there is one God and one mediator between God and mankind, the man Christ Jesus who gave himself as a ransom for all people … (1 Timothy 2:1-6)

Now to the King eternal, immortal, invisible, the only God, be honor and glory forever and ever (1 Timothy 1:17).

In Jesus' name, Amen.
As he has done for the last year, Franklin Graham is calling on Americans to pray for the new administration and for the people of the United States to turn to Almighty God.