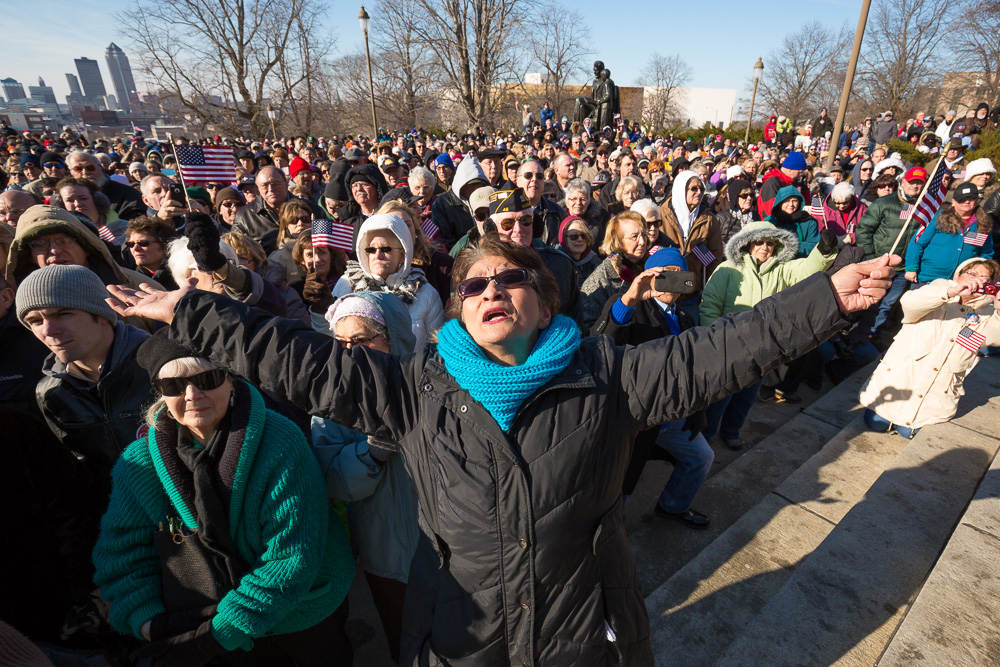 There may not be one singular reason why more than 2,500 people would brave 30-degree weather in early January, navigating snow banks and icy steps to gather at the Des Moines, Iowa, Capitol building.
But concerned Iowan Sherri Street summed it up quite nicely.
"We can't stay the silent majority any longer."
And just like that, the Decision America Tour has left the station. Next stop: the remaining 49 state capitals.
And that we that Street's referring to?
It's a mass of Bible-believing Christians throughout the United States of America, who have seen their country stray far from its beginnings—or even just a few generations ago, when Billy Graham began his school days with a recitation of the Lord's Prayer and Pledge of Allegiance.
And those Ten Commandments that once hung on the wall? Nobody even wonders what closet those ended up in.
"Our country is in trouble," Franklin Graham, president of the Billy Graham Evangelistic Association, began the prayer rally. "It's in big-time trouble. The moral and political walls of our nation are crumbling.
"The most important thing we can do as Christians is pray."
After a time of worship music and prayer and 30 minutes of Franklin Graham sharing his heart for this country, his ending was similar, but with a significant and optimistic tone of returning to "one nation under God."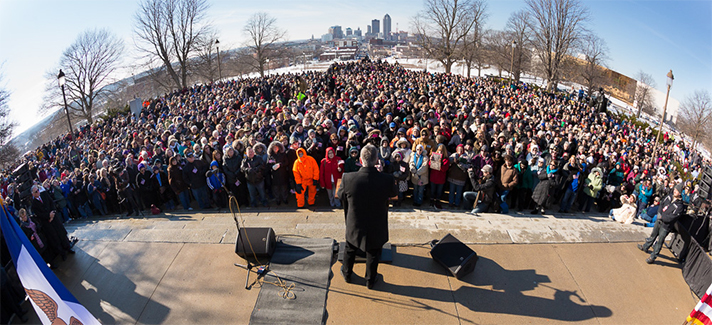 Judy Winegan, who came to the prayer rally with her friend Street, was moved to tears talking about the rally after.
"It was phenomenal," she said, collecting her words. "I think if America doesn't change, America will fall."
"It needs to be said," Street talked about Franklin Graham's message.
"And it needs to be prayed," Winegan added.
Among the 2,500-plus on Tuesday was one man who drove 12 hours from Sevierville, Tennessee. Morgan Austin, 44, drove his wife and three young children four hours from Lincoln, Nebraska, only to hop back in the minivan and return straight home.
"I think (Franklin Graham) is awesome," Austin said. "He's the one person in America who has the respect to do this. He's the singular voice right now.
"We prayed for him last night."
The oldest Austin child, Jordan, 10, brought home more than just an America flag: "It was so good, it made me cry," he said.
The message was straight-forward, but included something for everyone. It started with a call to pray and repent.
Jumping off from the story of Nehemiah rebuilding the walls of Jerusalem, Franklin Graham offered opportunities for people to confess sins—of their nation, their own and their fathers.
"God heard the prayer of Nehemiah and gave him favor," he told the crowd.
Franklin Graham also gave a clear Gospel message and an opportunity for anyone in attendance to accept Christ and respond via text message for follow-up materials.
"If you don't remember anything else," he said. "Remember this—God loves you."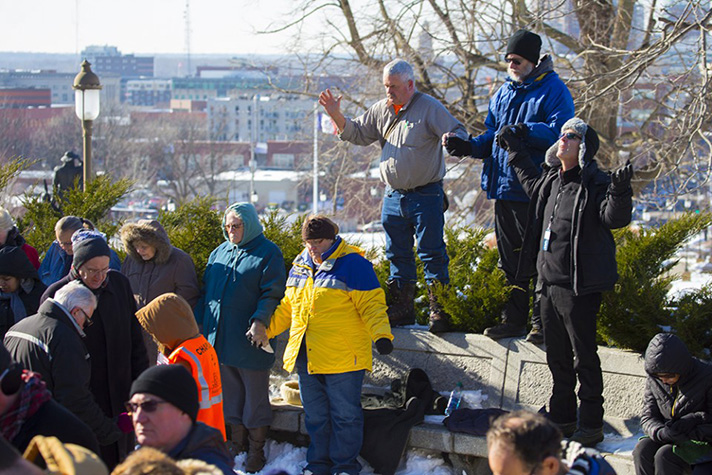 Alicia Cortez, of nearby Grimes, Iowa, didn't need the reminder, but she'll take it anyway. The first person on the Capitol steps, she arrived at 9:55 for the noon event—with great anticipation and a very warm coat.
"It's amazing to come and worship the Lord out in the open," she said. "We need a revival among Christians to stand for our values and our beliefs.
"Right now, we still have religious freedoms but they're taking them away, little by little."
Ryan Pentico, 24, drove in from Norwalk, Iowa, after hearing about the Tour from his church, which just finished a series about revival coming to America.
"We got here a half hour before it started," Pentico said, "and we got one of the last spots (on the Capitol steps)."
Driving 90 minutes from Eldora, Iowa, Roger Sutton brought his wife and two teenage sons as a way of letting their voices be heard. Religious freedoms are hanging in the balance, he said.
"We need to take a stand, instead of saying, 'poor us,'" Sutton said. "From the town council to the school board to the statehouse, we need to start standing up. This could all go away in a heartbeat."
The prayer rally ended with an opportunity to make the Decision America Tour pledge—via text message or at DecisionAmericaTour.com—to both God (to honor God at home, in public and at the ballot box) and America (to pray, vote and consider running for office).
Franklin Graham told the crowd that an estimated 20 to 30 million Christians stayed home in the 2012 election. He wondered what our country would look like if city councils, school boards and mayor seats were filled by believers in the next two or three elections.
"It's rare you get to be in the same space with Franklin," Sutton said, "with the opportunity to take a stand with people of like faith and show that you care."