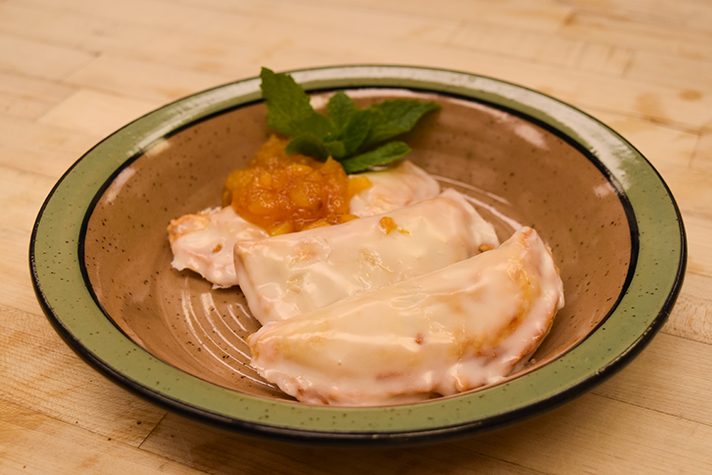 What better time of year for these peach turnovers? Grab some fresh peaches and savor this delicious pastry from the Billy Graham Training Center at The Cove.
Peach Turnovers
Filling
3 small peaches (about 12 ounces)
1/4 cup granulated sugar
1/4 cup light brown sugar
1/4 teaspoon kosher salt
1/4 teaspoon ground cinnamon
1 teaspoon finely grated lemon zest, plus 1 tablespoon fresh lemon juice
1/2 tablespoon vanilla extract
Dough
1 box refrigerated pie crust
2 ½ cups powdered sugar
¼ cup milk
1 egg white, beaten
Instructions:
Make peach filling.
Bring a medium saucepan of water to a boil. Fill a bowl with ice water. Using a sharp paring knife, mark an X on the bottom of each peach. Add the peaches to the saucepan and blanch until the skins start to peel away, 1 to 2 minutes. Transfer to the ice bath and let cool completely. Peel, halve and pit the peaches and cut into 1/4-inch pieces; you should have about 2 cups. Wipe out the saucepan.
In the same saucepan, combine the peaches with all the remaining ingredients and bring to a boil. Cook over moderate heat, stirring occasionally, until thickened and syrupy, about 12 minutes. Scrape the filling into a small bowl; let cool to room temperature. Cover and refrigerate until cold, 2 hours.
1. Preheat oven to 425°F. Remove pie crusts from package and allow to come to room temperature while you prepare filling.
2. Unroll pie crusts and cut 6 circles from each crust using a 4-inch biscuit cutter. You may have to reroll the scraps to get the 6th circle.
3. Using a 1 tablespoon cookie scoop, drop peach pie filling into center of each pie crust circle. Fold in half and pinch edges completely. Fold pinched edges over and press with the tines of a fork to seal. Poke turnover with fork once, to prevent bursting.
4. Beat egg white in a small bowl until frothy. Brush over the tops of each turnover. Bake on a parchment paper lined baking sheet (1 inch apart) for about 15 minutes, until browned.
5. While turnovers are baking, whisk together the powdered sugar and milk until smooth. Remove cooked turnovers from baking sheet and drop (while warm) into glaze, coating it completely. Use two forks to flip it in the glaze and remove carefully. Return to parchment paper and allow to set (about 5 minutes). Enjoy!
Makes 6 turnovers.
Try Other Summer Recipes