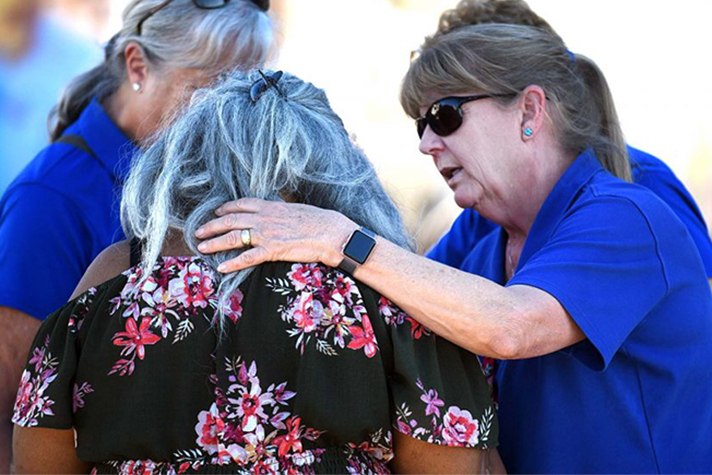 On October 10, 2018, Hurricane Michael hit the Panhandle of Florida as the third most powerful hurricane to ever make landfall in the United States. More than 30 people died as a result of the storm, many from the storm surge, fallen trees or collapsed roofs. Millions were affected as Michael swept through the Southeast, damaging or destroying thousands of homes in its wake.
Unbelievable.
That's how Jan Milligan described the destruction of Hurricane Michael after he spent hours driving through affected areas.
Calling it an "incredibly widespread storm," he saw rows of downed trees mile after mile, sliced in half by the storm's 155 mile per hour winds.
"I've lived all over Florida … and I've never seen anything like this," Milligan said.
Although it's been three months since the massive storm hit, thousands are still recovering after losing their home or facing extreme property damage from the storm.
To help those affected, Milligan is serving as a chaplain coordinator during the ongoing deployment of the Billy Graham Rapid Response Team (RRT) in Panama City. RRT's crisis-trained chaplains have been offering emotional and spiritual care to the community since early November.
The chaplains spend their days talking with homeowners, many of whom are receiving help from Samaritan's Purse.
"Trees will grow back, and people will get their houses rebuilt, but right now, they're hurting," Milligan said.
He recently met a woman named Ruth* who was already facing tragedy prior to Hurricane Michael raging through her city. In their experience, the RRT has found about 70 percent of the people they minister to after a storm were actually in crisis before the storm hit.
Ruth lost her house in the hurricane and had to move four times since then. But waves in her life heightened long before Michael was on the horizon.
She faced the death of her teenage son, overcame a battle with cancer and now is in the middle of a divorce.
Ruth said the chaplains and Samaritan's Purse team saved her from going off the deep end. As a believer, she's leaning on the hope they offered during a hopeless time.
Now, all Ruth wants is to get back in her home for some normalcy—and she's not the only one.
Milligan says many residents are stretched thin and frustrated at how slow and difficult the process is to get permits and estimates on homes.
"Most of these folks don't have a lot of resources. It just makes your heart hurt for them," Milligan said.
Meanwhile, a nearby park is filled with homeless people. There's a shortage of hotel rooms and apartments. And with spring break coming up, the destination city will likely see a rise in visitors—and hotel prices.
With all of these troubles, it appears Panama City is looking for something more in life.
"A lot of people are interested in finding out about the Lord," Milligan said. "[They're] curious about the love of God in a bad situation like this."
Many have chosen to place their trust in God, who's with them through all of life's storms.
Please continue to pray for those recovering in Panama City, Florida, and surrounding areas from Hurricane Michael.
*Name changed for privacy.