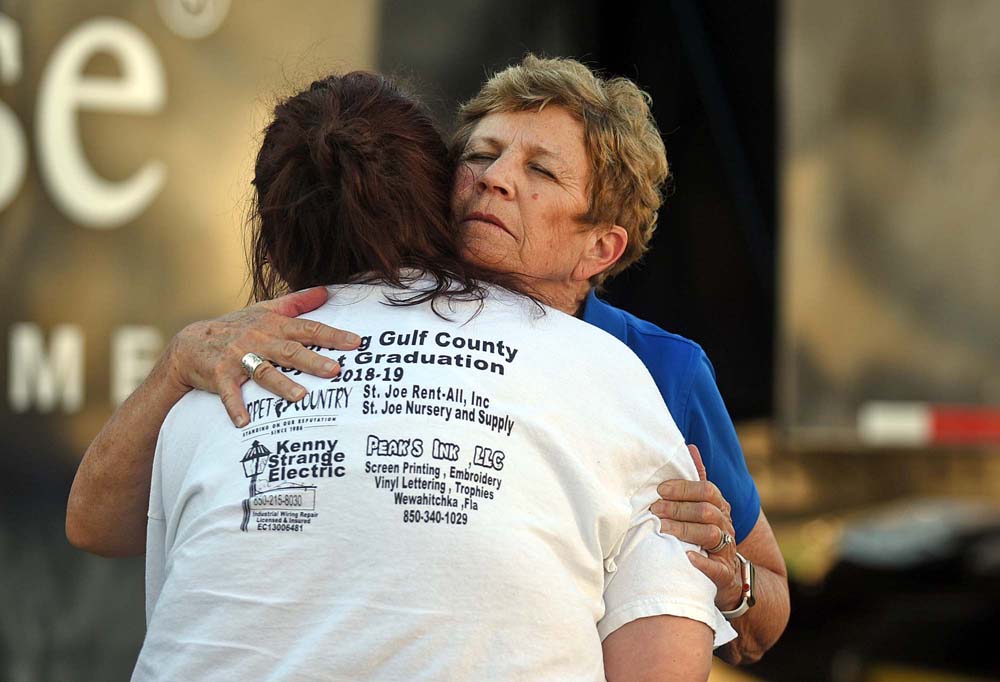 "The Lord will fight for you, and you have only to be silent."
—Exodus 14:14
Laura Mainor stood in the hallway with her husband and two children as Hurricane Michael, a monster storm with 155 mph winds, unleashed its fury outside their small brick home in Wewahitchka, Florida, less than 30 miles from Panama City.
"Jesus, will you keep us safe?" her 5-year old daughter, Grace, prayed aloud. "Will you please keep us safe?"
Laura turned toward her daughter and faithfully said, "You don't have to ask Him like He's not going to do it, because He's going to do it."
And He did.
She now stood in line at First Baptist Church of Wewahitchka, talking with Kater Zemke, a Billy Graham Rapid Response Team (RRT) chaplain, as she filled out a form from Samaritan's Purse to receive help repairing her home. RRT chaplains are on the ground in the Florida Panhandle to offer emotional and spiritual care to locals like Laura who are recovering from the storm.
>> Help send crisis-trained chaplains to disaster zones to share God's love.
In line next to Laura was her former high school teacher, Hattie Hunter, or "Pearl" as friends and family call her. Swapping stories, Laura and Pearl candidly shared their experiences with the crisis-trained chaplain.
"We would hear everything because it whistled," Pearl said. "You could hear everything hit the house.
"Boom … boom … boom," she continued, flinging her fingers to accentuate each word.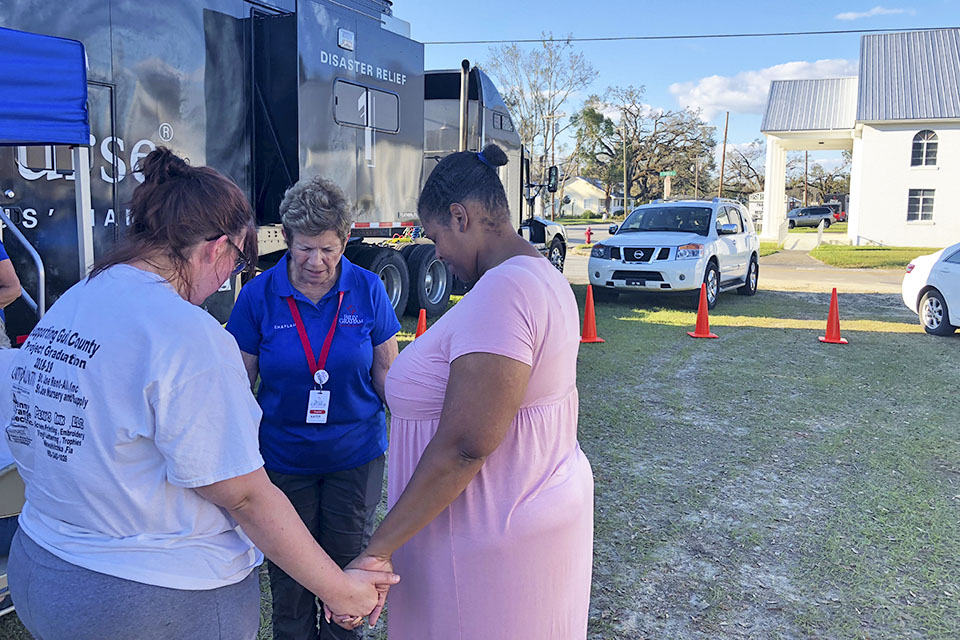 Pearl and seven family members had gathered in her home outside of town to ride out the storm. Thinking Michael was going to weaken, they decided not to evacuate.
They quickly regretted that decision when the storm's intensity only increased as it neared the Gulf shore, roaring toward their home and completely wiping their barn in the process.
>> View Photo Gallery of Chaplains' Ministry in Florida and Georgia.
Still, Pearl didn't realize how much trouble they were in until Samuel, her 12-year-old son, said, "Daddy, come to my bedroom."
She and her husband went in to find the door to the attic completely sucked up from pressure—and more of her home continuing to give way.
"The garage door kept opening and closing, like it was breathing," Pearl said.
Outside, their family business' large 43,000-pound trucks began to rock as well, and their shed bounced around like a basketball.
"We all started praying and put our shoes on," Pearl said. If the house started to blow away, the family planned to run and hold onto nearby poles cemented five feet deep into the ground.
By the grace of God, it didn't come to that.
"When I came out of the house and saw all the damage, I said, 'Thank you, Jesus,'" Pearl told Kater, who asked about her faith through the storm.
For her, the extent of the damage was a clear sign of God's mighty protection on her family.
But both friends agreed they'd never stay for a hurricane again.
"Lord, bless me! If there's another storm coming, I'm going north!" Pearl said with a smile, pointing her finger upward.