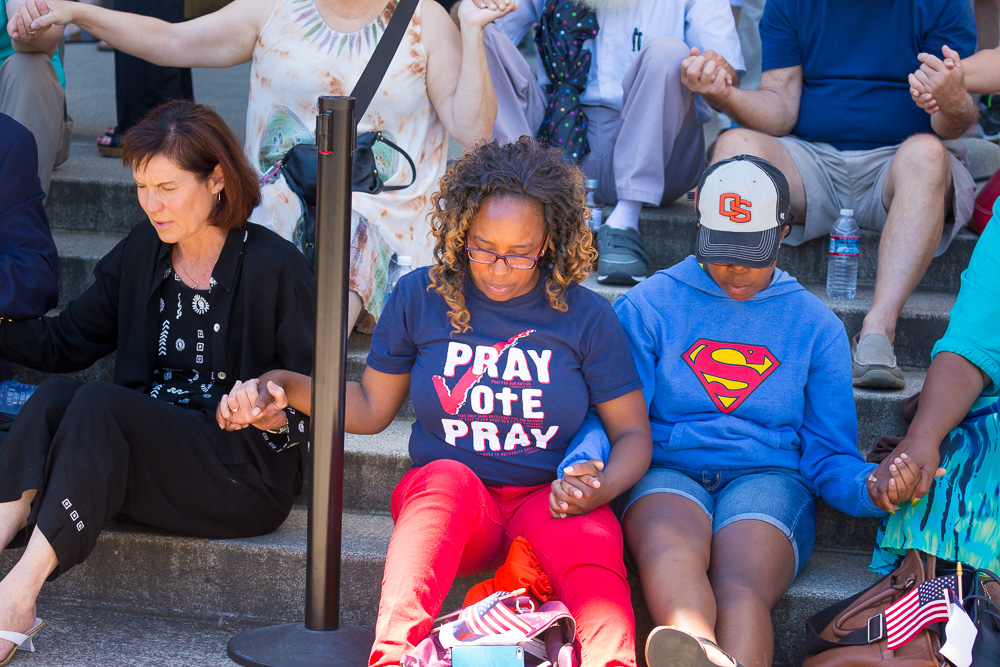 Shirley Thompson stood flanked by her daughter and grandson at Tuesday's Decision America Tour stop in Salem, Oregon. Umbrella popped overhead, the trio successfully hid from the sun on the 80-plus degree day, but Shirley made it clear there was one thing she wasn't hiding from—her legacy.
"I preach prayer in my home," Thompson said. "I wanted them to see that prayer is important to me.
"That's my legacy. I'm leaving it for them. I'm raising up prayer warriors."
A self-described prayer warrior herself, Thompson was in her element as Franklin Graham led an estimated 4,000 people in praying for the state of Oregon and the United States of America.
During the gathering, he encouraged Oregonians to take a stand for their state, their nation and, most importantly, for God.
Applause thundered across the Capitol lawn as he reminded those in attendance that our Founding Fathers never intended for Christians elected into public office to leave their faith on the Capitol steps.
"[But] that's exactly what's happened to our country, ladies and gentlemen," he continued, standing in front of Oregon's State Capitol building. "We need to elect men and women who aren't afraid to go in there and stand for God's principles."
This concept of heritage was on the mind of more than one Oregonian who attended Tuesday's prayer rally, the 30th stop on Franklin Graham's 50-state Decision America tour.
"It's like a grassroots effort to get the truth out," said Teri Zumbusch. "I'm very proud of him."
Then she also noted, "This state was founded on the Gospel."
Zumbusch pointed out that the State Capitol grounds house two statues that also are in Washington, D.C.'s National Statuary Hall Collection—that of missionary Jason Lee and John McLoughlin, a gentleman who reportedly helped finance some of Lee's mission work. Lee helped found nearby Willamette University.
Aaron Auer, founder of R.O.A.R. Ministries, said there has been a movement in Oregon to have these statues replaced because of their Christian ties. Auer calls himself a preaching statesman, and he said he is running for governor in the state to give godly principles a voice.
On Tuesday, Auer and his wife Kimberly were positioned near the Jason Lee statue, ready to talk with passersby about its history and the impact of this man on their state.
"He just followed the call of God, and thanks be unto God that we have, as Oregon, our identity in the Gospel of Jesus Christ," Auer said. "We're endeavoring to preserve and protect our heritage, and we're moving forward with that."
Protecting God's way is at the heart of what Franklin Graham shared during the prayer rally.
"God has blessed this nation more than any other nation," Franklin Graham said. "But we've turned our back on God, and I believe judgment is around the corner.
"The church can make a difference in this election. It could possibly turn this nation around."
John McFarland, who sat near the Capitol Steps with members of his church from Klamath Falls, Oregon, echoed the belief that our Christian heritage is slipping away. He pointed to the fact that children aren't taught in public schools that our Founding Fathers were Christians.
"There's a serious disconnect between our founding history and what's going on right now," said McFarland, who drove six hours to attend Tuesday's event. "We need to take a more proactive stance to get back to where we started out.
"I think this [rally] is an important step along the way to getting us back."