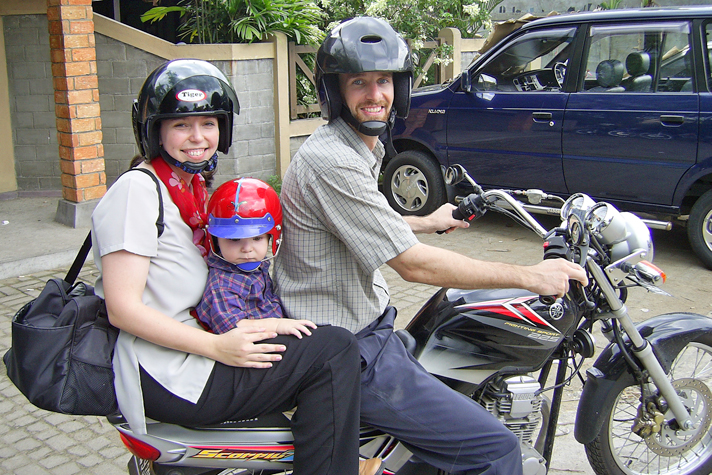 Brian and Kimberly are trained volunteers with BGEA's Internet evangelism ministry, Search for Jesus. This is the story of how they got involved—and one particular man they were thrilled to connect with online.
**Update (June 4, 2015): The Muslim man in the story accepted Christ shortly after this article was published. Read more of the update below.
Her heart was in Southeast Asia among Muslim friends and neighbors, but her new home was small-town Lenoir in the North Carolina foothills.
"I felt shelved, to be honest."
Kimberly spent years on the other side of the world as a missionary in Muslim-dominated countries. She wrote curriculum for missionary teachers and relished the chance to teach local children. When a slew of health problems required her family to move back to the United States, she was crushed.
"What in the world am I supposed to do in Lenoir?" she wondered.
All the training she and her husband, Brian, had received on reaching out to Muslims, all the experience they'd gained sharing their faith in Islam-saturated communities—what was it all for?
'It Felt Like There Wasn't a Ministry for Us'
With overseas trips now out of the question, "it felt like there wasn't a ministry for us," Kimberly said.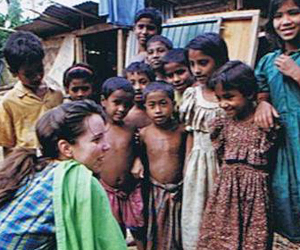 She realized she was basing her identity not on Christ but on being a missionary and reminded herself to trust His leading. It didn't disappoint.
As Brian and Kimberly stepped foot into the Billy Graham Evangelistic Association (BGEA) headquarters to visit a friend one day, things started falling into place. Right there in the lobby, hanging on a wall, was a screen that showed real-time decisions for Christ through BGEA's Internet evangelism ministry, Search for Jesus.
Kimberly noticed that the moving 3-D map where decisions were being made kept landing on Muslim countries.
"This is us! This is us! This is what we're supposed to be doing!" she thought.
The pair went through a comprehensive training process and became volunteer email responders, enabling them to correspond with people all over the world who find BGEA's evangelistic website PeaceWithGod.net and leave a spiritual question online.
Naadir
One such question came from Naadir*, a Muslim man in his mid-20s who moved from Turkey to New York a couple of years ago.
"Islam didn't give happiness (or) peace," he wrote. "If I will be Christian, maybe I will (lose) my friends," he continued, yet went on to ask how he could become one. He had already visited a church on Easter and said it felt good to be there.
Kimberly was thrilled and wasted no time encouraging him and praying for him.
"To get a real seeker is so exciting," she said. As a missionary, she was used to looking for people open to a relationship with Christ, but with online ministry, "the seekers are finding us."
Even more than that, she "happened" to have friends in Naadir's area who had experience reaching out to Muslims. With permission from her friends, she put the two parties in touch and they were able to meet. The friends "happened" to have one Turkish Bible at home that they happily gave to Naadir.
"I am so excited to learn about Jesus," Naadir wrote, and he had more good things to say about meeting Brian and Kimberly's friends. "We had a long conversation about Jesus and the Bible."
Naadir is now attending the friends' Bible study on Hebrews and was connected with a missionary in Turkey who speaks his language. The missionary is working to put Naadir in touch with a local Turkish ministry.
"It's a joy to unexpectedly be able to use our training and experience to reach Muslims from a small town in the Bible belt," Brian said.
Brian is a high school math teacher, and Kimberly is a writer and speaker. Even from Lenoir, North Carolina, they're able to reach the very people they have a heart to reach—even if they're thousands of miles away.
The Search for Jesus ministry has seen more and more online visitors from Muslim countries lately, with more than 224,000 indicated decisions for Christ just last year. Those decisions came from 18 Middle East countries, despite the fact that the ministry isn't actively targeting those areas.
**Update (June 4, 2015): Naadir accepted Christ just after this article was published. He connected with the Turkish ministry in his area, where he heard the Gospel in his own language and had his questions answered. Brian and Kimberly's missionary friends said he is "growing by leaps and bounds and is super excited." He continues attending church.
Reaching the World Online and Off
"The Internet is where the world is," Kimberly said.
She's corresponded with people who feel lost, people afraid to die, and people whose marriages are in trouble. She's able to communicate truth and hope, and light the way to the One who provides divine comfort and guidance. Many of those she ministers to are Muslims.
"I'm not good at face-to-face interaction," said the self-described introvert. "Talking online is so good because you have time to pray, to phrase your responses, to write out verses."
Even so, volunteers like Brian and Kimberly say online evangelism also makes them more effective in reaching people around them.
"I find myself better prepared to respond to people I work with or meet in person," Brian said. "It seems like the email ministry is regular training for personal ministry. The practice of purposefully finding a way to direct the conversation to the spiritual need. It's a great training ground for those who are not natural evangelists."
Another thing, Kimberly added, is that it makes her more aware of the very souls around her.
"Being overseas in missions, you are aware that the people around you are lost and need Jesus," she said. "Here, because this is our comfort zone, I tend to not think of that as much. I don't stop at a red light and look around me and feel burdened that those around me need the hope of Jesus Christ. (Search for Jesus) keeps me aware of the fact that people here, and everywhere, need hope and peace and are seeking answers often in the wrong places."
Plus, she said, with health issues like scoliosis, asthma and Addison's disease—which requires constant attention, there are many nights she can't sleep.
"What other ministry can you do at 2 and 3 in the morning in your pajamas?"
Whatever time it is, there's one thing that remains the same: "I get to tell someone about Jesus Christ today."
*Name changed to protect privacy
You could reach people around the world with the hope of Jesus Christ. Find out how.