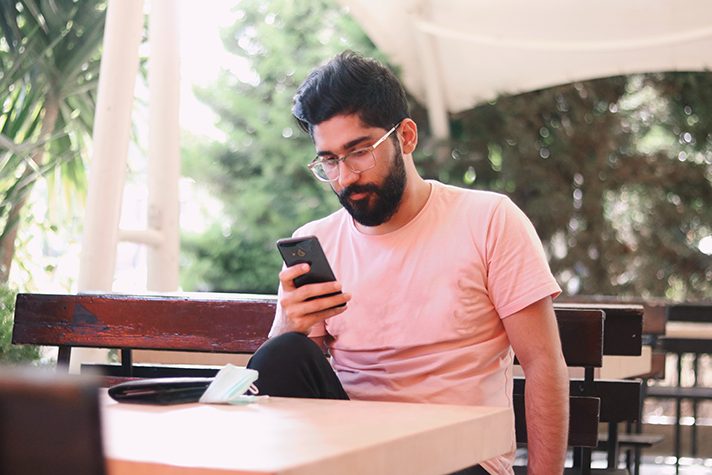 Now to him who is able to do far more abundantly than all that we ask or think, according to the power at work within us, to him be glory in the church and in Christ Jesus throughout all generations, forever and ever. Amen.
—Ephesians 3:20-21
A man in India struggling with sin. A nurse grappling with death and the realities of COVID-19. A woman in Spain wondering if God is real.
They discovered PeaceWithGod.net and found a new life in Christ.
Since its launch in 2011, this website has navigated visitors, just like these three, through a simple Gospel presentation—and given them the opportunity to respond.
In 2012, the ministry started training volunteers to interact with people online one-on-one through chat, email, and free discipleship courses.
In addition to the original English site, the Billy Graham Evangelistic Association's (BGEA) internet evangelism web presence has expanded into five additional languages: Spanish, Portuguese, Korean, Chinese and Arabic.
As of late February, PeaceWithGod.net and linked websites have allowed 100 million visitors to experience the Gospel in these various languages. That's 100 million opportunities for individuals of multiple languages to discover God's peace.
"It represents God's kindness and grace in 10 years of growing this ministry," Mark Appleton, director of Internet Evangelism, said about this milestone.
The ministry also has a social media outreach in American Sign Language and Russian.
The Beginning
It all started 12 years ago in an office in Boone, North Carolina. Éric Célérier, the founder of a European-based ministry called Jesus.net, pitched a 10-year plan to Franklin Graham—a way BGEA could use the internet to reach people around the world with Good News.
Célérier estimated that, working together, they could reach 50 million people with the Gospel.
How It Works
Search for Jesus uses the internet to share the Gospel around the world. Through the ministry's evangelistic website, PeaceWithGod.net and social media profiles, people from all walks of life are seeing and hearing a clear Gospel message through videos and Scripture. Trained volunteers are ready to answer their spiritual questions, point them to Christ and help them grow in their faith.
"Let's make it 100 million," someone in the room that day recalls Franklin Graham saying.
"Hallelujah," Célérier responded. "Let's do it." And PeaceWithGod.net was born.
What is now a whole network of websites and trained volunteers under the umbrella Search for Jesus, this ministry combines the same ideas used with in-person evangelistic events to reach people around the world.
Search for Jesus gathers people to hear the Gospel, invites them to respond to it, provides them resources to grow in their faith and connects them to a local church.
There's now an army of over 1,300 trained volunteers who are ready and willing to engage in Gospel conversations.
Growing in Breadth and Depth
Since that memorable start, the ministry has grown not only in breadth but also in depth, explained Appleton.
"Collectively, we are reaching millions of people but at a depth that we weren't doing at the beginning. When we started, there were some simple options … come to the website and get some emails from us."
Now that's expanded to chat platforms like Facebook Messenger, where people can ask questions about their faith and get answers from trained volunteers in real time.
It's all about meeting people where they are at—and with average times spent on social media skyrocketing, the team is using that outlet in multiple languages to bring Jesus into the social media world.
"The world is enveloped in [the digital space] and so, I just see it as a simple need, that's where the world is going and we need to be there with the Gospel," said Appleton.
'The Grace of God'
That's how a man in India came back to his Heavenly Father—because someone met him during a time of questioning his faith.
Pratik* grew up Christian, but as he got older, slowly drifted away. Drugs, adultery, smoking and drinking all became part of his existence and he couldn't seem to overcome those temptations.
This year, he started watching a few Billy Graham sermons on YouTube and began an online discipleship course through Search for Jesus—and God started working in his heart.
The lessons and coaching he receives from a Search for Jesus discipleship coach are changing his life. He has started to read and study the Bible and pray.
"By the grace of God, I won that battle," he wrote to his coach about overcoming temptation. "God has done wonders in my life through the Word of God. All praises to the mighty God."
*Name changed for privacy.