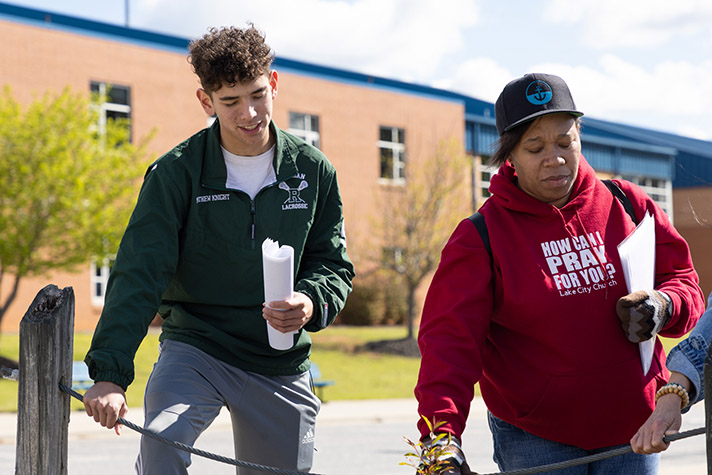 On a cold and gusty Saturday morning, they could have been doing something else—sleep in, perhaps, or at least stay inside to escape the piercing wind.
Instead, 50 people made their way to Lake Norman High to cover the school grounds in prayer.
In past months, schools across Iredell County, North Carolina, have been wrapped in the passionate prayers of students and adults who recognize recurring problems plaguing young people everywhere: depression, loneliness and isolation.
The weekend prayer walks began last fall after a senior at nearby Mooresville High committed suicide in the school bathroom. In March, an outgoing Lake Norman student also ended his life at just 14 years old.
"One is too many," said Mooresville Mayor Miles Atkins, who attended the most recent prayer walk on April 9. He also participated in a memorial service for the Mooresville senior last November.
As a father and community figure, Mayor Atkins said prayer is an anchor in times of pain and uncertainty.
"It brings comfort and peace," he said. "And it brings the community together."
At the April 9 prayer walk, senior Gracie Byrd shared Bible verses and encouragement at the flagpole. She attends a small early college in the area and notices a lot of division among students.
"Everyone is divided by something," Byrd said, whether it has to do with race, gender or religious beliefs.
"Here comes the Christian girl," some of her classmates will say, though she takes it as a compliment that her faith stands out.
COVID exacerbated problems already present in a lot of schools, creating even more isolation and division.
"I know everyone has suffered recently," Byrd said. "These prayer walks have been a way for people of all people groups to come together under a united umbrella of Christ's love and speak truth, life, love, light, joy and hope into these schools and in the communities surrounding them. … That's our goal at the prayer walks, to seek God and His healing."
At the first prayer walk last fall, it snowed, but people still came out to pray. And not just for students, but for school staff, teachers, parents, administration and school board members who face pressure to make good decisions for thousands of children.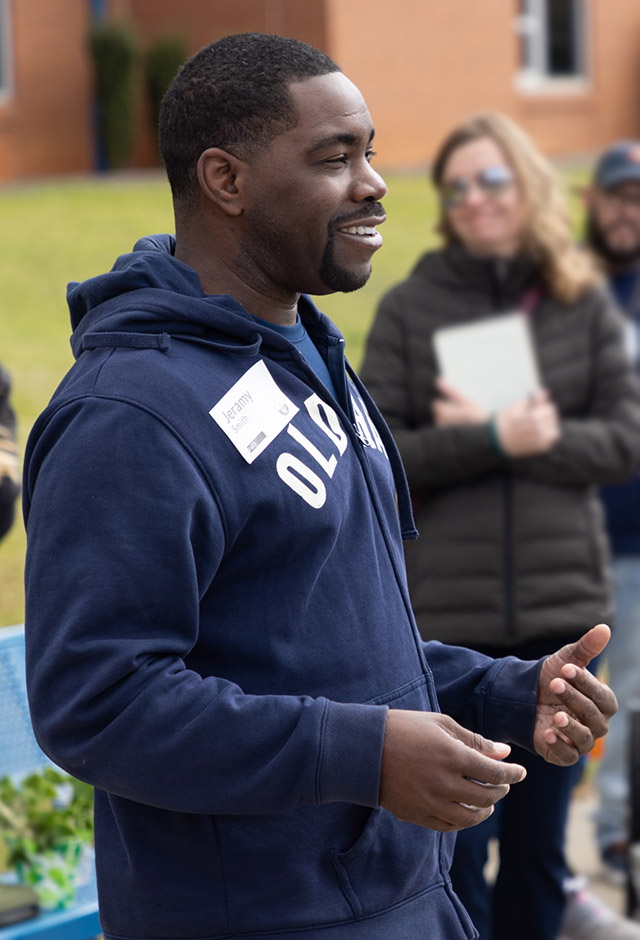 Jeramy Smith, who attends Lake City Church in Mooresville, has taken the lead organizing these events.
He doesn't have kids but has 25 years of experience in youth development, from driving school buses to serving as youth pastor to being on faculty at the University of Florida.
"Kids are facing evil and sin every day that they walk into school," he said. Students in his area have shared some of the things they experience, from typical academic struggles to gang fights and students having sex in school bathrooms.
Following the student suicide last November, which "wrecked" the community, Smith said, "We started taking spiritual authority over that community."
The prayer walks started out with 20 or so people and have grown in past months, with the largest one bringing together about 120 people.
"The Holy Spirit kind of draws us to the schools we need to be at," Smith said, and not just high schools but elementary and middle schools as well. "When a principal says they want prayer for their school … it's a no-brainer."
Acknowledging the Problem—and Doing Something About It
Matt Knight is a sophomore lacrosse player at Mooresville High. He was in his first period class the day a fellow student ended his life at school. He started hearing rumors of what happened.
"I thought, there's no way," he said. "We see that there's an ambulance and police outside."
Students were dismissed early that day and Knight said he didn't process everything until he got home.
"I didn't really know what to think. That's horrible," he said.
He didn't know the student but offered condolences to those who did. He prayed when he got home and with his family later that day.
"It made me realize this kind of stuff still goes on, no matter how hidden it is," said Knight.
He sees how his fellow students are too afraid to ask someone for help. And how many of them are overloaded with activities or high expectations that stress them out and become too much to handle.
"The biggest thing that I can do as a high schooler is acknowledge this problem we all have and invite my fellow high schoolers to come together," he said.
He's letting other students know these prayer walks exist as a way to unite and battle against the lies, confusion and negativity overwhelming his peers.
Prayer has impacted his own life as well.
"Instead of putting all the stress on myself, I'm able to pray and talk about it with Someone. I'm able to let God know what's going on, and He can lift some of that from my shoulders. I can trust Him to help take care of whatever is stressing me out."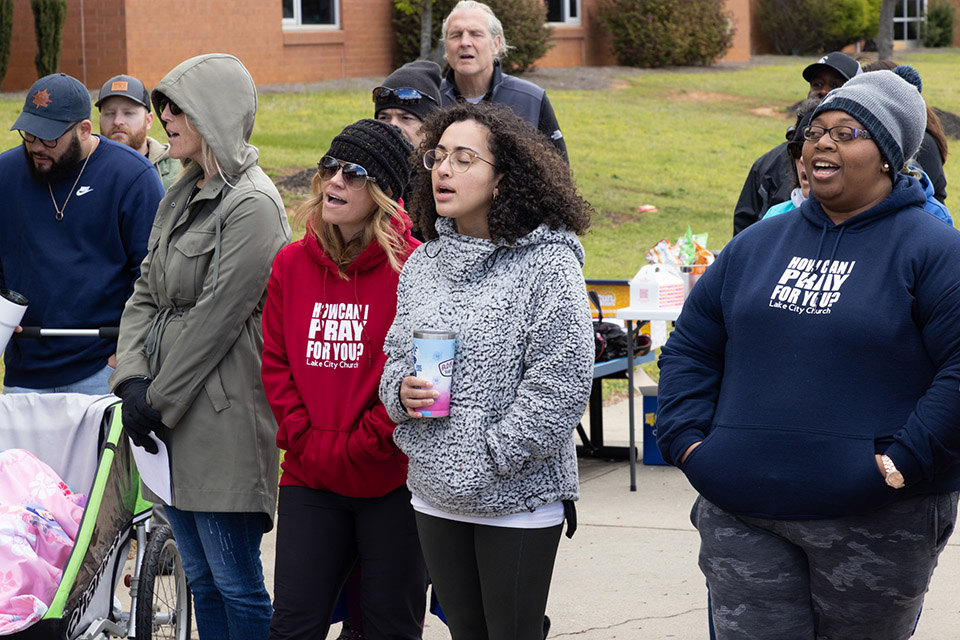 Inspired by Billy Graham
Prayer walk organizer Jeramy Smith remembers watching TV with his grandmother as a kid—"Matlock," "The Cosby Show" and "Sanford and Son." They would also get "pumped" about Billy Graham Crusades.
"She would mark it on a calendar and build up the excitement and make sure that everything was cleared for us to … hear a powerful message from the Reverend Billy Graham," he said. "It always awed me to see how one man can present the Gospel so powerfully to so many people."
Smith accepted Christ into his life as a teenager on November 2, 1997.
"Billy Graham and his ministry was a beacon to my faith on how powerfully God could use me in sharing the Gospel to the lost. As a disciple of Christ, I would read and listen to many sermons from the Reverend Billy Graham in order to develop my theology and evangelistic approach to sharing the Gospel to my peers at school and later in college."
Even now, as Smith visits school after school in Billy Graham's home state, that fire hasn't died down. He gives a Gospel message at each prayer walk and some in attendance have decided right there to make Jesus part of their lives.
"As a minister of the Gospel, I cannot stand idly by, and I will not allow the devil to just take over our younger generation," Smith said. "I refuse!"