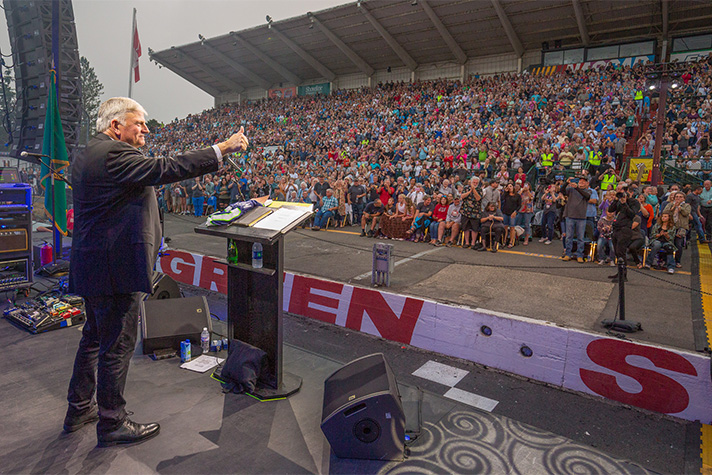 Thirteen days, seven stops across two of America's most secular states.
While Franklin Graham makes his home in the North Carolina mountains, he talked for months about sharing Jesus clear across the country in the Pacific Northwest—Oregon and Washington. Just a couple of weeks ago, he finally set out on the Decision America Pacific Northwest Tour, reaching over 70,000 people from southern Oregon to northern Washington.
"My wife and I have fond memories of the Pacific Northwest," Franklin Graham said, talking about some connections they have to the area. Franklin even studied for a while at Seattle Pacific University.
Along the tour, he hit some big cities like Portland and Tacoma, but also addressed smaller towns, ending the tour in Monroe, Washington—population 18,000—on Monday.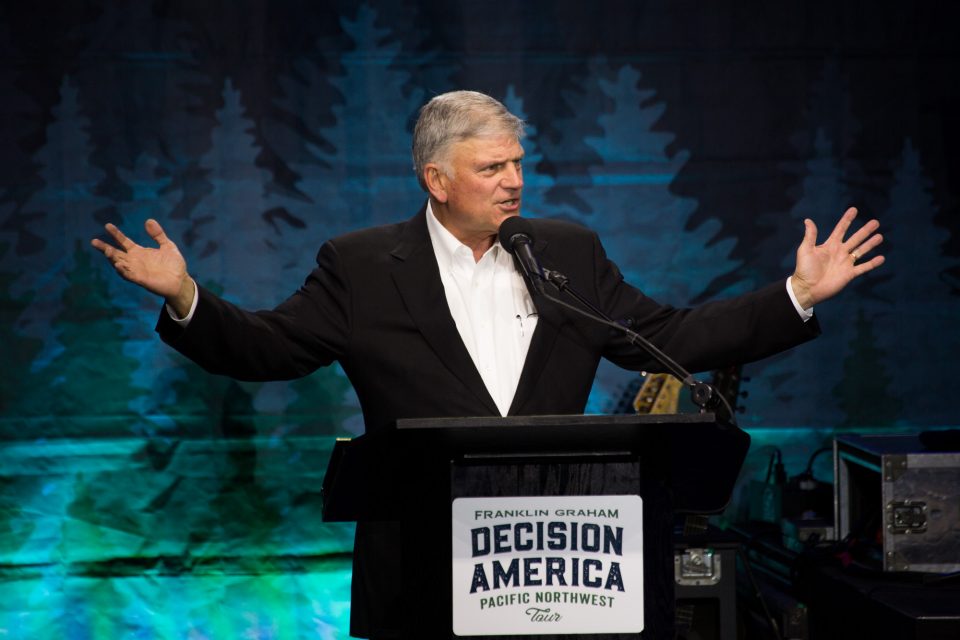 The purpose behind the tour was three-fold: encourage people to pray boldly over the affairs of their state and recognize their daily need for Jesus Christ while also driving home the need for a Christian voice in their communities.
Franklin isn't one to mince words when it comes to the truth of God's Word. Throughout the tour, his voice carried across open fairgrounds, an amphitheater, speedway and parking lot, telling all within earshot that God is real, He cares, He hears and He forgives.
"I want to talk to you about something that's very important, and that's your soul," Franklin said Monday night.
He recalled being in Rwanda years ago during a time of genocide. He personally witnessed decaying bodies strewn across the landscape, but said those bodies were just empty shells of the people themselves. It's the soul that lives on for eternity to either be with God or apart from Him.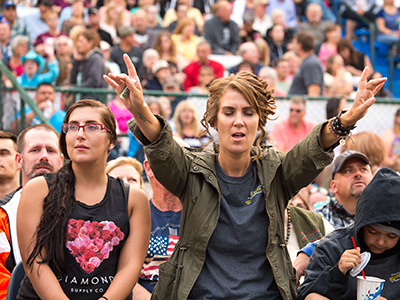 "The body is not the real you," he said.
His father, Billy Graham, passed away in February, Franklin Graham continued. "He's buried in Charlotte, North Carolina, but he's not there. His soul is in heaven."
It was the souls of people filling the Evergreen Speedway seats and thousands more watching online Monday night that particularly concerned Franklin.
Colleen Goad and Bethany Kirby of Marysville, Washington, arrived a few hours early to get a seat right up front. They passed the time with Bibles open on their laps, reading.
The roommates have been part of a ministry-based recovery program for addicts and want to see others in their state find the same freedom in Jesus Christ that they've found.
Colleen and about 30 others came to Evergreen Speedway on Saturday to walk the track and pray over the tour stop.
"I want the momentum to keep going," she said about her hope for Washington state post-tour. "I want the Holy Spirit fire just catching and people hearing about God because they don't hear about Him here."
So what can she do, individually, to help make that happen?
On Colleen's right forearm is a tattoo with the words "I loved you at your darkest," a reference to Romans 5:8, which reads, "But God shows his love for us in that while we were still sinners, Christ died for us."
That's the message she said she can share with others—so they, too, can hear the soul-filling Good News.
"Jesus died on the cross for your sins, for my sins," Franklin Graham said. "We've been lost to sin, but He doesn't want us to be lost. … He wants to cleanse us from our sins."
While Washington is thousands of miles from America's Bible Belt, based on the crowds from the Pacific Northwest Tour, there are tens of thousands in agreement with Franklin Graham that the Bible is the Word of God. Many on the tour, like Colleen and Bethany, said they want to live it out and desire to share their faith with others.
"We don't just want to believe. We don't want to just follow. We want to be disciples," Bethany said. "We don't have to save the world. Jesus did that. We just have to tell people about it."
Please be in prayer as Franklin Graham makes plans to visit other states across America on the Decision America Tour.