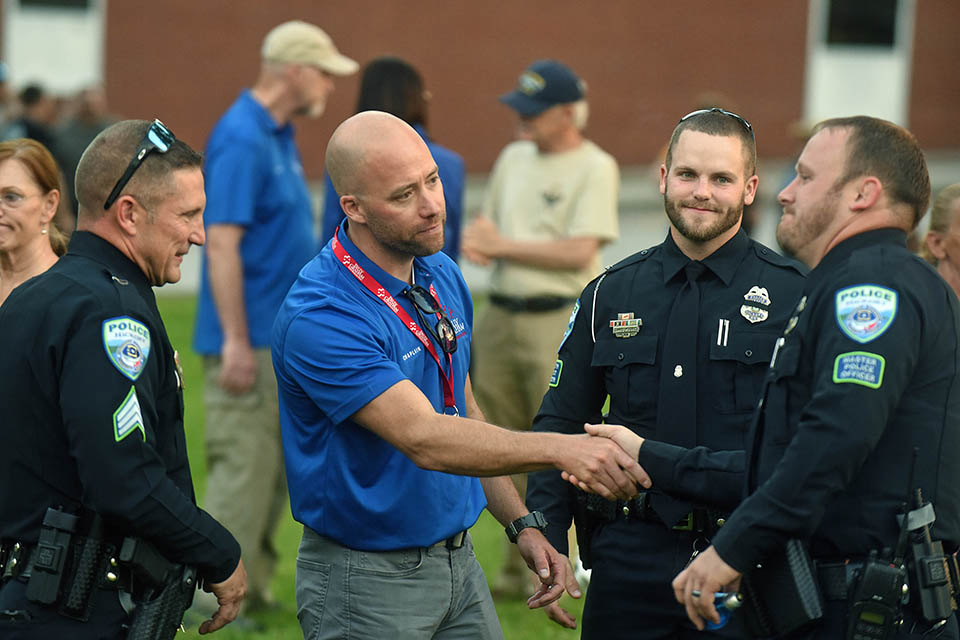 This week, during National Police Week, tens of thousands will gather in Washington, D.C., to honor law enforcement officials killed in the line of duty. The week of remembrance began as a day—May 15—which President John F. Kennedy proclaimed to be Peace Officers Memorial Day in 1962. For Chad Stillman, a former police officer from Wisconsin, this week is a sobering reminder for him of God's grace. As far as he's concerned, the unmerited mercy of his heavenly Father is the only thing that kept him from becoming one of the fallen.
It's been almost 16 months now, but many details of that deadly Jan. 17, 2018, day are forever etched into Chad Stillman's mind. On that day, the 16-year veteran with the Racine (Wisconsin) Police Department was involved in a shooting.
He remembers feeling helpless in the moments that followed. But he and his partner Peter Boeck—who had attended Bible study together the night before—knew they weren't without hope. Standing together in the snow that cold January day, the police officers sought refuge in Christ while medical personnel tended the suspect.
"We walked over to the side, and we held each other's heads and we prayed," Stillman remembered. "We prayed for that man laying in the backyard, that he wouldn't die, and for his family and for our community because we knew it would never be the same again."
It had been a relatively quick encounter. A traffic stop turned into a foot chase. The suspect had a weapon and reportedly refused to drop it despite requests from the officers. Reports further indicate the suspect later pointed his firearm at the officers. They relied on their training and immediately neutralized the perceived threat on their lives.
The suspect later died on the way to the hospital, and the Racine County District Attorney determined there was no "basis to prosecute the law enforcement officers involved." But that one harrowing moment of gunfire changed everything.
People protested. Some individuals made death threats against Stillman, his family and others. His heart broke as he watched the news and learned about officers nationwide who died in similar incidents. Fifty-two officers—that's one a week—were killed by gunfire in 2018. This year, just 20 weeks into 2019, 18 officers, including Mooresville (N.C.) Police Officer Jordan Sheldon, have been shot and killed in the line of duty.
"I was watching all these officers hurting and that's when I decided I've got to make this count," Stillman said. "It was an agreement between the Lord and I, but me telling the Lord, 'You spared me for a reason, and that reason wasn't for me to do something for myself. I need to make this count.'"
His determination wasn't without angst, though. He worried about his family, his fellow officers—would this shooting cost their lives? Would he be permitted to return to the only job he ever wanted?
"It felt unbearable at times," Stillman said. "I had to constantly remind myself of who God is and how big He is and how He wasn't surprised by this.
"He knew this was going to happen. He wasn't caught off guard, and He doesn't waste anything in His economy. Those truths are what kept me from going insane. I could tell myself and completely believe that God, 'You have this even though my mind is completely out of control. You've got me right where You want me apparently.' I want to be drawn into that."
So when a post-traumatic stress disorder diagnosis sidelined his police career, he leaned into what God had for him. Police work, he said, was the only thing that ever came naturally to him.
But God, it seemed to Stillman, was preparing the Midwesterner for another route. Connections were made and before too long, Stillman was uprooting his family and moving 800-some miles southeast of Racine to North Carolina's largest city. He began work later that year with the Billy Graham Rapid Response Team (RRT) in its law enforcement ministry.
"I think being in law enforcement ministry has helped in healing me a bit because I'm able to focus on the needs of others more than myself," Stillman said. "I think there's a goodness in the way God designs us to benefit when we're focused on others."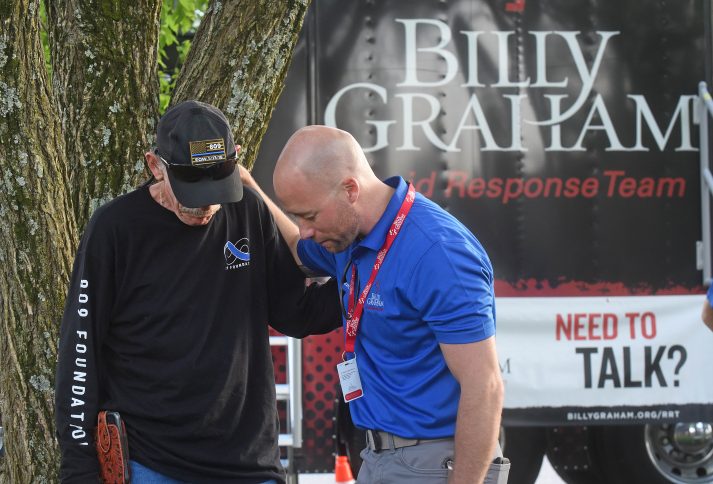 Last week, the Rapid Response Team deployed to Mooresville, North Carolina, after Officer Jordan Sheldon was killed during a traffic stop. Kevin Williams, an RRT manager and former member of law enforcement himself, watched Stillman share the peace of Christ with hurting police officers.
"God is using him in a very unique, specific, gifted way," Williams said. "I mean, he's created for such a time as this, if I can say it like that, with his career and experiences. Through his trauma and suffering and pain and everything, now God's turned that caterpillar into a beautiful butterfly flying around. He knows how to perfectly connect with his fellow brothers and sisters that are actively serving that have to deal with evil seven days a week, 24 hours a day."
Every situation is different but Stillman and his fellow crisis-trained chaplains do their best to bring the peace and comfort of Jesus Christ wherever they go.
"[Law enforcement] is a tough job, so in our position we get to come into these tough spots and help officers through what they're dealing with," Stillman said. "Really there's no secret potion but there is a relationship with One Person. You can endure it a lot more easily when you know the hope of Christ. That's why I love what we do."