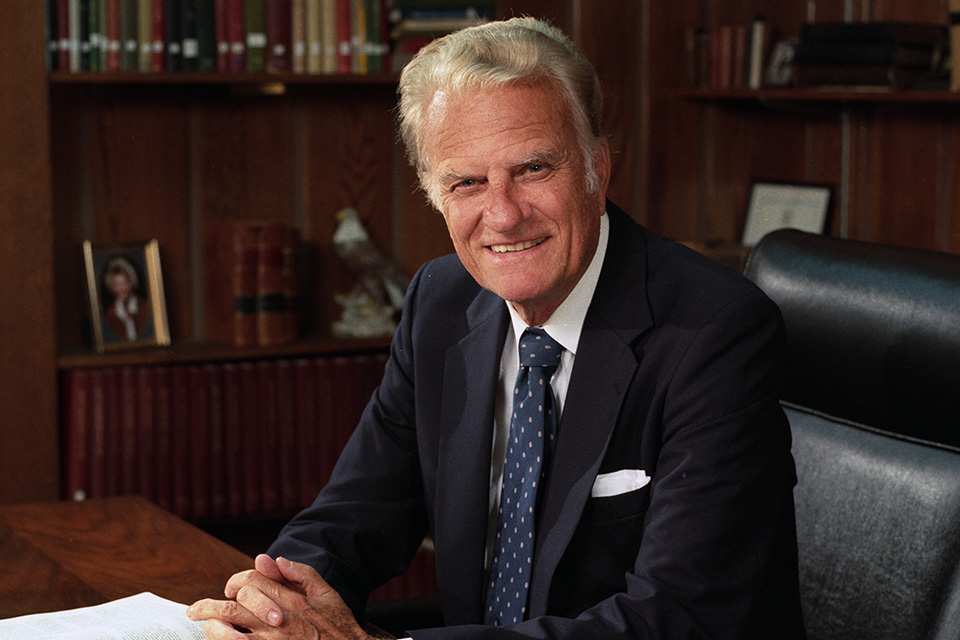 "We have lived in the shadows all these years."
Six weeks after Billy Graham left this life to be with Jesus, his executive assistant, Dr. David Bruce, reflected on the years he spent serving the "Evangelist to the World" from a little-known office in the mountains of North Carolina.
"I think all of us in this office would say it was a joy to support him," Bruce said, "because of the unique call of God on his life and the integrity and humbleness that he brought to it.
"To have a secondary, behind-the-scenes role—kind of in the shadows—was always joyful."
Bruce and his wife, Kerri, came to Montreat, North Carolina, in 1995 after spending years working to prepare the way for Billy Graham Crusades. While he supported Mr. Graham, she supported his wife, Ruth. Both David and Kerri served the Grahams until their deaths (Mrs. Graham in June 2007 and Mr. Graham on Feb. 21 of this year).
Like the rest of the small Montreat office team, the Bruces have been vigilant to protect the Grahams' privacy, even after their passing. It's evident their loyalty is rooted in a deep sense of respect for the family they came to know and love.
Privacy was not a luxury Billy Graham enjoyed often; he spent nearly 70 of his 99 years of life in the public eye.
"It is impossible for me to go out for a quiet meal with my wife or family, to stroll down a street, to walk in a park," he once said. "I used to so terribly resent the invasion of our privacy. Now I have learned to live with it and have dedicated it many times to the Lord."
Bruce saw firsthand the price Mr. Graham paid for being a public figure. He says the evangelist was unwavering in his warmth and graciousness, whether he was in a foreign country or at home in Montreat.
"He would take time with people," Bruce said. "He was always interested in people, wanting to know about them. Always glad to meet somebody. If we were seated at a table, he would always stand if someone came over to meet him."
Both Mr. and Mrs. Graham, Bruce said, "just loved people—and that's something you can't feign. You've either got it or you don't. In their case, it was absolutely part and parcel of who they were."
Why Montreat?
In the early 1950s as Billy Graham's ministry grew rapidly, he was traveling so much he could have lived just about anywhere. But of all the cities and towns in America, the Grahams chose little Montreat, North Carolina, as their lifelong home.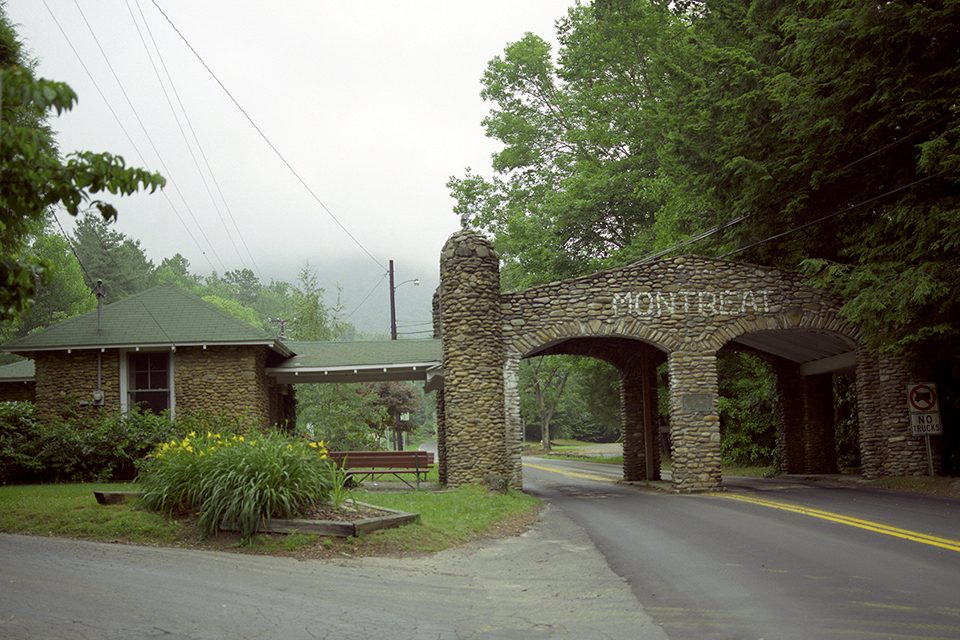 It was a family connection that initially drew them to this particular speck on the map. Ruth's parents, Dr. L Nelson and Virginia Bell, had moved there in the 1930s after their medical missionary work in China became too dangerous. Montreat was and still is a hub for Presbyterian conferences and retreats, so it was a natural place for the Presbyterian missionaries to set up their new home.
Billy and Ruth Graham were married in Montreat in 1943 and returned there a short time later to set up their own household. Mr. Graham was traveling frequently, preaching the Gospel at home and abroad.
"Mrs. Graham said, 'If we're going to have a family, I want them to have the influence of their grandparents.'" Bruce explained. "Montreat becomes the base of their operations and their home."
Their first house in the mountains was right on the main road—and right across the street from Mrs. Graham's parents. The Grahams loved their home, but it proved to be too accessible to the public.
Tour buses would come through regularly, and curious tourists would sometimes walk right up to the house, peering in the windows and taking photos while the family was inside.
"The Grahams' notoriety was matched with a spiritual depth," Bruce said. "Because of that, people thought they knew them. You feel like you've grown up with him or you know him from television. It was a swarm. They couldn't have an appropriate life with being so wide open to the public."
For that reason, the Grahams decided to move up the mountain. In the mid-1950s, they built a log cabin frame house where they would spend the rest of their lives.
A small office was set up across from their first home on the main road. It became a hub for Mr. Graham's writing and personal ministry, and it served him all the way up to his death.
A Unique Office for an Exceptional Man
At its height, the Montreat office had 20-25 employees handling everything from Billy Graham's editorial work to his personal correspondence. Long before email was invented, he was keeping in touch with Christian leaders, U.S. presidents and dignitaries around the world. He also wrote more than 30 books.
Then there was the task of researching and preparing thousands of messages for his Crusades and other speaking engagements. Add to that the jobs of historical recordkeeping, maintaining his demanding schedule and arranging his complex travel itinerary.
"Back before technology helped us, we had people on the switchboard 24 hours a day," Bruce said. "You can imagine what a tour de force that one man was."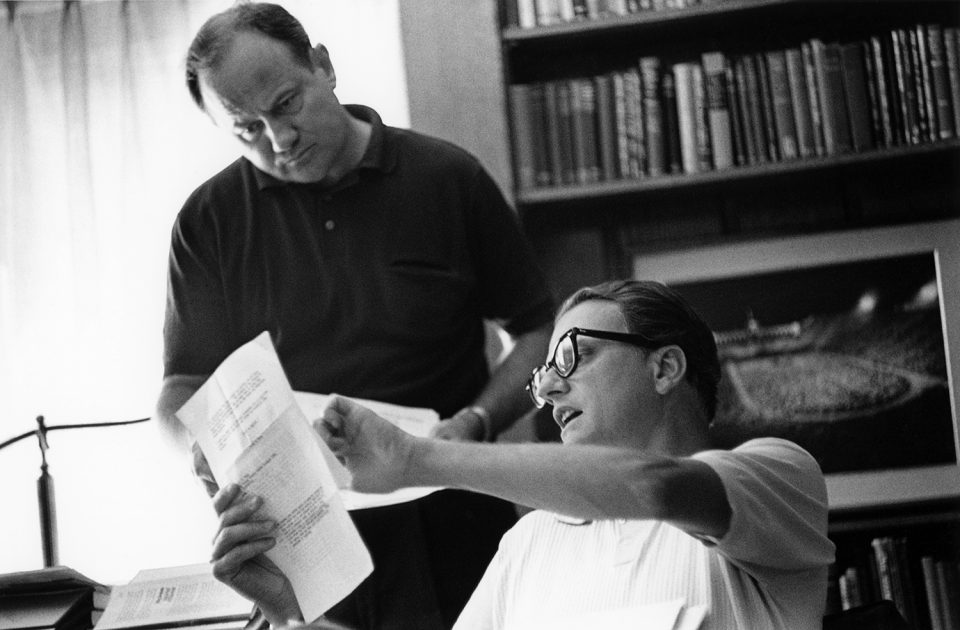 Mr. Graham had his own office at the Montreat building, which began inside a house and gradually expanded to take up several homes with an addition built onto the end. He would use the space to hold meetings, view evangelistic films created by his movie ministry, World Wide Pictures, and even record radio and television broadcasts.
"All the work that was generated by Mr. Graham as it related to his personal ministry was focused here," Bruce said. "Now, the corporate ministry was in Minneapolis—the outward-facing component of the ministry was in Minneapolis and then Charlotte. This office served primarily him."
While some of the Montreat team—such as Mr. Graham's longtime executive assistant, T.W. Wilson, and the evangelist's secretary of 45-plus years, Stephanie Wills—traveled the globe alongside him, others spent the majority of their time at the office. But don't picture rows of cubicles and filing cabinets—the Montreat office feels more like a home (probably because that's what it used to be).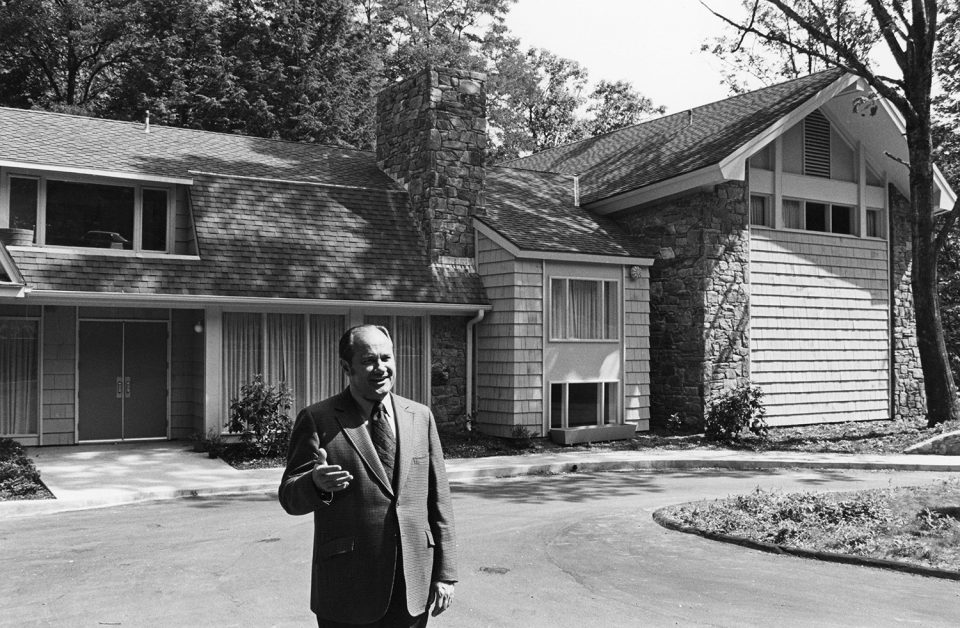 The final seven employees there—Wills, the Bruces, Maury Scobee, Pat Turpin, Wanda Kiser and David Jarzyna—occupy various nooks and crannies within the old building, which was always waiting when Mr. Graham would get back from his Crusades around the world.
"This is where he would leave from and return to," Bruce said. "It was a point of support, but it was warm. It was returning home."
'The Principal Reason for This Office Is Now in Heaven'
The future of the Montreat office is uncertain, but each of the remaining team members knows it will soon be time to close the doors and move on. All of them have been with BGEA for more than 25 years and are beginning to think about how they'll spend their golden years.
"The principal reason for this office is now in heaven," Bruce said. "This office will one day cease, and that's OK. It fulfilled its purpose."
As the Billy Graham Library (two hours away in Charlotte) continues to see an influx of visitors following Mr. Graham's death, the Montreat office team is busy organizing and transporting historical records and mementos from the office. They're also continuing to respond to the numerous condolences that have come in from around the world.
"It was a privilege for us to serve him, and now it's a privilege to bring this portion of BGEA to a close and hand it off to the future ministry for which there is strength," Bruce said. "This would have been his desire, that the ministry goes on through Franklin's preaching and Will's preaching."
The ministry has indeed continued on through Billy Graham Rapid Response Team deployments, Crusade events like Franklin Graham's recent Festival in Portugal, the ongoing Internet Evangelism ministry and much more.
In fact, the weeks following Mr. Graham's passing have been so busy, it seems his death hasn't quite sunk in yet. But when it does, those who shared their lives with him won't grieve "as others do who have no hope" (1 Thessalonians 4:13). They know there will be a great reunion in heaven.
"I think there's some sadness in parting, but in the end a Christian has joy," Bruce said. "This is all [Billy Graham] preached about. … He now is seeing what he preached about.
"He lived a long and wonderful life at 99. Now he's free and reunited with those that he loved, and completely whole."
This, Bruce says, gives the team joy. And as they look back on how they've spent their lives, there is a deep sense of contentment that comes from following God's lead.
"We always figured that while we loved Mr. Graham and supported him, we were actually serving Someone greater," Bruce said. "And so the service was unto the Lord, but done in a way that protected and enhanced, supported and blessed Mr. Graham.
"That was our mission statement, but the greater objective was serving Jesus."