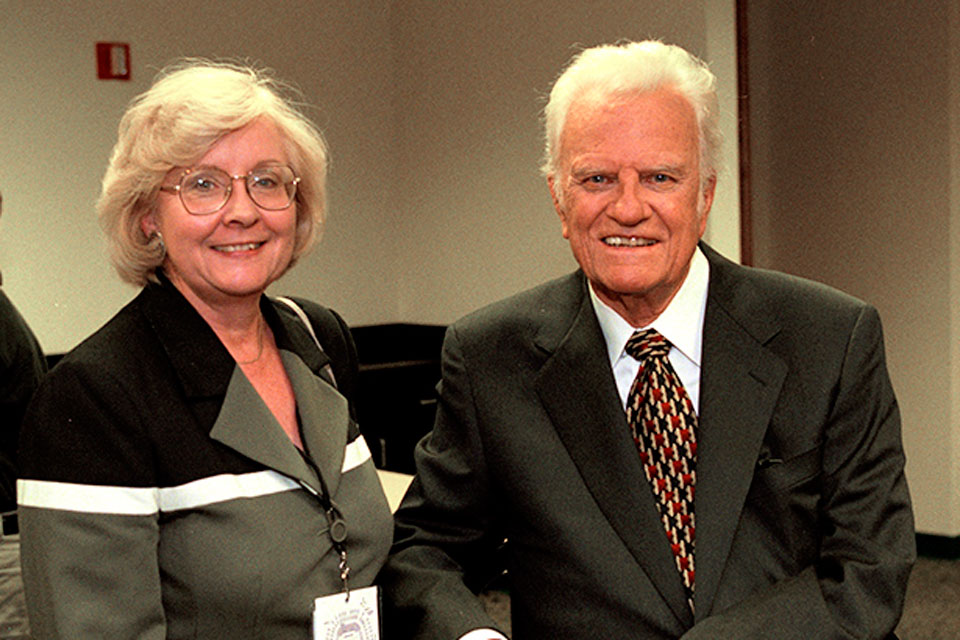 The Billy Graham Library in Charlotte, North Carolina, recently held a breakfast for church administrative assistants. The free event featured the Library's Journey of Faith tour as well as a Q&A with Stephanie Wills, Billy Graham's longtime secretary. Wills was reluctant to be in the spotlight but eventually agreed to share her story. She has devoted her life to helping proclaim the Gospel of Jesus Christ around the world through the Billy Graham Evangelistic Association.

Whatever you do, work heartily, as for the Lord and not for men. —Colossians 3:23 (ESV)
Stephanie Wills was 18 years old, working for a law office in London when she heard Billy Graham was coming to town to hold an evangelistic Crusade.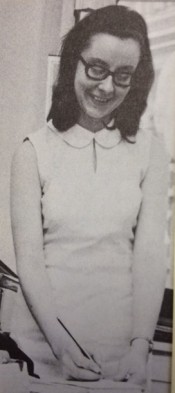 "I had never heard of the man," she recalled more than 50 years later at the Billy Graham Library. Her audience burst into laughter, but Wills was dead serious.
Nevertheless, in 1965 she headed to Piccadilly Circus, in the heart of London, to interview for a temporary position with Billy Graham Evangelistic Association (BGEA). Billy Graham had already held two major Crusades in London—in 1954 and 1955—where he preached the Gospel to nearly 2.5 million people. He had spent time with the likes of Winston Churchill and Queen Elizabeth II, and excitement was building ahead of the 1966 Crusade.
None of that meant much to Wills. She had just become a Christ follower a couple of years earlier at a London City Mission meeting. With her newfound faith stirring her to act, she decided her office job wasn't going to cut it.
Wills said the interview with BGEA was tough. She was told it would be "a year-and-a-half of really hard work, around the clock."
Regardless of the daunting job description, "it just felt right." She accepted a temporary position with the Crusades team.
"I knew that was where I belonged for 18 months," Wills said last week at the Library, five decades after accepting the job. "And that was it. … Here I am."
Adventure Calls
During the month-long Greater London Crusade in the summer of 1966, more than a million people heard about Jesus Christ, and tens of thousands indicated making decisions to trust Him with their lives. Stephanie Wills had a front row seat. When the Crusade ended she decided to move to Australia, where she was hired by BGEA in Sydney. She was 21 years old.
"I think I was looney tunes to do that," Wills laughed. But she stuck with it, helping the ministry hold 12 Australian Crusades in two years. Next, she went to the United States, where she worked on major evangelistic events in New York and Washington, D.C., before landing in the little mountain town of Montreat, North Carolina, home of the Graham family.
The city streets Wills had known her whole life were replaced with winding country roads, and skyscrapers gave way to Carolina pines. A fellow team member taught Wills to drive—on the right side of the road, of course—during lunch breaks. Soon she was driving her little Chevy Nova clear across the country, all for the sake of helping to share the Good News of Christ through BGEA.
One gets the impression she didn't mind a little adventure, either.
'Billy Needs a New Secretary'
By 1973, Wills had been part of the Crusades team for eight years, and the 26-year-old showed no signs of slowing down. That's when Grady Wilson, an original BGEA team member Billy Graham called his "God-given balance wheel," approached Wills about a job opening within the ministry.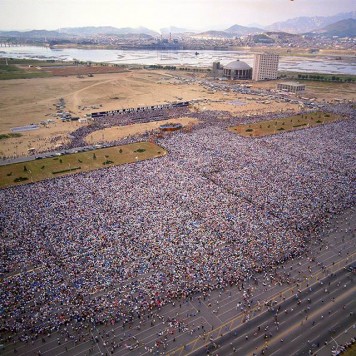 "Grady came to me and said, 'Billy needs a new secretary. Will you pray about it?' And I did not. I wasn't qualified to do the job, so I didn't pray about it, to be honest."
A few months later, Wilson approached her again, asking her to pray. And once again, she didn't. She can still list the reasons she believed the job wasn't for her: she wasn't trained, she wasn't American and she knew the work would be consuming.
But Wilson was persistent. Eventually, Wills was handed a ticket to Seoul, South Korea, to help Billy Graham prepare to preach before what would become the largest Crusade crowd in the history of the ministry. Wills went to the airport and got on the plane.
"So I guess by getting on it, I accepted the job," she said. "I haven't formally accepted it yet."
'I Was Running'
For the next four decades, Wills circled the globe with Billy Graham and the team. She speaks of that time as one ongoing whirlwind of activity: countless countries; airport after airport; rides from the hotel, to the stadium, back to the hotel; books dictated word by word; newspaper columns hammered out on a typewriter; phone calls from presidents and celebrities; meetings with ordinary people from all walks of life.
"I was running," Wills said. "I would love to be able to go back and live it all over again and really appreciate it."
Wills could easily fill a book with stories of working for BGEA and the Graham family. But she never will.
"I don't give interviews about Mr. Graham," she was quick to say when asked to speak at the Library event.
"It is a policy I made many years ago and have stuck to all these years, and a personal gift that I gave to Mr. and Mrs. Graham that I would never write a book about them."
In the age of the "tell-all," where fame is pursued at all costs and loyalty seems to have been deleted from the vernacular, Wills' determination to protect her boss's privacy is refreshingly counter-cultural, if just a little disappointing to those on the outside.
Here's what she will say about the Graham family after 50-plus years of traveling with them: "Certainly they are the same at home as they appear in public."
'Billy Graham's Secretary Is Robbed'
At the height of BGEA's Crusade ministry, Wills was moving so fast that the years blend together when she looks back. In 1985, for instance, Billy Graham held major events in Florida, California and Connecticut, as well as England, Romania and Hungary.
For Wills, 1985 was also the year she couldn't seem to hang onto her pocketbook.
The first incident happened during the South Florida Crusade in February. A headline from the Sun Sentinel announced, "Billy Graham's Secretary Is Robbed."
The article reads, "Stephanie Wills, who works for the world-famous evangelist … was accosted Saturday night, her purse ripped from her arms by a bandit in a passing automobile." It goes on to say Wills was thrown to the ground and briefly hospitalized.
"It was not that big of a deal," Wills recalled three decades later.
"I was just walking through the parking lot at the hotel," she said, explaining that her purse was over her shoulder and her hands were full. "A car loaded with guys, I guess, just came up behind me and grabbed the pocketbook strap over my shoulder … but because I had my arms full, it dragged me along."
She tore her rotator cuff, which would typically require months or even a year of recovery time. But there was work to be done, so she just kept going.
'Like the Ocean Coming in'
In September of '85, Wills traveled to communist Europe as Billy Graham was given a rare opportunity to pass through the Iron Curtain and take the Gospel to Romania and Hungary. Throughout the 11-day trip, Wills had a chaperone of sorts—a female government worker charged with watching the foreigner's every move.
"Anytime you were in Eastern Europe back then you had government officials there," Wills said. "And of course the rooms would have been bugged and all that," she added.
The Comrade Mustafa, as Wills' chaperone was called, was not a Christian. The government was intent on stifling the spread of the Gospel, and it was not an easy time to be a believer. Perhaps that's why masses of people filled the streets of Timisoara when Billy Graham made an unprecedented visit.
One evening, an estimated 150,000 people gathered outside an Orthodox cathedral as Mr. Graham preached the Gospel inside. The massive crowd could see several loudspeakers, which were supposed to broadcast the message into the streets. But the speakers were dead; the authorities had apparently cut the wires.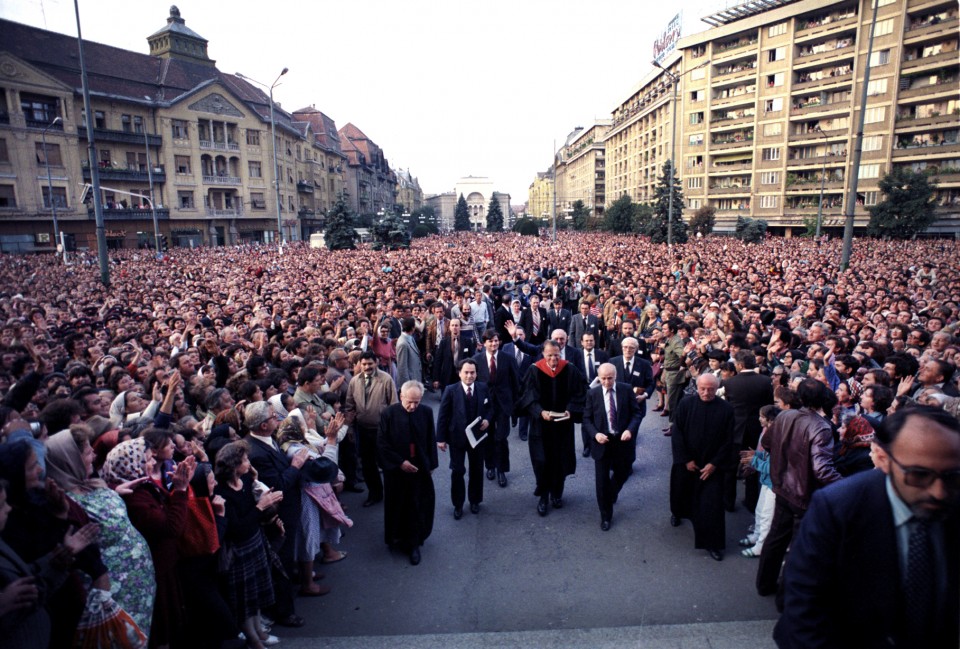 In his autobiography, Just As I Am, Billy Graham wrote about the dangerous exit from the cathedral that night.
"We feared for our lives," he wrote, explaining that the crowd wanted him to preach from the cathedral steps. But without a microphone it was impossible, and the police wouldn't have allowed it, anyway. Billy Graham picks up the story:
As we came down the steps, the crush of the crowd was so great that I didn't know if we could make it. The people were very warm and friendly, though; even if I couldn't preach to them, they wanted to see or to touch us. Most of our Team made it down the long steps to the waiting cars.

I couldn't help but think of my secretary, Stephanie Wills, who—along with the Romanian woman accompanying her and a woman from the American Embassy—was caught in that mass behind me.
"It was like the ocean coming in," Wills recalled.
"The crowd just all of a sudden became crushing. We were twirled around and around. My pocketbook was long gone. It wasn't anything malicious; it was just one of those things. We were all shaken. Everybody was upset."
When Wills finally arrived back at her hotel, she didn't have her room key since it had been in her purse. She went to the front desk to ask for a new key, but her request was firmly denied.
"I went and sat on the floor of the hotel and cried my eyes out," she said. Some time later, a member of the BGEA team came by and saw her in the hallway. He went downstairs and didn't come back until he had convinced the gentleman at the front desk that Wills' story was legitimate.
"The manager came up with great fanfare," Wills said. "And later, here comes my pocketbook on a tray, all scratched up. And everything was in it—passport and everything. In that country at the time, nobody would have dared to steal anything."
The next thing to arrive at her door was a note from Billy Graham, saying he had been concerned and was sorry about what happened.
"The team was a traveling family," Wills said. "It was a good family. They took care of one another."
Poetry in Motion
During that same trip, Wills learned her ever-present government chaperone loved poetry. So Wills asked Comrade Mustafa if she would like to borrow a copy of Ruth Graham's poetry book, Sitting By My Laughing Fire, to read as they traveled from city to city. The Grahams always wove the Gospel throughout their writings, and that book was no exception.
At the end of the trip, Comrade Mustafa hadn't quite finished reading it, so Wills asked if she would accept it as a gift. To keep her out of trouble, Wills presented the book to her in the lobby of the hotel, "with great pomp and circumstance" before they parted ways.
Years later, Wills received news about her old traveling companion that gave her great joy: Comrade Mustafa had become a Christian.
"That's always been such a thrill," Wills said. She gives glory to God for softening the heart of the Romanian official, knowing He may have used the BGEA team in some small way to reach Comrade Mustafa for Christ.
The Road Ahead
These days, Wills isn't collecting quite as many stamps in her passport, but she's still working for BGEA in Montreat and typically visits Billy Graham twice a week. The feisty, kindhearted secretary (she refuses to use her official "hifalutin" title) still has a British accent, but after so many years in the United States her voice has hints of North Carolina, too.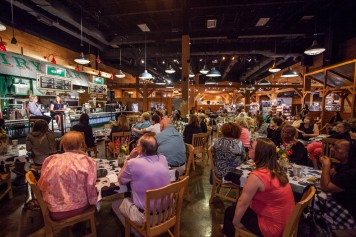 Wills has never been married. (It's not easy to make a connection when you're never in the same city for more than a few weeks at a time.) She has a large extended family and still visits her 92-year-old mother in London. Her father died in 1994. On his last visit to the U.S., Billy and Ruth Graham shared the Gospel with him at a get-together Wills held at her house. During a quiet moment outside in the yard, Wills' father prayed to receive Christ as his Savior.
As for what's next, Wills plans to retire eventually and take a road trip across the country to visit friends she's made over the years. She'd also like to continue with her local Bible studies and do some volunteer work, "or tend to a flower garden, and sit and read."
Sometimes she wishes she were still living a fast-paced life on the front lines of evangelism. But she knows God has placed her where she belongs, and she will always have her memories of the multitudes streaming forward to receive Jesus Christ.
"I had the privilege of seeing that first person walk forward in each stadium," she said. "And it made all the work worthwhile. And so it's been an honor from that point of view to be able to be just a small part of what God has done through the ministry of the Billy Graham Association."
"We're a very small cog, each of us, in an overall machine," she continued. "And it's the same way in the Christian community or the body of Christ. We're just a small part in it. But that part can be very significant when you are put to good use."