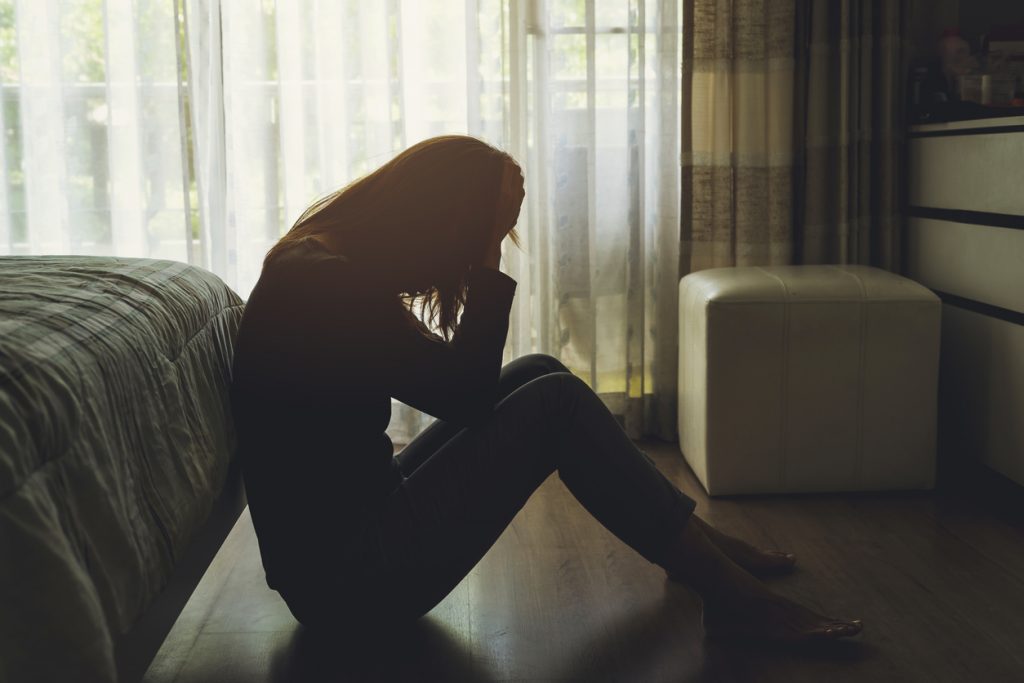 Following Billy Graham's death, we asked people to share how God used Mr. Graham to change their lives.
One woman wrote, "In 1972 I had a gun to my head when I heard Mr. Graham say 'Jesus loves you!' on TV."
The following is the rest of her story, which she shared with BGEA. Please be advised that her account contains adult material involving sexual violence. She hopes her story may help someone else find the courage to lean into Christ and keep going. To protect herself and her children, "Sharon" asked us not to use her real name.

"I grew up in a really small town, and I had lived for God my whole life," Sharon said. "The week after my 18th birthday, this man who became my husband raped me."
At the time, she believed she had to marry him. She was battling shame and poor self-esteem, and reporting the crime seemed out of the question. It was 1968, and the man who raped her came from a family that had standing in the community.
"He told me nobody would believe me," she said.
They were married two years later. Sharon says her husband was physically and psychologically abusive, regularly threatening her life. Her journal from that time records incidents like having her face pushed down into plates of food.
'His Words Jarred My Entire Being'
By 1972, something inside her snapped. She thinks it was sometime in the early afternoon when she went into "robot mode," as she described it. It's now known by psychologists as disassociating, or detaching from reality.
"I very methodically walked into [my husband's] office. I got the gun. I don't remember making a decision, 'I'm going to kill myself.'"
She also doesn't remember turning on the TV beforehand but says she must have switched it on. She walked into her bathroom and put the .357 Magnum revolver to her head.
"And that's when I heard Mr. Graham saying, 'God loves you. Jesus loves you. He wants the best for you.'"
Those words, Sharon said, "jarred my entire being."
"I looked up in the mirror. It was a simultaneous shock of seeing myself with a gun to my head and hearing Mr. Graham."
She snapped out of "robot mode" and was suddenly terrified that she had almost taken her own life.
"I get chill bumps now thinking of it," she said. "Because I was so close."
When she realized what she was doing, she put the gun back where she found it. She called the phone number on the TV screen and spoke with someone from the Billy Graham Evangelistic Association. A little while later, she received some materials in the mail to help her grow closer to Christ.
'Casting All Your Anxieties on Him, Because He Cares for You'
Around the same time, Sharon started attending a Bible study led by a woman she met in college.
"She just irritated the devil out of me because she was constantly witnessing to other people and not me," Sharon laughed. "I was kind of jealous."
She says she had always believed in God but didn't have a personal relationship with Jesus. Through the Bible study, the materials she received from BGEA, and some friends involved in the Jesus Movement—"basically a bunch of hippies," as she puts it—Sharon found hope and purpose in Christ. She began to place Scripture verses around the house. One of them was 1 Peter 5:7—"casting all your anxieties on him, because he cares for you."
'How Many Other Children Is This Happening To?'
As Sharon studied the Bible, she learned that Jesus never promised his followers an easy life. And for her, life kept getting harder. She says she continued to try to make her marriage work for more than a decade, until she discovered her husband was molesting their children.
"I agonized over having to file for divorce, since I believed God intended marriage to last forever and did not approve of divorce for any reason," she said.
After a series of battles at home and in court, Sharon and her children got away, but the process was brutal and lengthy. She says her experience opened her eyes to the injustice that can occur when abusive parents have money and social standing on their side.
"I left the court building, and I just fell back against the door, and I remember looking to the heavens and saying, 'My God, if this is happening to my children, how many other children is this happening to?'"
She decided to go to graduate school to become a therapist and spend her career helping other families going through trauma. Somehow, God carried her through grad school as she simultaneously worked long hours and raised three children.
"I have become an expert in treating children and adults with a history of abuse," Sharon said. She believes her traumatic life experiences have allowed her to fully understand women and children who have been raped and abused.
'I Don't Know How People Make it Without God'
Since starting over in a new state years ago, Sharon has faced additional, gut-wrenching hardships, physically and emotionally. Yet, she's still putting one foot in front of the other and trusting God.
"My lifelong friends say, 'You shouldn't even be alive. God has a purpose for you.'"
Sometimes Sharon still struggles to see God's ultimate, "big picture" purpose for her. But that doesn't stop her from seeking His direction in her day-to-day life. She takes time to build relationships with people who don't know Jesus—including some who are openly hostile to the Gospel—and shares her faith as the Holy Spirit leads.
"I don't know how people make it without God," she said. "God knows everything about our lives. He has known everything that's going to happen to me. Every awful thing, God has been able to turn around and use it for good in somebody else's life."
She says she knows God didn't cause or approve of the evil that was committed against her or her children. On days when her burdens are getting too heavy, she tries to focus on the lives of Jesus and His followers (like Paul), who suffered great evil and pain but never lost their faith.
"God gets the glory in this," she said. "It is God's glory, not mine. It's just hard."
'I Have a Real Love for That Family'
Sharon grew up listening to Billy Graham with her parents, and they even went to see him at a Crusade once when she was an adult. She is also an avid reader of Ruth Bell Graham's writing and now follows Franklin Graham as he leads the BGEA and Samaritan's Purse.
"I have a real love for that family," she said.
It felt like losing a close relative when she heard of Mr. Graham's death. He will always hold a special place in her heart as she looks back on that critical moment, now 46 years ago, when the right words at the right time saved her life.
"It had to be God," Sharon said. "I do believe that Billy was so anointed to touch lives, and he certainly touched mine that day."
No matter what you're facing, God loves you and has a plan for your life. He wants to give you strength to continue on. Find peace today.
If you are being abused, contact the National Domestic Violence Hotline or call 1-800-799-SAFE.
If you are experiencing suicidal thoughts, you can call the Suicide Prevention Lifeline at 1-800-273-8255.