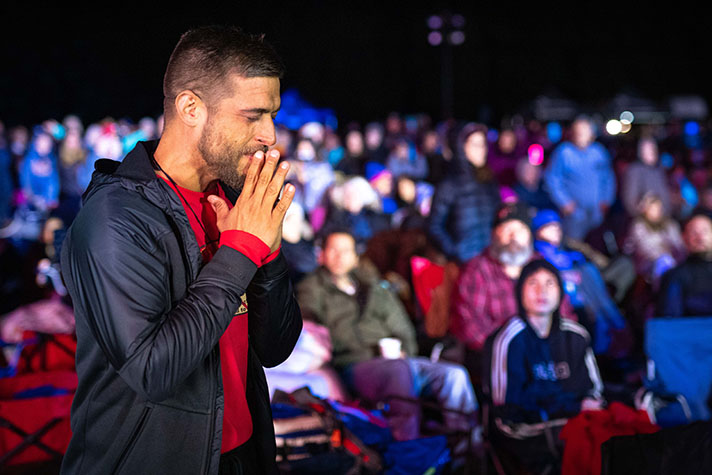 "And I, when I am lifted up from the earth, I will draw all people to myself."
—John 12:32
Flagstaff, Arizona, has a lot to offer. Mountains, the desert, and a short 80-mile drive to the Grand Canyon draw millions of tourists to the city each year.
But Thursday night, locals were drawn to see what God would do in Flagstaff, the seventh stop of Franklin Graham's Route 66 God Loves You Tour. They wrapped up in blankets after the sun dropped and temperatures plunged into the mid-40s.
"It is good to see you," Franklin Graham told the crowd of more than 4,000 attending. Hundreds more watched online.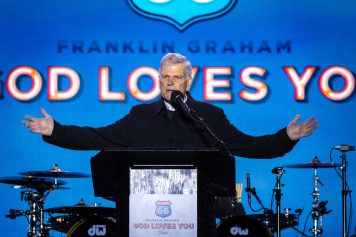 Graham joked the frigid weather was getting him ready for an upcoming trip to Alaska before starting his message.
"Jesus can give you purpose and meaning," Graham said. "He can give you peace if you trust Him tonight.
>>See photos from the Flagstaff event.
Walking into the Ft. Tuthill County Park Fairgrounds, the Ignace family was seeking a break from hard times.
"It's been a rough couple months for me," said Joanna. "My home was flooded completely; I lost everything in August. So this was exciting and something fun, outside of the box."
Her son, Donald, was impressed the tour came to Flagstaff. "I've lived here my whole life and I don't think we've ever had anything like this."
He even joked about the traffic, saying it was "kind of refreshing" to see all the cars lined up to pull into the fairgrounds.
"America needs a revival in the land for sure," he said, "So it's nice to see … to bring the family to focus on those things. I think every community in America and around the world needs a little more God."
Flagstaff—A Place of Refuge
The northern Arizona city came by its name honestly.
On July 4, 1876, a group from Boston traveled to the small logging town. To celebrate America's centennial, they stripped a pine tree of its bark and branches and tied an American flag to the top.
Their "flag staff" became a landmark, and the rest is history.
Sharon Wilcox moved to the city 17 years ago. Director of Hope Cottage, a homeless women and children's shelter, she brought clients and staff members to Thursday's stop.
The timing of the evangelistic event is encouraging, she said, since COVID has turned things "a bit cattywampus."
Looking back, too, she's seen many churches "open and close, open and close." It's the spiritual condition, she said—a hard, rocky ground—just like the volcanic rock Flagstaff is built on.
"It's a hard place for pastors to put roots down," Wilcox affirmed. And a difficult place for spiritual seeds to take root.
But she believes God has a plan and purpose. Wilcox thinks Flagstaff will be a strategic city in the end times, the days leading up to the Second Coming of Jesus Christ when the world will be judged.
Flagstaff "will come under the authority of Jesus Christ," she said. "It will become a place of refuge."
Thursday's tour stop, she believes, is just one of a string of faith events God is orchestrating for a global revival. It's preparing the city's soil for harvesting souls.
"I believe that Franklin Graham coming here is part of what is preparing our city to actually rise up to our calling," said Wilcox. "God is drawing people to this place."
'People Get Ready'
"God is calling us to stand up and say, 'People get ready because the time is coming,'" Wilcox said.
Hundreds did stand and commit to Christ Thursday night. Prayer volunteer Debbie Drayton saw "a mom with her arms around a girl," then saw the young girl's grandmother, too.
Telling Drayton they had strayed from their faith, three generations of women rededicated their lives to Jesus.
The Holy Spirit also touched the heart of a Hispanic man, who was visibly broken and very emotional. His three children spoke English and told a prayer volunteer that he had prayed to follow Christ for the first time. The father cried even harder when the volunteer gave him discipleship materials written in Spanish.
>>Check out the new Spanish version of BillyGraham.org.
"You have a choice to make," said Franklin Graham. "You can accept [salvation] or you can reject it."
Thank God for the hundreds who accepted God's gift of salvation in Flagstaff—and every city on the Route 66 Tour.