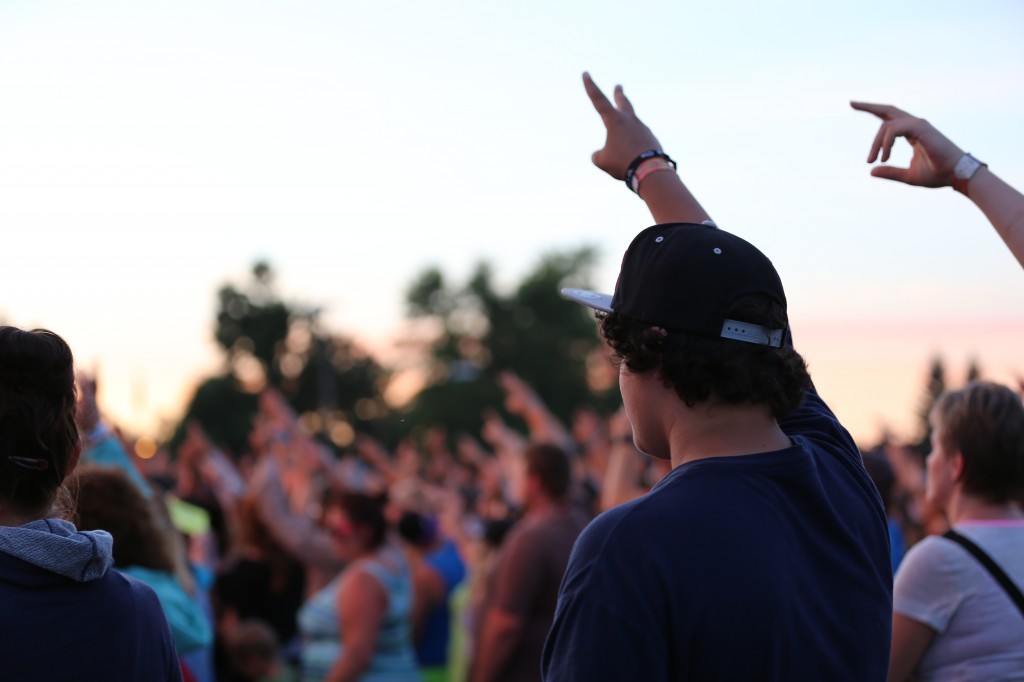 With Mount Rainier as its backdrop, there aren't many sights in Enumclaw, Wash., that trump the canvas of foothills and lush forests surrounding the small town.
But seeing tens of thousands of people gather last weekend at the local Expo Center to worship Christ is certainly on the list, especially since many of those worshippers were younger than 18.
The 35th annual Creation Festival to "celebrate our Creator" took place Aug. 7-10 in Enumclaw and is known for drawing droves of young people with names like Nick Hall, Louis Giglio, Toby Mac, Lecrae and the Newsboys.
Ransom, a ministry of the Billy Graham Evangelistic Association (BGEA) for teens and young adults, attended the East and West Coast versions of the event. And it wasn't long before BGEA's booth meant to sell T-shirts and inform people about the ministry suddenly turned into outreach.
"There are a lot of teens and young adults who don't connect with ministries and churches. So to be able to be relevant and do ministry in a way that [reaches them] is certainly encouraging," said Joe Gruber, manager of Ransom.
Young people continuously stopped by the booth, like 12-year-old Erin who admitted she struggles with anxiety but, "God's love makes me feel better." Then came Roman, a teen who lost his mom to cancer yet found joy sharing the peace he felt knowing Christ.
Gruber had a special connection with Kelsey, 18 – a year older than his daughter. Kelsey said she felt "forced" to attend Creation Fest with her parents, and her experience with Christians in her family seemed to be one of judgment and hypocrisy.
"She just didn't want to be there. At Creation Fest, around Christians, around any of it," Gruber recalled.
Looking for a glimmer of hope, Kelsey asked Gruber why he does what he does for BGEA. He then shared his testimony and explained what true Christian life is all about.
"On [the last day] she just came up to me and gave me this big hug and said, 'Thank you for changing my life,'" Gruber said.
God's Unconditional Love
But perhaps the most memorable encounter in Enumclaw was with the Murray family from Vanderhoof, B.C. Ransom met Gareth, 17, and Allison, 15, on day two of Creation Fest. By that afternoon, the siblings had stopped by a few more times with their mom, Jana, dad, Robert, and grandmother, Tina (who let Ransom call her "nana").
Friday, Gruber and his team walked into the vendor area to a surprise: The Murrays standing behind the Ransom booth, wearing their army green Ransom T-shirts, passing out Ransom information.
"We saw you guys weren't here yet and thought we'd get things started," Robert said with a smile. "Don't worry. We didn't bother anything and knew what to say."
The Murrays are a close-knit farm family, but have had their share of trouble and were even on the brink of splitting up at one point.
The family was transparent about the real issues they've faced even as believers, which is part of the premise behind BGEA's Ransom ministry.
"There are a number of times in our lives where God has just shown His grace when we didn't deserve it, when we were broken and did things that would've just turned His stomach," Jana said. "But He loves us, and He does not see that. Through Christ, God cannot see that sin."
For Jana, that sin included cheating on her husband and almost leaving her family, which had grown to include her three siblings and mother, who was abused by Jana's father.
She calls it her "Christmas in July story."
"It was the most shameful thing that I have ever done in my life," Jana said of the affair. "But God was there through it. He had a plan."
After walking out then returning home only to watch the kids open early Christmas presents from their aunt, Jana felt convicted.
"I cried and I cried [watching them]. I couldn't leave my family," she said.
Jana has shared that story with her children, as well as others about her past: having her first child at 15 with an abusive man who later died of an overdose, her own drug use, the death of her second daughter at 2 months, then the moment "everything changed" – rededicating her life to Christ after meeting Robert on a bus ride and walking through the Gospel with him.
Allison said her mother's transparency has taught her, "You have to love everybody for who they are. You can't judge people." She added that it's "the love of God in us" that really shows others how special we are.
Gareth, too, has found hope in his family's tough times, including the horrific fire that destroyed their home a few years ago.  More recently, Robert and Jana tried to become foster parents, but were denied because of, "This dumb stuff in mom's past that shouldn't even count anymore," he said.
Thankfully, God keeps no record of our wrongs.
Gareth was once into partying, even showing up to school drunk. Now, he says he strives to do everything with Christ in mind.
"Sometimes our experiences," Gareth said, "it's a test and it's a reward."
"No one's perfect and that's what I want those who don't believe to know," Jana added. "We're not perfect, and I think it's how our ministry [as Christians] really connects with people."
Have a testimony you'd like to share? Submit yours and watch others at Ransom.tv to help spread the message that #hopelives in Christ.