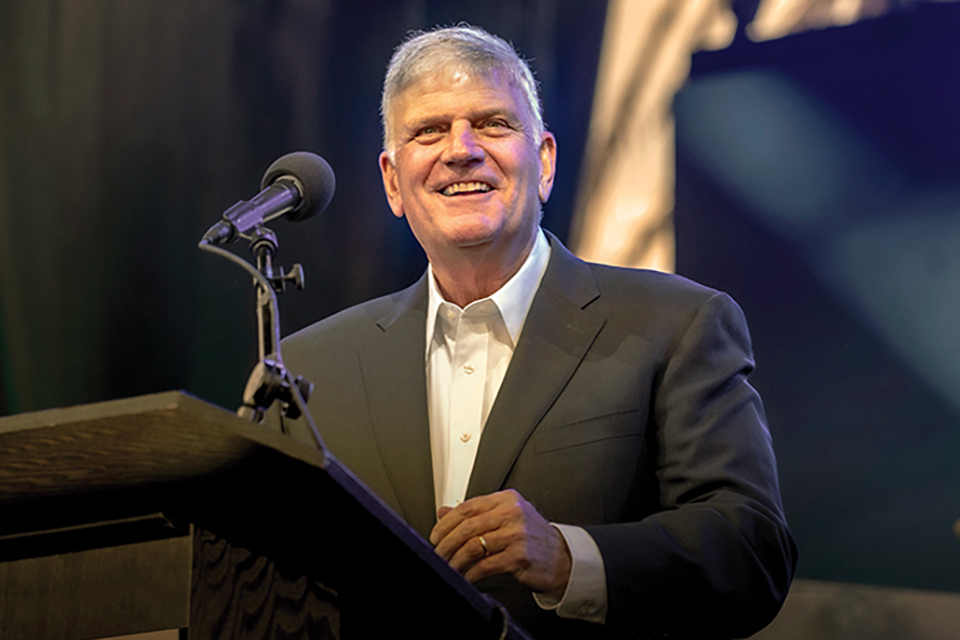 Dear Friend,
As I write to you this month, I'm excited to tell you about new doors the Lord has been faithfully opening this year for the Billy Graham Evangelistic Association (BGEA) to proclaim His Gospel around the world.
The Apostle John described the risen Christ as "He who opens and no one shuts, and shuts and no one opens." Speaking of the church in ancient Philadelphia, our Lord told John, "I know your works. See, I have set before you an open door, and no one can shut it; for you have a little strength, have kept My word, and have not denied My name" (Revelation 3:7–8, NKJV).
Much like us, these Christians lived in a culture that often resisted God's truth. People desperately needed the Gospel. Jesus commended them for staying faithful to Him and His Word in spite of public opinion and pressures. They patiently endured, trusting God and bringing Him glory.
When the Lord puts an open door in front of us, we want to take full advantage of it. Thankfully, this has been a year of great opportunities for BGEA, and with the partnership of friends like you, we are seizing them for God's glory.
Ministry to the Hispanic Community
One of the largest ethnic groups in the United States is the Hispanic community, making up 20% of the population and representing more than 20 countries.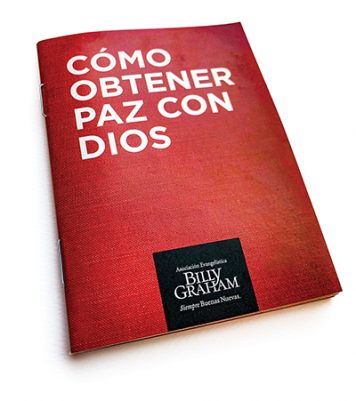 Over the decades, God has truly brought the nations to America, and we can help carry out the Great Commission by reaching out to those who are already here. The fields are ready for harvest, and we are expanding our efforts across many outreaches—and through partnerships with Hispanic churches—to share the Gospel with these men and women.
We are increasing our corps of Spanish-speaking Billy Graham Rapid Response Team chaplains—and there are thousands waiting to be equipped! In preparation for the upcoming Route 66 God Loves You Tour, we are training Hispanic Christians to share their faith through Christian Life and Witness classes and then serve as prayer counselors at the event, offering interpretation for my messages via mobile devices, and providing follow-up and discipleship materials in Spanish.
Please pray for this initiative as we work to reach the Spanish-speaking community in America through online resources, podcasts, special events at the Billy Graham Library, and more.
The Hope of Christ for Native Americans
Earlier in July, BGEA partnered with local churches in South Dakota to host basketball camps for children and teenagers from the Lakota tribe on the Pine Ridge Indian Reservation. As they learned ball skills, they also heard about the hope they can have in Jesus Christ.
In two of the Pine Ridge towns, my son Will Graham brought a message from God's Word over Independence Day weekend. Hopelessness often plagues Native American communities, and the moment is ripe to offer the hope of Jesus Christ.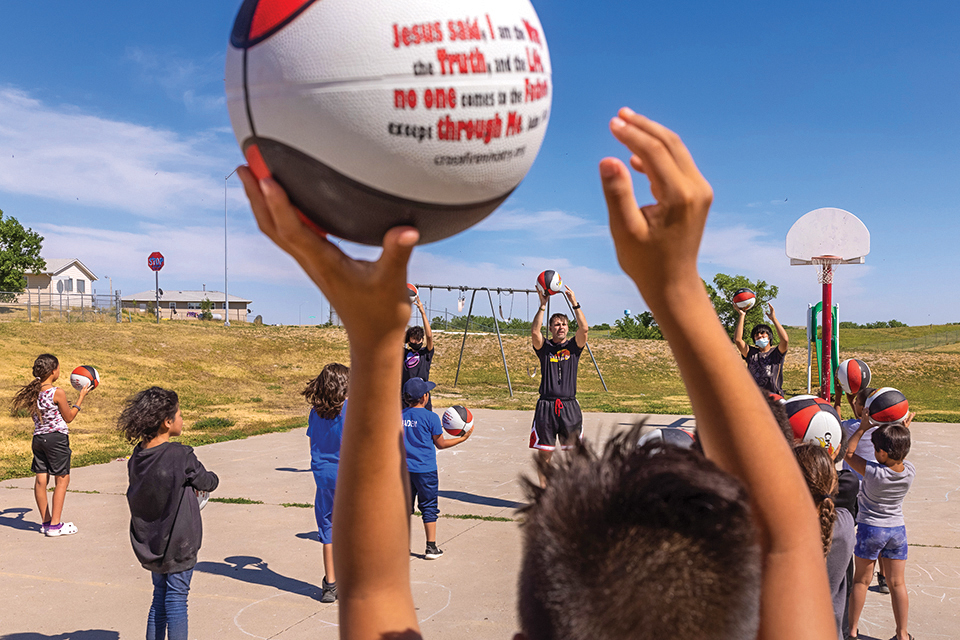 One elderly lady attended the event who introduced her son, Chayton,* to alcohol when he was only 8 years old. He quickly developed into an alcoholic and even attempted suicide by age 12. So much pain followed—a failed marriage, raging fistfights, and three prison terms following DUIs. However, during his stints behind bars, Chayton began reading the Bible and eventually, in 2008, he repented of his sins and gave his life to the Lord.
He began praying for his mother, that she would also come to know Christ personally. Through the years, she recognized the change that took place in her son. When Will preached, she responded to the invitation and put her faith in the Lord. Because she speaks fluent Lakota and is considered a leader among her people, Chayton is hopeful his mother will be able to reach many more with the Gospel message.
Over the events of that weekend in South Dakota, more than 60 young people and adults prayed to ask Jesus Christ into their hearts. Praise God for these changed lives! In a few months, Will is going back to South Dakota for the Black Hills Paha Sapa Celebration with Will Graham, September 24–26, in Rapid City. Will you pray for this outreach and for the Iowa Celebration in Des Moines, which is scheduled for the first weekend of October?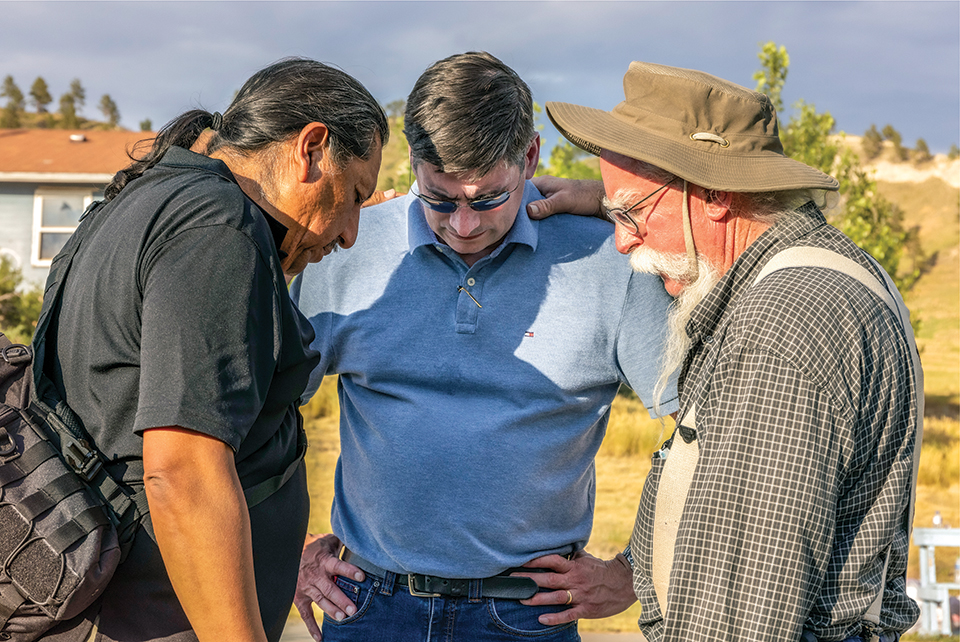 Encouraging Our Law Enforcement
I thank God for the men and women who serve our nation in law enforcement. In some of our cities, these officers have endured a lot of criticism and lack of support, making their work even more stressful. We recently hosted couples from different areas of the nation for the first law enforcement marriage resiliency retreat in Port Alsworth, Alaska. These officers all experienced injuries or trauma in the line of duty—shootings, physical attacks, grief from losing fellow officers, or car accidents while in pursuit.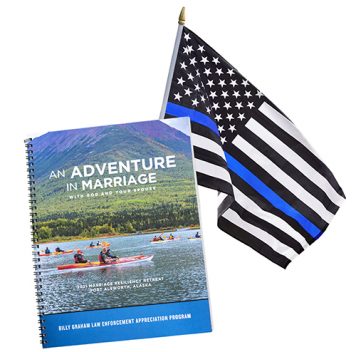 Our staff showered these couples with love and encouragement all week. They received Biblical teaching and counseling together with other couples in a safe environment. One couple from Amarillo, Texas, arrived contemplating divorce. "Law enforcement officers are hard, we're jaded, we're really not an easy crust to crack," the husband said. "You broke it all the way down for me and my wife." As the Lord worked, they were one of three couples to renew their marriage vows by the week's end.
Another husband and wife from Portland, Oregon, followed the Lord in believer's baptism in the chilly waters of Lake Clark. Your prayers and gifts make it possible to minister to these brave men and women who stand in the gap for our communities. Please continue praying for our law enforcement officers and their families. Through our National Law Enforcement Ministry, we're planning appreciation events in several embattled cities to thank these dedicated servants. We want to let them know we stand behind them.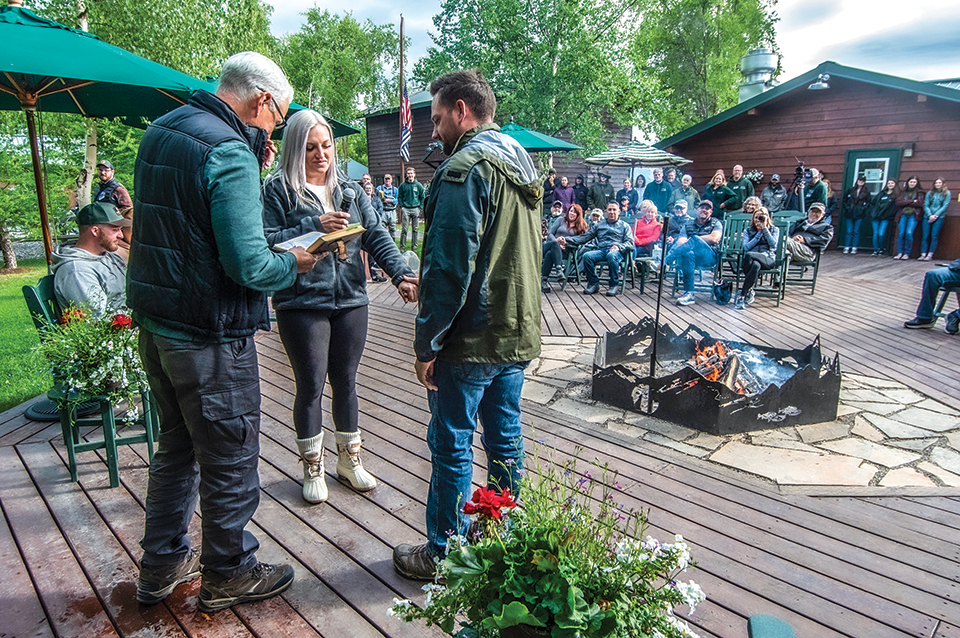 As I write to you, I am preparing to preach God's Word this fall along America's heartland during the Route 66 God Loves You Tour. The most critical thing you can do is pray. The intercession of God's people is crucial if we are going to see lives changed for eternity.
If you live near one of the eight cities, you can also volunteer or attend one of our Christian Life and Witness Courses. These three-hour sessions will equip you to share your faith with others—as a counselor at the event or any other time. Check out GodLovesYouTour.com to learn more.

I thank God for you and for your partnership in this ministry of evangelism. The message is urgent, and with the Lord's strength, we will continue working to take the Gospel to the world.
May God Bless You,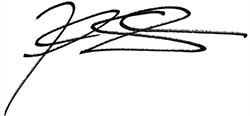 Franklin Graham
President