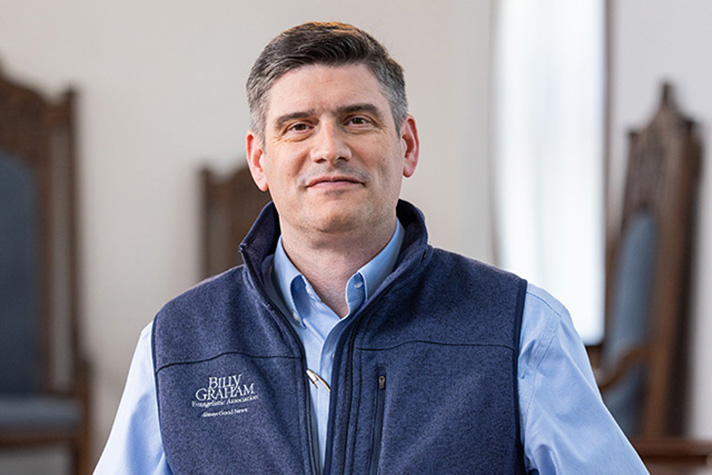 Dear Friend,
"What is truth?" Pilate wasn't the first to ask this, and he definitely wasn't the last. As a matter of fact, cultures all around the world today are debating this question—and how you answer has eternal consequences.
This was the focus of the message I shared twice on Good Friday during a pair of online livestream events, one in English (with American Sign Language interpretation) and one in Spanish. As believers, we know the answer is not what but Who, and I gave those who were watching the opportunity to begin a relationship with Jesus Christ, "the way, the truth, and the life" (John 14:6, NKJV).
Combined, there were more than 33,000 live and on-demand views across 81 unique countries on the BGEA website and YouTube. A total of 940 people registered decisions for Jesus.
Candace was one of those who found truth that day. She was struggling to understand forgiveness and grace, bearing the weight of guilt that she had carried for years. "I love the Lord, but I made a mistake and fear He would not accept me," Candace confessed.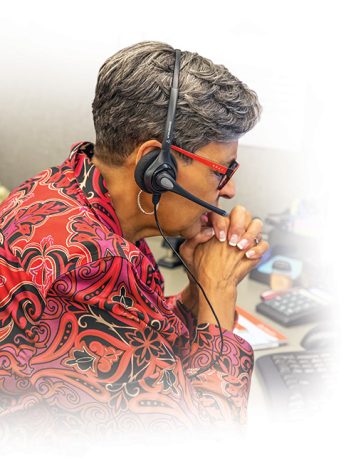 A trained BGEA representative walked through the Gospel, helping Candace to understand that Jesus died for her sins—even the "mistake" she had made. The representative then asked if she would like to repent of her sins and become a new creation in Christ, and Candace readily jumped at the opportunity.
We praise God for Candace and the many others who came to know the hope of salvation in Christ around Easter, and at BGEA, we feel an urgency to share God's truth with countless others across the globe. The coming weeks are extremely busy, but what greater task is there?
Reaching the Reservations
My grandfather, Billy Graham, had a burden for Native peoples. He believed that if our indigenous brothers and sisters could awaken to the truth and hope of the Gospel, they would in turn be the evangelists that would call the entire nation back to Christ.
In May, we held the first-ever Native Peoples Christian Leaders Conference, an exciting two-day event in Rapid City, South Dakota. More than 125 Native Christian leaders from 14 states and two Canadian provinces gathered to discuss opportunities, strategies, and challenges related to sharing the Gospel with indigenous groups. We are prayerfully trusting that God will use the momentum and connections from this effort to ultimately bring revival.
Later this summer we will continue our work on Pine Ridge Indian Reservation (where I held a pair of events in 2021), as well as Rosebud Indian Reservation. We will hold youth-focused evangelistic basketball camps in June on the two South Dakota reservations, and then I'll return in July to proclaim the truth of Christ Jesus. Please partner with me in praying that strongholds will be broken and many will find the hope that they desperately need.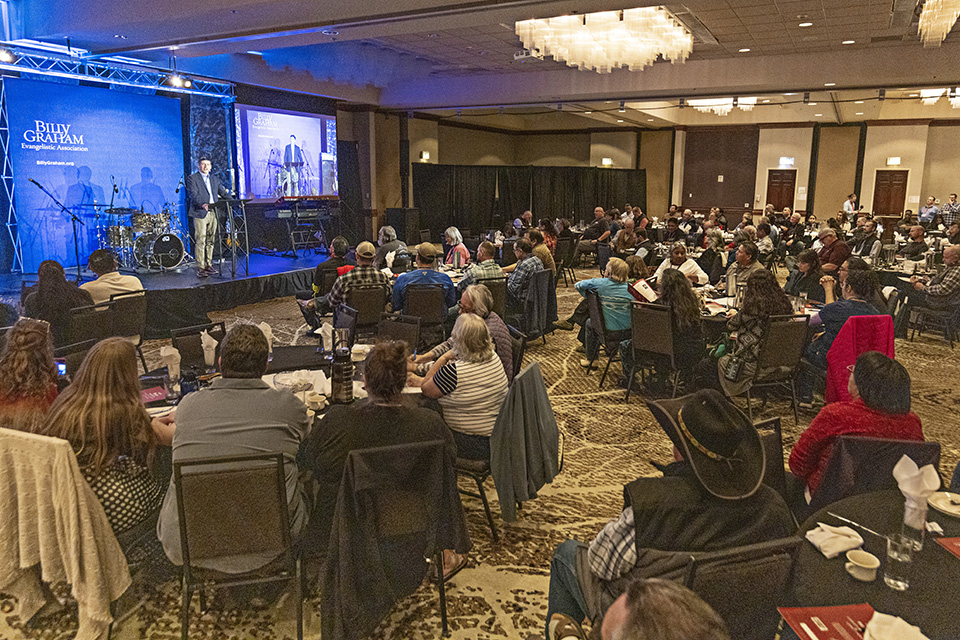 'A Testimony to All Nations'
—Matthew 24:14, ESV
As I write this, my dad—Franklin Graham—and I are sharing the Gospel on two different continents. He is holding the long-awaited U.K. God Loves You Tour in Liverpool, South Wales, and Sheffield—with a final event scheduled for London in July—and I'm in Tasmania.
The U.K. tour was originally scheduled for 2020 but became a lightning rod of controversy when secularists attempted to block us from preaching the truth of the Gospel. Thankfully, the Lord has given us favor in court and with certain venues who agreed to new contracts, and the tour is finally taking place.
However, the battles have continued, including a recent demand from the Metro Mayor of the Liverpool City Region that our bus advertisements (which simply ask the question, "Looking for something more?") be removed.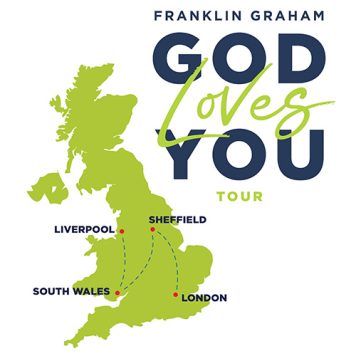 While we regularly face challenges to the proclamation of the Gospel, we are thankful that God continues to provide victories, in the courts and in the hearts of those who seek Him. "We know that for those who love God all things work together for good, for those who are called according to his purpose" (Romans 8:28, ESV).
The Tasmania Celebration has also been years in the making, delayed multiple times by the COVID-19 pandemic. Local church leaders have told me that Tasmanians are the least religious people in Australia, with many claiming no faith of any kind. Please take a moment to pray that many will respond to the truth of Jesus Christ—and for the pastors and churches who will follow up with these new believers.
Shining the Light in a Dark Place
Looking ahead, on June 11 my dad will be preaching in Rio de Janeiro, a massive effort supported by more than 2,500 local churches. The spiritual battle over this event is fierce, as opposition groups are actively calling demonic forces against the proclamation of the Gospel. We understand, however, that "we do not wrestle against flesh and blood, but against the rulers, against the authorities, against the cosmic powers over this present darkness, against the spiritual forces of evil in the heavenly places" (Ephesians 6:12, ESV).
In response to this spiritual attack, Christians in Brazil and worldwide are praying like never before. Please join us in fervent prayer!
Finally, I'm very excited for the Rappahannock Area Celebration in Fredericksburg, Virginia, on June 25. The churches are energized and hundreds have been trained and equipped to share their faith. In fact, local believers have already begun reaching their loved ones with the Gospel before the Celebration has taken place. We're anticipating great things as Christ is proclaimed in Fredericksburg!
My friends, no matter the opposition that rises against us, we serve a God who reigns above it all, "full of grace and truth" (John 1:14, ESV). It's not easy. The battles are fierce and the father of lies is determined, but the light of the Gospel shines bright in the darkness. We could not do it without you. Thank you for your prayers, gifts, and faithfulness. The impact you have for the Kingdom of God—in the United States and around the world—is eternal.
Blessings,


Will Graham