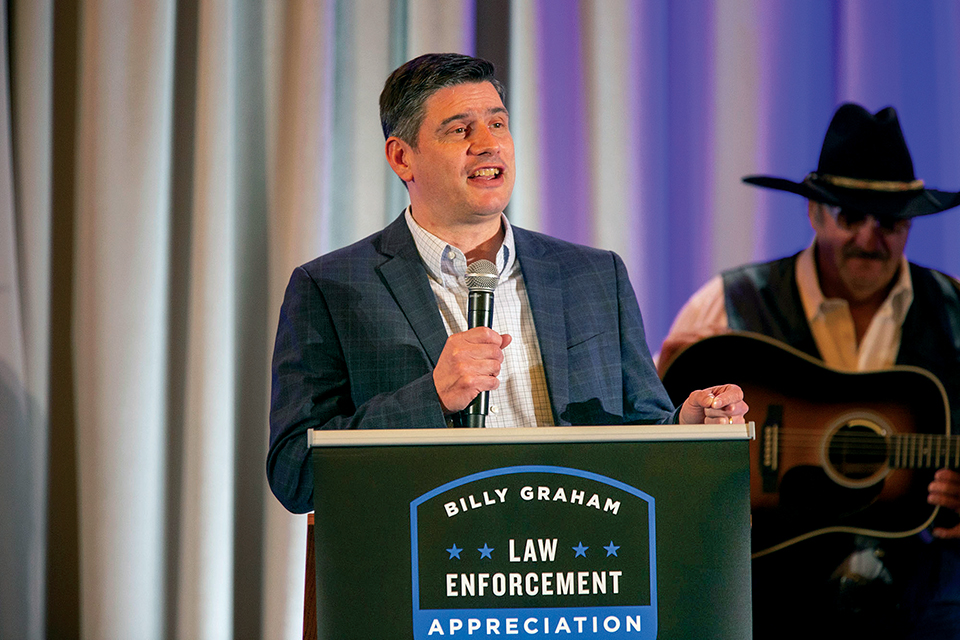 Dear Friend,
Our God is faithful! In the midst of the storms of life, His love is never-failing. "Through the Lord's mercies we are not consumed, because His compassions fail not" (Lamentations 3:22, NKJV).
I just returned from the Pacific Northwest, where we held two appreciation dinners for law enforcement officers in the Portland, Oregon/Vancouver, Washington and Seattle areas. During these events, I spoke with many of these men and women who serve in such volatile times.
There are all too many reminders in the news every day of the dangers they face. Following the murder of four people—including two law enforcement officers—in Boone, North Carolina, the Billy Graham Rapid Response Team (BG-RRT) deployed crisis-trained chaplains to minister to the Watauga County Sheriff's Office and the community at large.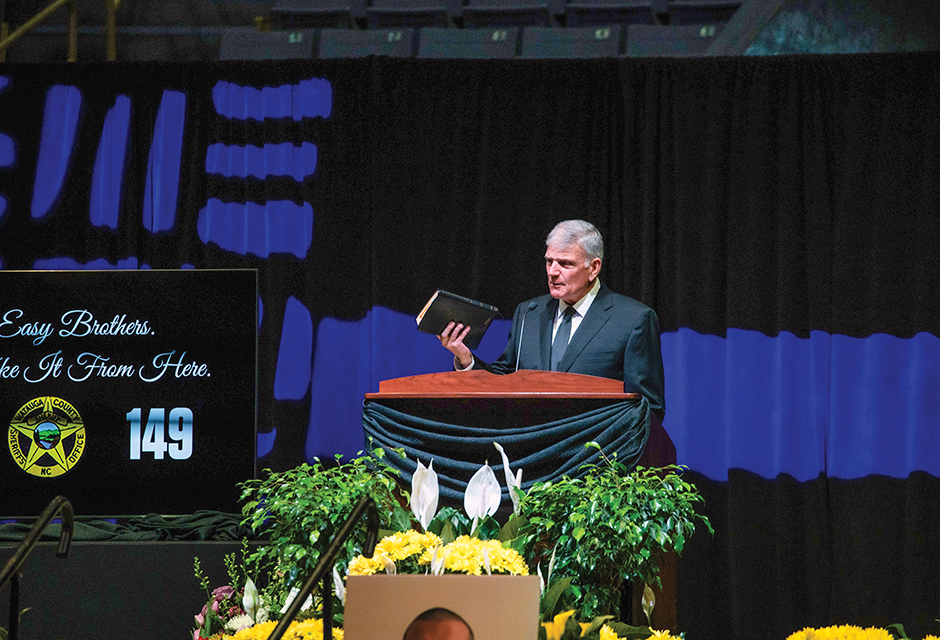 Boone is where I was raised and where my parents still live. This tragedy hit very close to home. The morning after the standoff, I traveled there to pray with law enforcement officers and with the BG-RRT chaplains. The grief was palpable and overpowering, but in the darkness, light shines even brighter (see John 1:5). I'm proud of our chaplains who are willing to leave behind the safety of home and run toward disaster, carrying the hope and comfort of Jesus into incredibly hard situations.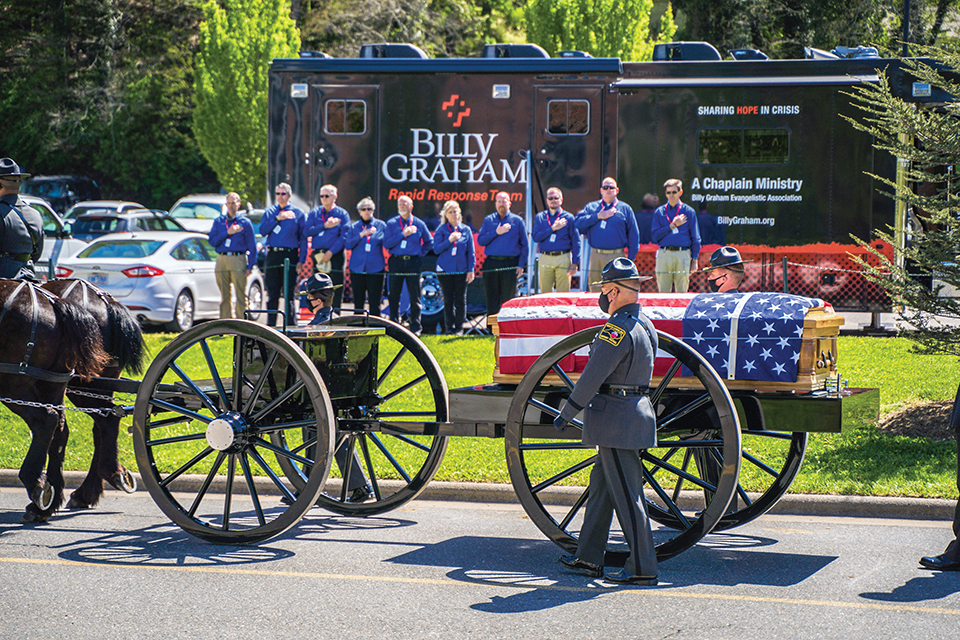 One woman at the memorial pulled the chaplains aside to share her story. She had recently become so depressed that she had considered harming herself. She told her daughter, who then contacted the Watauga County Sheriff's Office. Two officers—Deputy Fox and Sergeant Ward—were dispatched to make a welfare check. She recalled how they both talked with her and helped her understand her life was important. A few days later, their lives were taken in this horrible tragedy.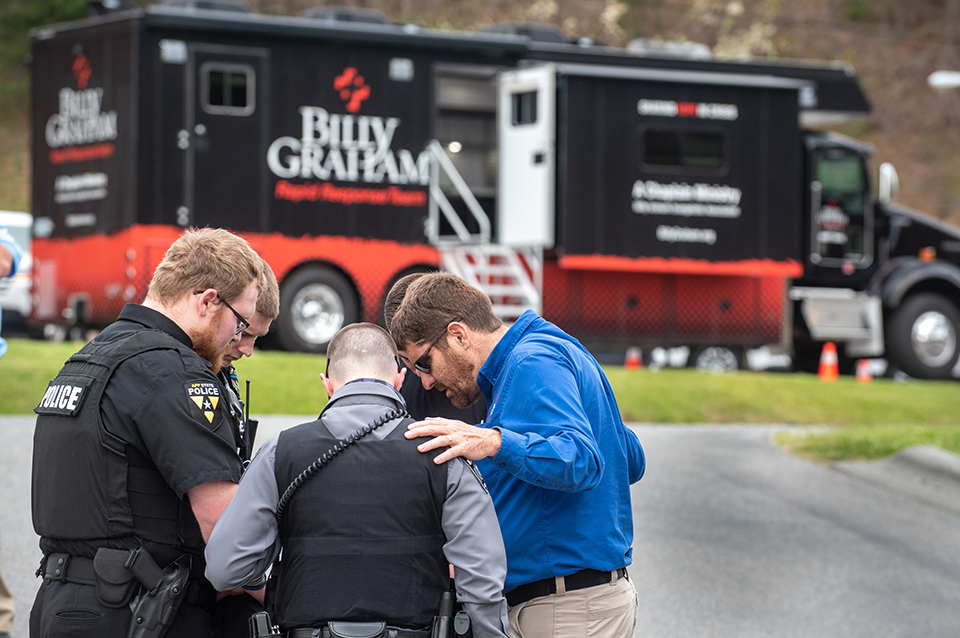 This is a stark reminder of the impact and importance of the law enforcement officers in our communities. In addition to the dinners in the Portland and Seattle areas, the Billy Graham Evangelistic Association (BGEA) has been holding retreats and appreciation events across the country for officers and their spouses. We have made an ongoing commitment to support and encourage these brave men and women who sacrifice so much to protect our communities.
One Portland attendee—the wife of a police officer—shared how much the evening impacted them.
"My husband has been a law enforcement officer going on 20 years. We have five children … I myself have been homeschooling and fighting a bone tumor the last few years. Then pile onto that, COVID, and then the unrest with the police this last year and watching Portland be destroyed has been difficult to say the least. Last night was such a blessing for our men and women in blue," she wrote.
"We felt loved and appreciated for the first time in a long time. … I can't begin to relay to you how much my husband and I needed that last night."
God is showing His faithfulness to our law enforcement and to people all across the globe through your generous support of BGEA. Because of you, we have been able to reach people around the world with the only true hope we have: the Gospel of Jesus Christ.
Last month I had the opportunity to host a Good Friday livestream outreach, during which I shared what Jesus accomplished on the cross. Drawing from Matthew 27, I explained that Jesus bore our sins, died for us, and—because of His sacrifice—made a path for us to have fellowship with God. I then gave people an opportunity to place their eternities in His hands by repenting and beginning a relationship with Him.
We praise God that more than 1,300 viewers indicated they made a decision for Christ. Among them was a young lady who was struggling with doubts. She had been reading her Bible and praying daily since her mother passed away in December. However, her ex-husband—an atheist—was filling her mind with anti-Christian arguments. As a trained volunteer chatted online with her, the young lady's heart excitedly jumped at the opportunity to make Jesus her Lord and Savior. Before their conversation ended, she said she was going to begin an online Bible study, too. Praise the Lord!
Looking ahead, I'm excited to hold the Mountain State Celebration in Fairmont, West Virginia, in July. This event was originally scheduled for April 2020 but was postponed due to the COVID-19 pandemic. I'm prayerfully expecting big things! Area Christians have been united in fervent, passionate prayer, preparing the way for a mighty movement of God. "To this end we toil and strive, because we have our hope set on the living God, who is the Savior of all people, especially of those who believe" (1 Timothy 4:10, ESV).
We also have teams preparing for evangelistic outreaches in Rapid City, South Dakota; Des Moines, Iowa; and London and Sudbury, Ontario, later in the fall.
At the same time, my father, Franklin Graham, is planning several in-person events in this country and around the world in the coming months. He's scheduled to proclaim the Gospel through outreaches in Seoul, South Korea; Milan, Italy; and Rio de Janiero, Brazil. And through the God Loves You Tour, he will make stops in cities across the United States, following the path of historic Route 66.

With each of these events, your prayer support is vital. "For we do not wrestle against flesh and blood, but against principalities, against powers, against the rulers of the darkness of this age, against spiritual hosts of wickedness in the heavenly places" (Ephesians 6:12, NKJV).
Finally, I'm excited to tell you that we are making great strides on the state-of-the-art Billy Graham Archive and Research Center, which is being constructed adjacent to the Billy Graham Library in Charlotte. This building will house my grandfather's papers, sermons, correspondence and more. We pray that many will come to study how God used my grandfather and will be further equipped and encouraged in their own evangelistic ministries. We prayerfully anticipate the building being completed by the end of this year.
My friends, God is faithful, and God is good. We are constantly in awe of the support and love you show us as you allow Him to work through you for the sake of His Kingdom. Please know that we could not do any of this without you, and that precious souls are finding the eternal hope of Christ because of your sacrificial support.
May "the grace of our Lord Jesus Christ be with you all" (Philippians 4:23, NKJV).
Blessings,

Will Graham