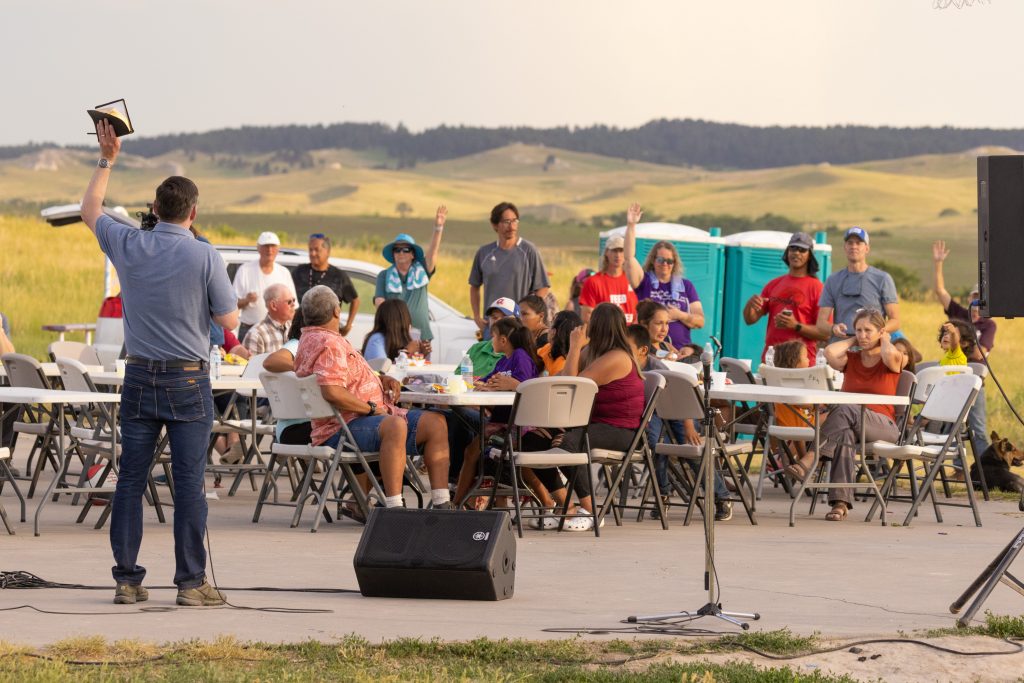 "This matters because a lot of our people here on the reservation need some kind of hope, and I know Jesus Christ is the One who gives us the hope. He gives us the future."
Henry Brown, a youth worker who has lived on Pine Ridge for most of his life, is sitting on concrete steps attached to Crazy Horse School in the small town of Wanblee, South Dakota, on the Pine Ridge Indian Reservation.
"Pine Ridge is a very unique place. Usually when people talk or hear about Pine Ridge, it's always bad. Negative stuff," Brown said. "But there's a lot of good going on here. You just have to look."
Nearby a small remnant of children continues to bounce brightly colored basketballs, boldly printed with the words of Jesus in John 14:6: "I am the way, the truth and the life. No one comes to the Father except through me." After a full day of learning basketball drills in the full sun and a hot, driving wind, they still weren't ready to wrap it up and head home.
For some, the basketball camp—arranged by Brown and others, such as Pastor Gus Craven, Pastor David Lays Bad, and Joe Cross —not only gave them something to do, it changed the path of their eternity, ushering them from a life of hopelessness to a relationship with Jesus.
Hope and Basketball
The basketball camp in Wanblee was one of several that took place over the past week on and around Pine Ridge Indian Reservation. It was organized by area churches, in coordination with the Billy Graham Evangelistic Association and Crossfire Ministries (Asheville, North Carolina).
Some of the participants were barely elementary aged. Others were teens. Some displayed advanced skills, while others appeared to be handling a basketball for the first time.
The drills were a precursor to what mattered most. Regardless of skill level, each of these children soon heard an exciting message of Jesus' love for them, along with the opportunity to respond and accept the hope that only He provides.
John Brandenburg of the Billy Graham Evangelistic Association—part of the team that's planning the Black Hills Paha Sapa Celebration with Will Graham in nearby Rapid City—spent months helping to organize the basketball outreach on Pine Ridge.
"Basketball is like a lifeline to the community here. Schools have been shut down for COVID, and it really gets kids off the street," Brandenburg said. "They just love basketball, and it's a way in to the hearts of people, and we can bring the Gospel along with it."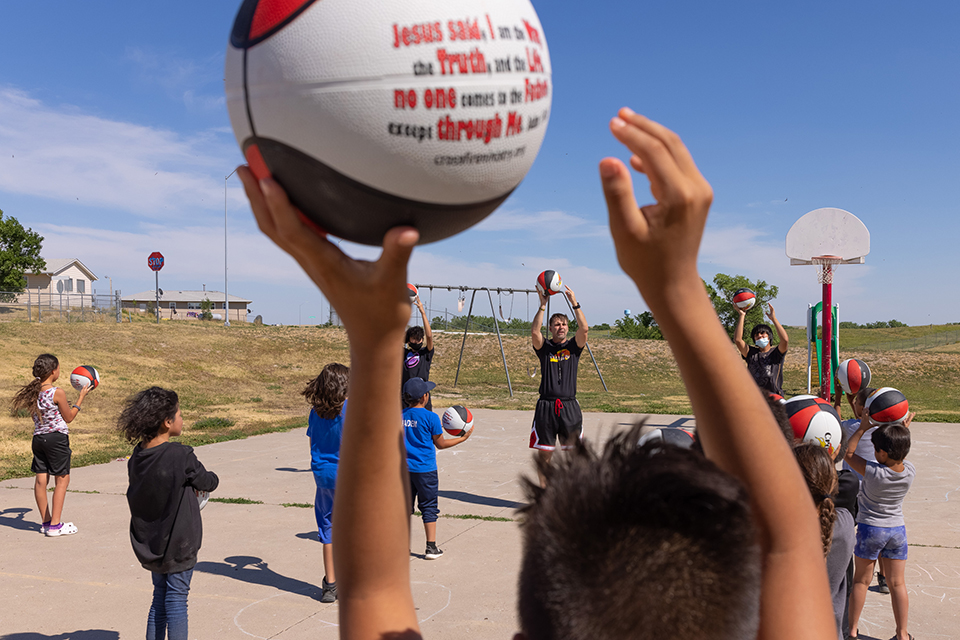 Randy Shepherd of Crossfire Ministries, a former collegiate athlete who has parlayed his love of basketball into an effective evangelistic outreach, coached the clinics, imparting years of practice and knowledge to the students.
"The apostle Paul said to use all means necessary to win some, so whether it's a basketball or a tool or a hammer or a football or a whatever, God uses that to draw kids in," Shepherd said. "We use the basketball to show them some drills that hopefully they'll take home and work on, and then more importantly sit down and share the Good News of the Gospel with them."
In sharing with the young players, Shepherd holds a basketball painted to look like a globe (representing our broken world) in one hand, and his Bible (representing God) in the other. "I help them understand what sin is, and then I give the illustration of how Jesus bridged the gap between a Holy God and a sinful world."
Over the course of seven events, more than 65 young people prayed to ask Jesus into their hearts.
"When you're a soul winner and you see the Lord draw someone to salvation, there's nothing better than that," Shepherd said. "I never won a state championship or a national championship, but someone coming to Christ is far greater than that.
"It really, really encourages me, and it makes me want to keep fighting the fight."
'That's Why I Came Here to Pine Ridge'
In addition to the basketball camps, two of the communities—Wanblee and Porcupine—heard music from Christian hip-hop artist FLAME and a message of hope from Will Graham. Many of the basketball players' family members joined them later in the evening for the programs.
"Jesus took all of the brokenness in this world. The Bible says that Jesus, the Man that knew no sin, became sin for us. He died on the cross. That was the penalty. He was buried. But, my friends, that's not the end of the story," Graham said, speaking into a portable sound system set up on the corner of the basketball court.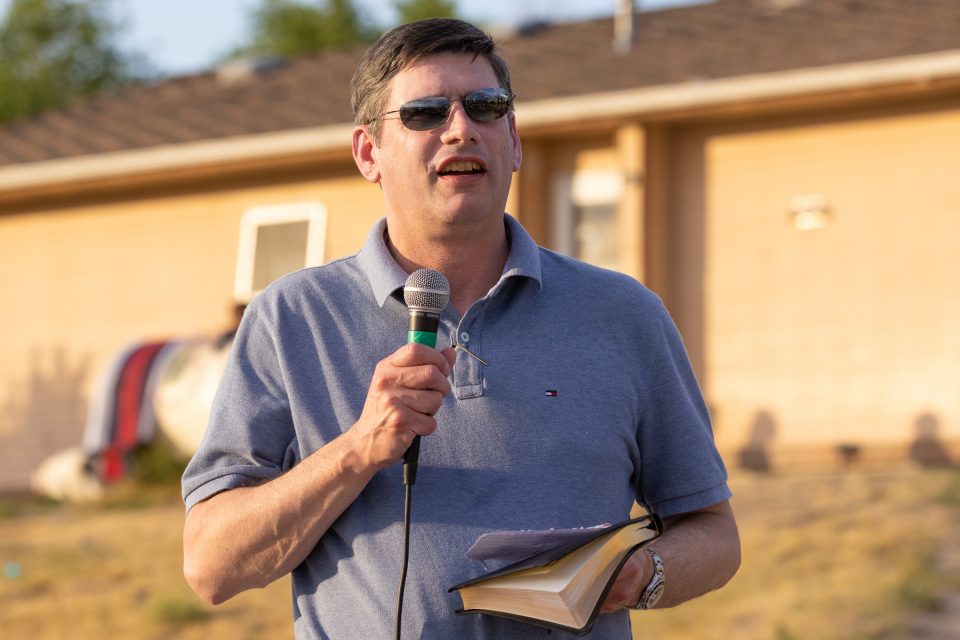 "Three days later, He rose from the grave. He's alive! He beat death! That's the God I serve. That's the God that rescued and restored me. That's the God that makes me whole, and that's why I came here to Pine Ridge: to give you the opportunity to put your faith in Jesus Christ and have your brokenness restored."
Though the scene was casual and admittedly a bit chaotic—with neighborhood fireworks popping nearby, dogs trotting through the audience, basketballs bouncing, and people young and old constantly on the move—hearts were softened and pierced as Graham shared the Word of God. A smattering of hands were raised throughout the crowd as he invited people to place their faith in Jesus Christ.
'Ever Since I Got Out of Prison, She's Noticed a Change in Me'
Among those who responded was an elderly lady, sitting quietly off to the side. As she visited with a counselor, who shared more about how to grow in her newfound relationship with Jesus, her adult son Jonathan offered his story.
Born in 1960, Jonathan was just eight years old when his mother—the woman who was now accepting Christ as her Savior—gave him his first can of beer. He quickly devolved into alcoholism, and by 12 attempted to commit suicide for the first time. Jonathan realized at the last second that he didn't want to die and did his best to hold himself up by his toes as the noose tightened around his neck, but it was too late. He passed out, and came to at some point later in the back of a cop car.
His painful journey was only beginning: another adolescent suicide attempt, two accidents (one with a tractor and one with a truck) that nearly claimed his life, a broken marriage, and decades of alcoholism that resulted in three stints in jail for DUIs. Anger from his childhood bubbled up into raging fistfights that left him with a scarred face.
"1986 is when somebody came up and preached Jesus Christ to me, but I didn't know Him. I really didn't know Him. I just played the game. I didn't read the Bible or nothing," said Jonathan, who then shared that during his second visit to prison (in 2000), he read the entire Bible. He knew he had to change, and God was working on his heart, but alcohol still owned him.
During his third stint in prison, from 2008 to 2010, it was time. "I gave myself to the Lord. May 16, 2008. I talked to a preacher in the jail. He prayed for me, and ever since then I've committed myself to Him."
God broke the chains of addiction in Jonathan's life, as Jonathan went on to read the Bible two more times during his final incarceration. He has been a faithful student of God's Word ever since.
"I know for a fact that I'm walking with God and I'm walking in His Word. Sometimes, I might drift off a little bit, but I know I have to pray and get back on track," Jonathan said. "Spending time in the Word gives me the faith and strength and courage to stand strong."
I gave myself to the Lord. … I talked to a preacher in the jail. He prayed for me, and ever since I've committed myself to Him.
Jonathan's mother—a Lakota traditionalist—quickly noticed the change in her son.
"I've been talking with my mom, ever since I've become a Christian. I've been telling her what I'm doing," said Jonathan. "Ever since I got out of prison, she's noticed a change in me. She noticed the people I was hanging around with were Christians. She knows that there was something positive there."
Years after Jonathan's salvation story, his mom came at his invitation to hear Will Graham this week, and Jonathan couldn't contain his joy.
"One of the pastors came up to me and said, 'Jonathan, your mom raised her hand!'" Jonathan said with a joyful chuckle. "I'm going to go home and tell her I'm proud of her!"
And Jonathan doesn't see this as the end of God's work in and through his mother, either. "In Wanblee, she's elderly and she speaks fluent Lakota. She's more of a leader there, so hopefully she can reach them [with the Gospel]. That's what I'm praying for. I've been praying for her and my family a lot."
The Story Isn't Over
Plans are in the works for additional outreaches on Pine Ridge, Rosebud, and other reservations around the United States.
"In 1975, my grandfather said that Native American Christians were a Sleeping Giant, but they were awakening. He believed the original Americans could become the evangelists that would help win America for Christ," Will Graham said.
"I have a burden on my heart to continue that mission of reaching our Native American brothers and sisters with the hope of Jesus, and I believe we're going to see my grandfather's words come true in my lifetime."
You can have real hope and freedom today. Put your faith in Jesus Christ.